How to Decorate your Jeans with Buttons
As an Amazon Associate I earn from qualifying purchases
Do you love to wear jeans but sometimes wish they were a bit more individual? You can decorate your jeans in many different ways to make them unique. In this tutorial I am going to show you how you can quickly and easily decorate your jeans with buttons. It requires a little sewing but it is super simple and I am also including a video tutorial that shows you how to sew on various buttons of different designs.
If you prefer to watch a video tutorial then scroll down to the bottom of this written tutorial and watch the 2 videos. One is how to sew a button on and one is the video tutorial for decorating your jeans.
You will need:
Jeans
Buttons
Needle & thread (I used embroidery thread but you do not have to)
Choose Where to Decorate
The first step is to decide where on your jeans you would like to decorate. When deciding consider the following things:
How big are your buttons? A large button at the top of your jeans on the front may be uncomfortable when you sit down
Will the top of your jeans normally show when you wear them? If you always wear a long jumper then pocket decorations will never be seen.
Buttons around the knee area are problematic. They may be uncomfortable.
How long do you want to spend decorating your jeans? A few larger buttons are quicker to attach than a lot of smaller buttons
Once you have selected where you want to place your decorations it is time to design.
Design your Decoration on the Jeans
It is simply a case of laying your jeans flat onto the table and placing buttons where you think you might like them. Let your creativity fly! Some great ideas include flowers, lines, sunshine, mass of buttons, and a waterfall effect. Using patterned or shaped buttons is a great way to add instant interest. If you are looking for a bit of bling then search out some sparkly buttons!
I chose a simple line design for the front pocket replicating the line of the pocket and a flower design for the back pocket.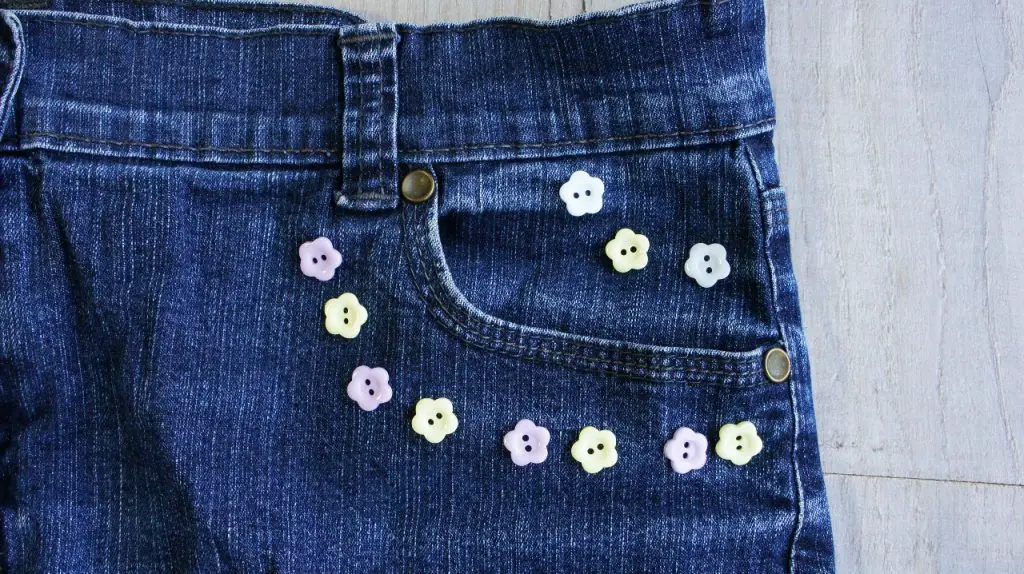 Attaching the Buttons
If your design is simple, like my front pocket, then transfer the buttons to the table in the same pattern and use that as a guide. However, if you have a complex pattern you could try marking the design onto the jeans using a pen or you could photograph the design before removing the buttons.
If you want anything to be in the centre or symmetrical I recommend measuring it exactly and marking it or it will look wrong after you finish. I simply sewed my front pocket without any marking but I measured the centre of my flower so that it was in the centre of the back pocket.
Then you need to sew each of your buttons on in turn so that your design is permanent. Do not worry if you have never sewn a button on. This video will show you all you need to know.
How to Sew on a Button Video Tutorial
As you can see I started with the buttons that were not on a pocket as they are easier. Once you start sewing onto a pocket you need to make sure that you do not sew the pocket shut. The best way to do this is to work with your fingers in the pocket to avoid your needle going through all the layers accidentally.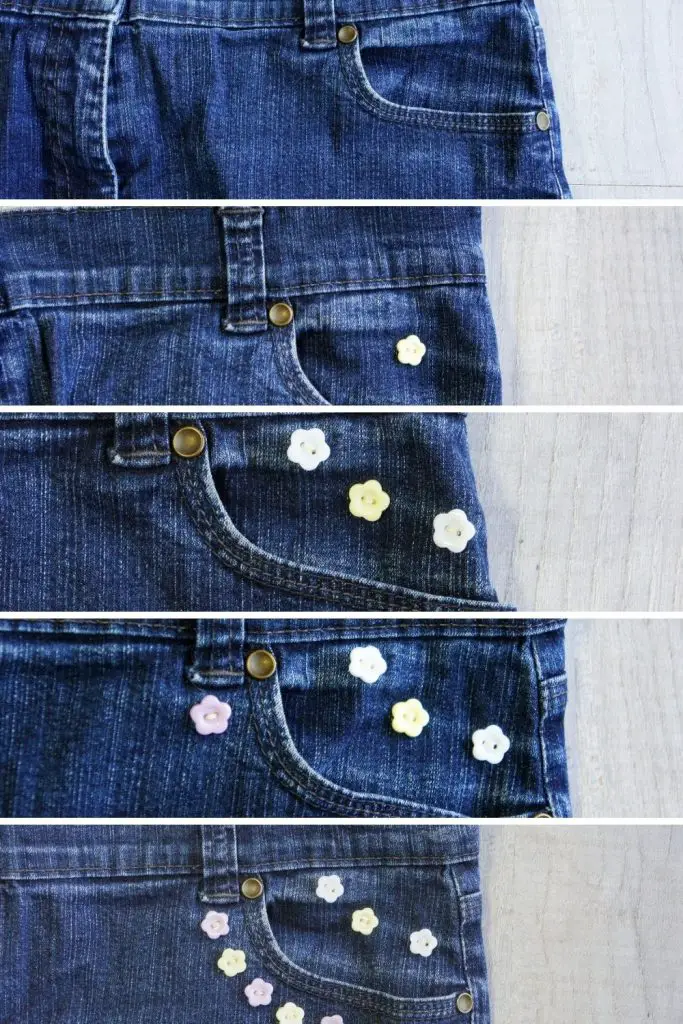 You can see all the detail of how I sewed the buttons on and worked through my design in the video tutorial below.
Just keep going until you are happy with your design. You can always change it as you go along. This is your creative project!
Video Tutorial
Summary
By now you should have a pair of unique jeans that could grace any catwalk. Remember that it is your design and you can add to it at any time. Enjoy wearing them out and about. Maybe you have gone for a bit of bling and are going to wear them out for fancy meals or to the theatre. Or maybe you have just updated your day to day jeans. Whatever you have decided on I hope you enjoy wearing them and that you will let me know in the comments below.
This is a great way to embellish kids jeans too. What little girl will be able to resist flowers on her jeans? If you have any holes in your jeans you could try sewing an embroidered patch for decoration too.
If you like sewing then check out a few other tutorials:
Shabby Chic Denim Flowers

Super Stylish yet Simple Infinity Scarf
How to Make a Fabric Corner Bookmark
Lavender 'Teabag' Sachet Tutorial
For more inspiration check out my Pinterest profile at Christine's Crafts and see what I have been pinning!