How To Sew a Stylish Infinity Scarf – Beginner Friendly
As an Amazon Associate I earn from qualifying purchases
Sew yourself a stylish infinity scarf in the next hour even if you have not done much sewing in the past. This is a great beginner project that gives a great result! Make them to co-ordinate with all your outfits and to give as gifts. You could also sell them once you have made them.

Sewing is a great way to relax and who wouldn't want a drawer full of scarves to match all their outfits which have cost so little! If you have any fabric stashed away now is the time to use it!
You will need:
A rectangle of fabric that is at least 60″ by 12″. If your fabric is smaller than this you can sew 2 lengths together – see more further down! You can experiment with any fabric you like but I used a jersey and it worked really well.
Matching thread
Sewing supplies
Cut out your fabric
You need to cut out a rectangle of fabric that is 60″ by 12″. However if you do not have a piece of fabric that long (I didn't) then you can cut 2 lengths that are 30″ long and sew them together.
To get a scarf exactly the length that a 60″ piece of fabric would provide cut them 30.5″ long and sew them together using a 0.5″ seam allowance. You can see the seam on mine here!
Form the length of the scarf
Fold your length of fabric in half along it's length so that the edges match up. Pin or clip the edges together along the long side only. If you are using a stretchy fabric too then make sure you use a zig-zag stitch so that it can stretch with the fabric and will not rip.
Then sew along this seam using a 0.5″ seam allowance. Make sure you neaten the ends so that they do not come undone. DO NOT sew along the short ends of your fabric.
Sew the ends together
At either end of your tube that you have made you need to mark opposite the seam that you have just sewn. I did it by cutting the corner off on each end as shown here.
Push your arm all the way through the tube and pull one end all the way through until it matches up with the other end. TAKE CARE not to twist the tube at all as you pull it through.

Once the two edges are lined up you need to pin or clip them together. Make sure that you match up the marks that you made and the seams. CHECK – The right sides should be facing each other!

Leave a gap of about 3″ or 4″ to turn your scarf out through when it is sewn. Sew the two ends of the tube together remembering to leave your gap!

Complete your Infinity Scarf
Turn your whole scarf the right way out through the hole that you left in the seam that you just sewed. Depending on your fabric choice it can be a bit fiddly but persevere and you will see a nearly completed infinity scarf.
There is just the hole that you left to deal with. Pin or clip the edges together as if they have been sewn, making sure that all raw edges are inside the scarf and that the edges continue from the seam that you sewed.

I recommend slip stitching the edges together so that your sewing is invisible. If you are unsure how to do this you can watch me do it to mine in the video below.

If you are really short of time you could just sew them together on your sewing machine but the stitches will then show.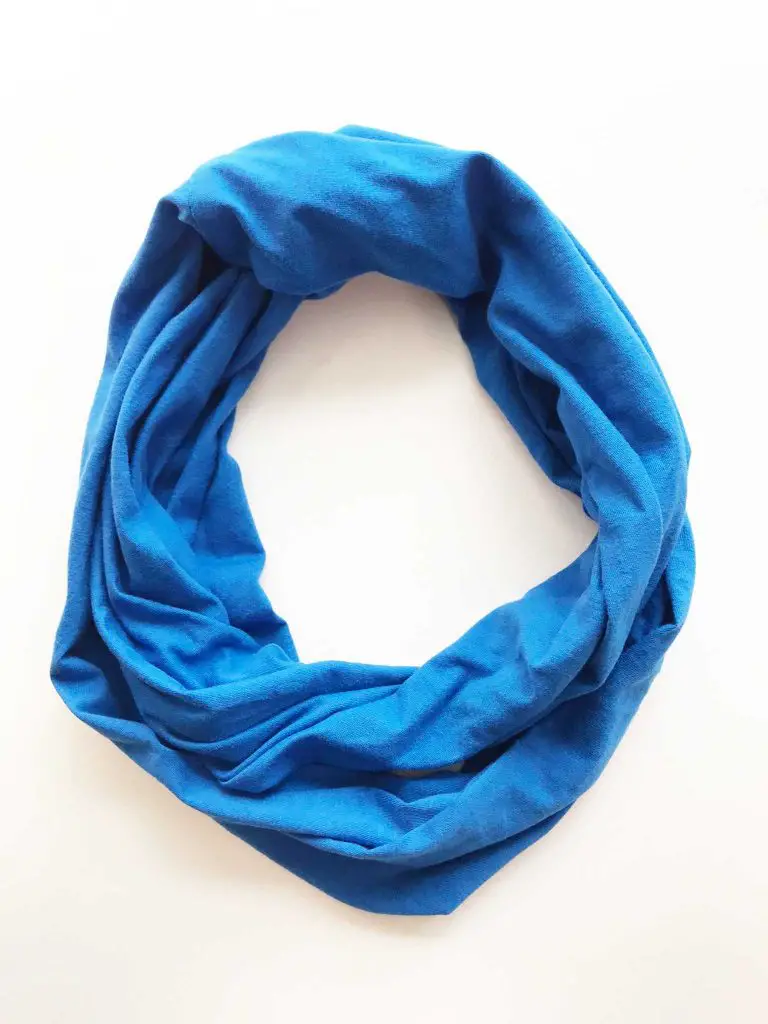 Video Instructions for Infinity Scarf
This video can also be found on my YouTube channel.
Congratulations you have completed your first infinity scarf. I am sure it will not be your last. Try experimenting with different fabrics and different measurements. You can make yours as long or short as you like.

Try adjusting the width but be careful not to go too narrow or you may have trouble turning it the right way out.

So, if you are looking for more sewing projects check out these:

Sew your own Hair Scrunchies
Make a fully lined drawstring bag with boxed bottom
Shabby Chic Denim Flowers from Old Jeans
Super simple, easy Tote Bag
Scrap busting project to make Pattern Weights
Draught Excluder from old Jeans

If you try this project and use different measurements then please let us know in the comments below and help out other sewists.