How to Make Shabby Chic Denim Flowers from Old Jeans in 10 Minutes
As an Amazon Associate I earn from qualifying purchases
So, what do you do with those old jeans that you no longer wear? Well, how about upcycling them into other great items. These denim flowers are so sweet and easy to make out of any scraps of denim (or indeed any fabric). You can sew them or glue them so great for everyone to make.
Then, you can use them in so many ways. Decorate your clothes and bags with them or how about attaching them to clips and hairbands? They would make a fabulous way to complete wrapping a present for a special friend. Endless possibilities.

This page contains affiliate links meaning I earn a little commission if you use those links at no cost to you. I only recommend brands I use and trust.
You will need:
Old Jeans
Button for Centre
Needle and thread OR multi-purpose glue
Flower Template available for free here
Prepare your Flower Petals
Print out the flower template and cut out at least one flower. Place the flower template onto your denim (or other fabric) and draw around it. I used a black permanent marker pen so that you could see it but you can use any pen that you like. Repeat this for as many petals as you would like to use. I recommend a minimum of 3 to give a nice fullness to the flower. I also rather like using 5 for a really full flower.
Cut out your flower petals using a sharp pair of scissors.
Assemble the Flower
Take all your flower petals and place them on top of each other so that the petals do not line up perfectly. This will give the natural flower effect. Place your button in the centre. It can be any size and any colour you like. Get creative!
Sew Version
Pin the petals together to prevent them from moving while you sew them all together. Now take your needle and thread and sew your button to the centre of the flower making sure that you sew through all your petal layers. Secure the thread at the start and the finish so that it can not come undone.
You are finished!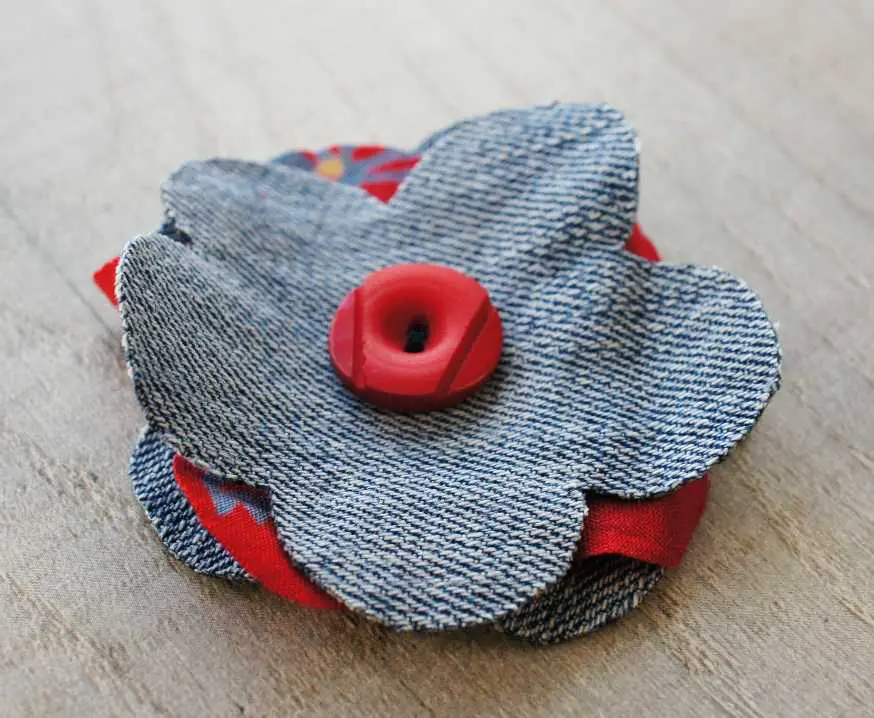 No-Sew Version
If you do not want to sew your flowers then simply apply a little glue to the centre of each flower as you place them on top of each other. Finally add some glue to the back of the button and place that onto the centre of the flower. Wait for it to dry and you are finished!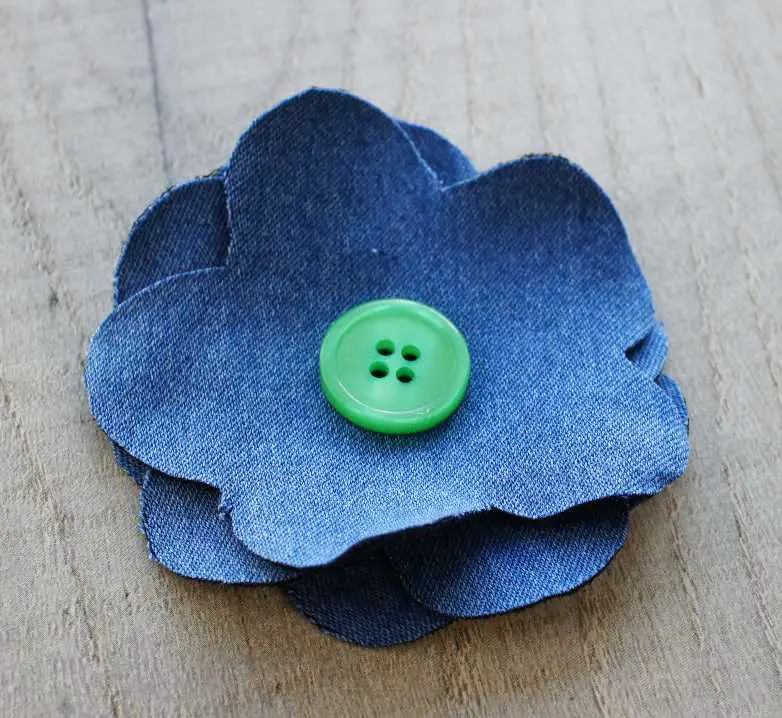 Video Instructions
This video is also available on my YouTube channel.
Denim Flowers
So, now you know how to make them let your imagination run wild and find lots of different uses for them. Who knew that those old jeans could be upcycled into something so pretty?
A great tip is to use a layer of bright fabric petals to make your flowers stand out. Perhaps it could match the colour of your button centre.

If you are enjoying upcycling then check out these other great ideas:

Please leave me a comment below and let me know what you use your upcycled denim flowers for. Inspire your fellow crafters!