Ergonomic Crochet Hook Set from Amazon Review
As an Amazon Associate I earn from qualifying purchases
This article is a full and detailed review of the ergonomic crochet hook set available on
Amazon.com
. It is branded differently in different countries but it is still the same set. I bought mine over 12 months ago so I have some experience of using it with different projects and yarns. It is a great starter kit and also suitable for more experienced crocheters. Fabulous gift idea for the crocheter in your life!
This is a completely unbiased review and I am not being paid to write it. The only connection between myself and Amazon is that I am an affiliate so if you click on the links in this review and buy the product I will earn a small commission at no cost to you.
This ergonomic crochet hook set includes:
Set of 9 Crochet hooks (B-2.0mm, D-3.0mm, E-3.5mm, G-4.0mm, 7- 4.5mm, H-5.0mm, I-5.5mm, J-6.0mm)
Folding scissors

6 pcs Sewing needles

10 pcs Locking stitch markers

Row counter

Measuring tape

2 pcs Stitch holder

Gauge measure ruler
I have broken this review down into the various aspects of the kit:
Ergonomic Crochet Hooks
As stated above you will find 9 crochet hooks in the set and they cover the most well used sizes. I have crocheted blankets, coasters, etc with them and most patterns use one of these sizes.
They are beautiful to use. Years ago I started crocheting and I gave up as it hurt my wrist. I was using traditional crochet hooks at the time that I had been given. With these ergonomic hooks I can crochet all evening without any difficulty. They are smooth and very easy to use. You do not need to grip really tightly so no fatigue. This kit is good value for these hooks alone without any extras!
Folding Scissors
I can honestly say that I had to get these out of the packet to review them. I have never used them. This is purely because I crochet at home and have a little bag with all my supplies in including a  lovely little pair of scissors. However, now I have had them out and tried them I have discovered that they are really sturdy scissors. They are great quality (surprisingly good) and I will definitely use them if I start taking my crocheting out and about with me. They are safe to carry as the points are safely stored away.
If you crochet everywhere you go you will find these really useful!
Sewing Needles
These are plastic sewing needles that are great for taking out and about with you. I generally use a metal needle that I have had for years. My mum always referred to it as a bodkin but I think most people just call them blunt needles now! As with all plastic needles they will snap if you bend them so care is needed but perfectly adequate for weaving ends in (an activity which we all love so much).
Locking Stitch Markers
As a new crocheter I thought that I would never use these but how wrong have I been? They are so useful and easy to use. Even quite simple patterns can require you to mark stitches.  They slip into the stitches easily and stay put even though  I put my crocheting away in a bag when I am not working on it. Great little tools. If you do complicated projects you may need more but they have proved more than sufficient for me so far.
Row Counter
This is a normal row counter that I am sure you have seen and used before. You simply roll the numbers around every time you complete a row to keep track of your work. I was using it but I must confess that I bought a digital row counter that fits on my finger. I tend to use that but I have used the traditional row counter many times and it is obviously reliable.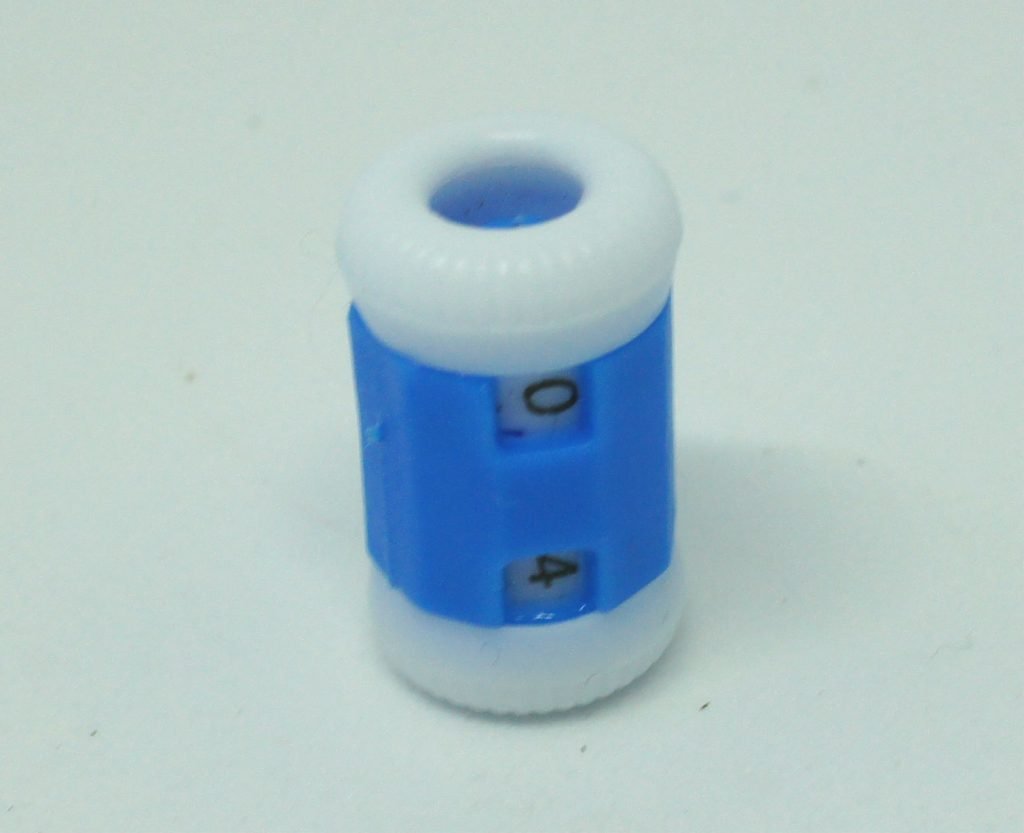 Measuring Tape
The measuring tape is something that I do not tend to use as I already have my own at home. However it makes the set complete and could be very useful if you are working out and about (or if you do not have a measuring tape already). It is long enough for most projects and is strong so will not tear or break in normal use.
Stitch Holders
I must confess that I have not crocheted anything complicated enough to need these yet. However they seem perfectly adequate and reasonably strong. The fact that they are different sizes would be useful I am sure.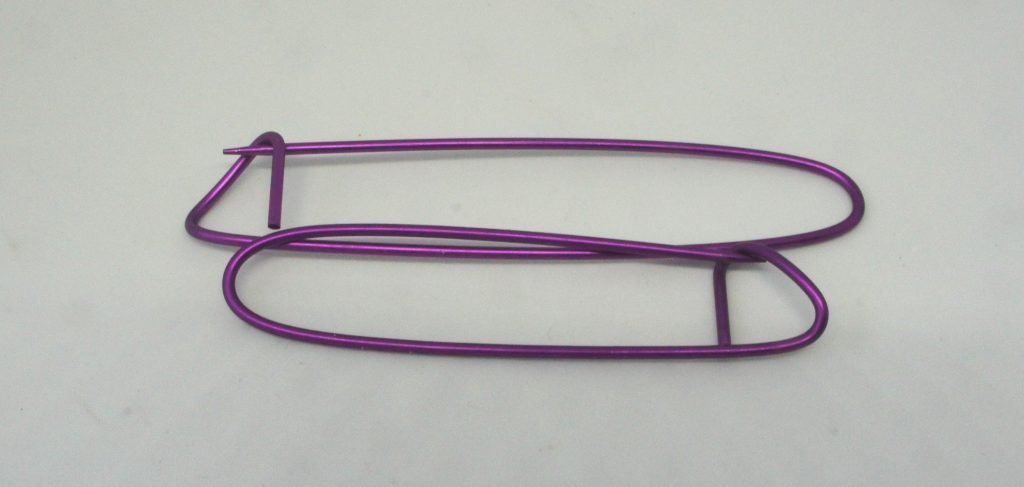 Gauge Measure Ruler
This is a great little tool. As the name suggests, you can use it to check your gauge which is so important. It is in metric and imperial so everyone can use it. All the hook size holes are in the middle of the ruler with the accompanying sizes in metric and imperial. It is not particularly thick plastic but then you do not need it to be.
Carrying Case
I love the blue spotty design on this case and the fact that it is rigid. The case is really sturdy and the zip is still working really well. I see no reason why this case will not still be working really well for me for many years. It protects the contents really well whilst looking nice. All the hooks and  the gauge ruler are held in place under elastic straps. There is a small zip pocket fastened into the case to hold all the smaller items. It works really well and is compact so that it will fit into your work bag quite nicely.
Value for Money
At time of writing this set is incredibly good value on Amazon.  The hooks really are excellent to use and have allowed me to crochet for as long as I want to without any fatigue. It is also a comprehensive set so that you should not need to buy any further crocheting equipment to complete many items. Great for news starter and experienced crocheters alike.
In Conclusion
I love my ergonomic crochet hook set. The hooks, the main reason for purchasing the kit, are really nice to use and have turned me into an avid crocheter. All the extras are a bonus and have made my introduction into the crocheting world much easier. If you travel around with your crocheting then this set will work particularly well for you.
I recommend this ergonomic crochet hook set for beginners and experts alike!
If you enjoy all kinds of different crafts then take a look at some of my tutorials:
Crochet a Round Rug using Old T-Shirts
Make a slip on cover for a notebook or diary
Bead bracelets in under 30 minutes
Remember to pin this review on Pinterest so that you can find it later when you are ready to purchase.