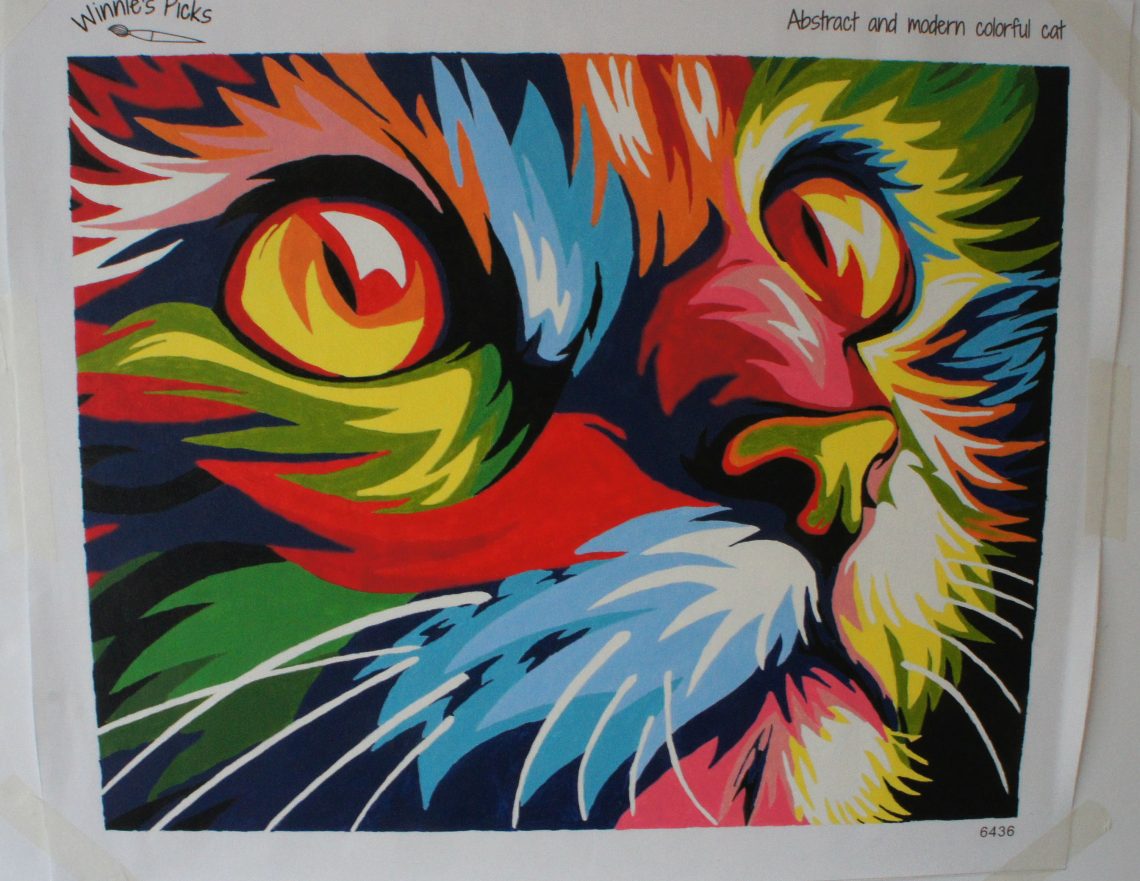 Painting By Numbers – Winnie's Picks – Review
Do you dream of being a painter but the reality does not quite match up? If so, painting by numbers for adults could be for you. A kit will allow you to be creative and produce a fabulous piece of art even if, like me, you lack natural talent.  This is a detailed review of a painting by numbers kit from
Winnie's Picks
. I really wanted to have a go and produce something that I could be proud of. I think I did but you can be the judge of that!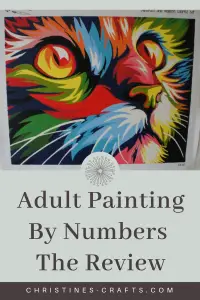 This is a completely unbiased review and I am not being paid to write it. The only connection between myself and Winnie's Picks is that I am an affiliate so if you click on the links in this review and buy the product I will earn a small commission at no cost to you.
I selected a picture that I liked from the beginner range because that is definitely what I am. I have not attempted a painting by numbers kit since I was a child and I was not very successful then! There are many kits to choose from over at Winnie's Picks and I recommend you take a look. You can even have a photograph turned into a custom kit.
I chose the Abstract and Modern Colorful Cat and I was very excited when it arrived! Delivery was prompt with regular emails keeping me informed. It came in a tube so that the canvas was rolled, not folded and it was sealed in a large plastic envelope to protect it from any water ingress.
Unboxing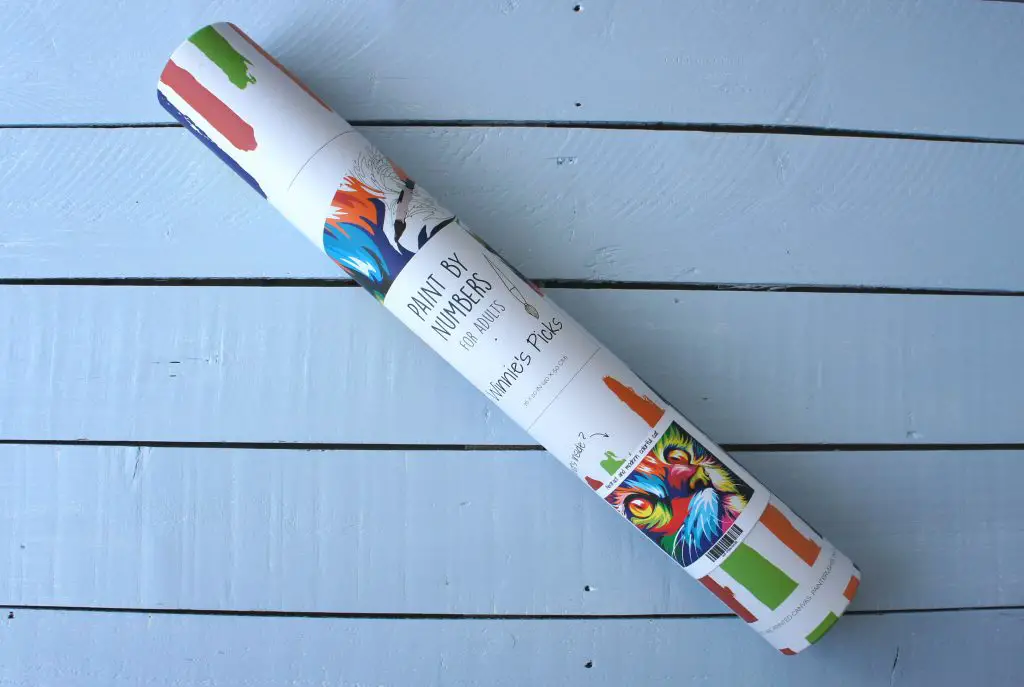 I opened up the tube and removed the canvas, acrylic numbered paints, large paper copy of the picture, selection of paintbrushes, hanging brackets tips sheet, thank you card and small colour copy of the picture. It all looked good.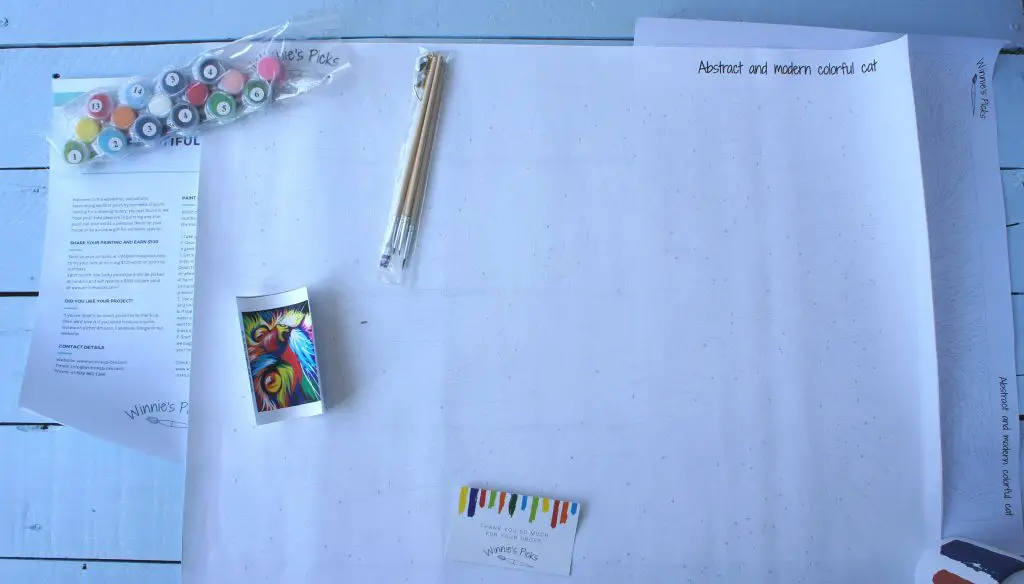 I also looked online at the tips on the website before I started as I was very new to all of this. They were really useful.
I decided to tape my canvas to a large foam board. This allowed me to paint on a large flat surface (the dining table) but easily move it out of the way for us to eat. It also allowed me to move it quickly whenever Emily the cat arrived and tried to walk all over it! If you prefer you could use an easel.
Painting:
There are various ways of proceeding but I decided to paint all of one colour (black) first and then move onto each colour one at a time. Generally I was moving from dark to light colours as per the hints and tips. I also worked from the top left corner to the bottom right corner as I am right handed.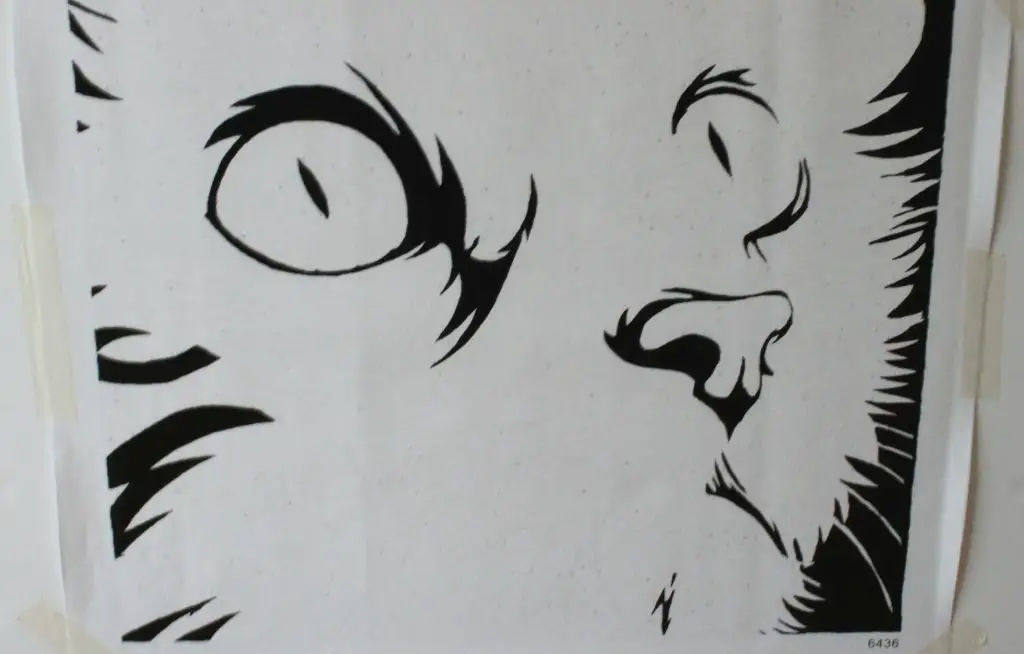 This is just the black paint completed. I found the lines and numbers were clear and easy to follow. Then, I just worked my way through the colours watching my artwork develop. Here are a selection of 'work in progress' photos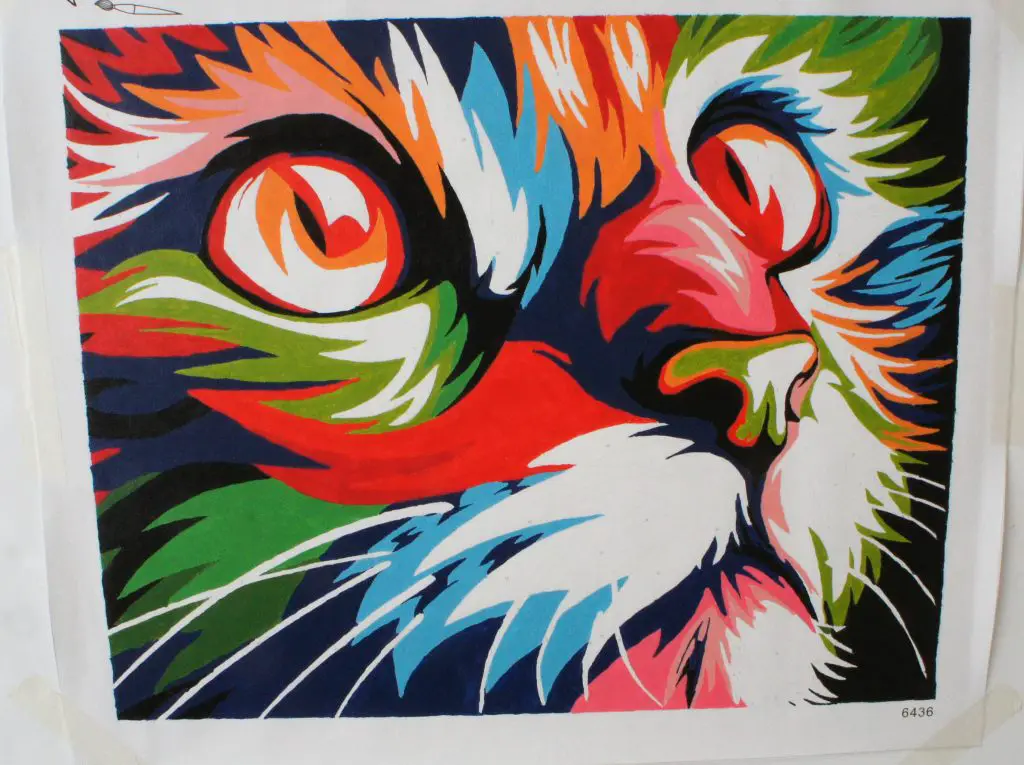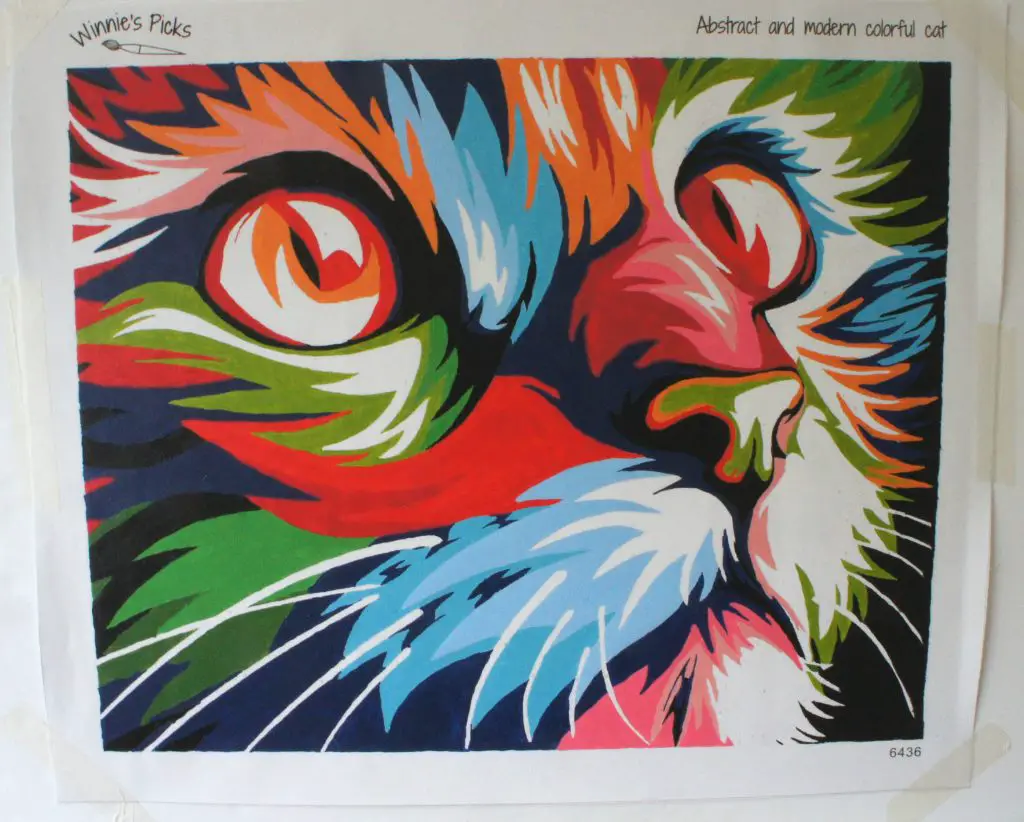 And now it is complete!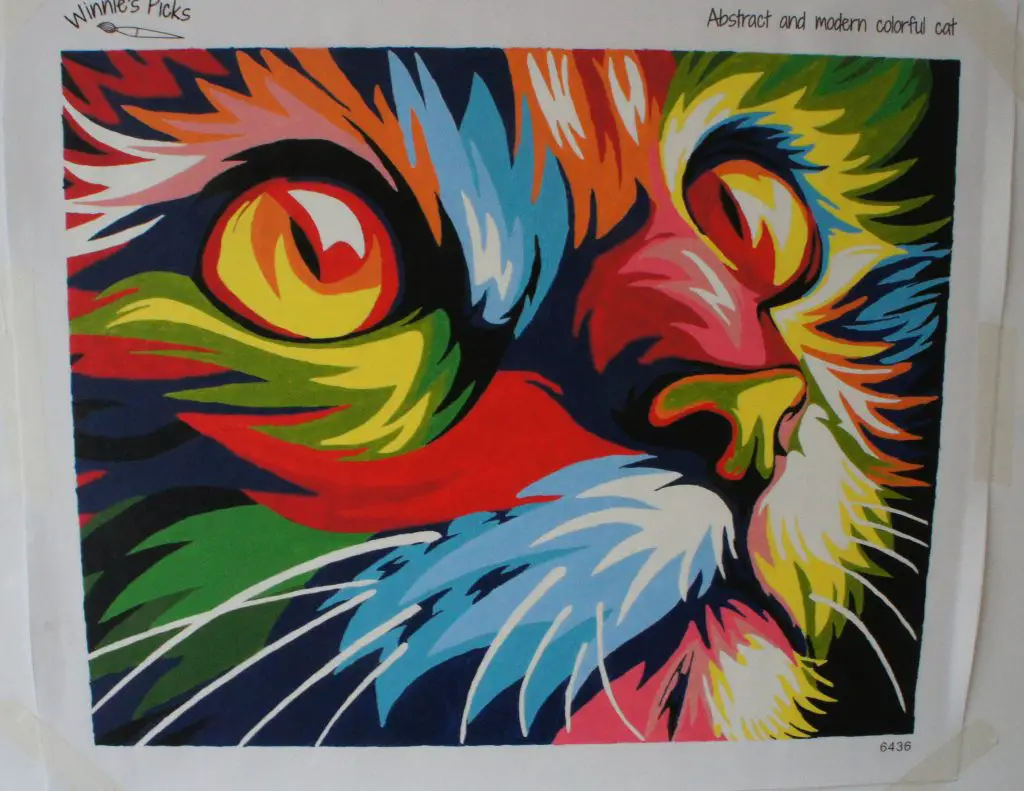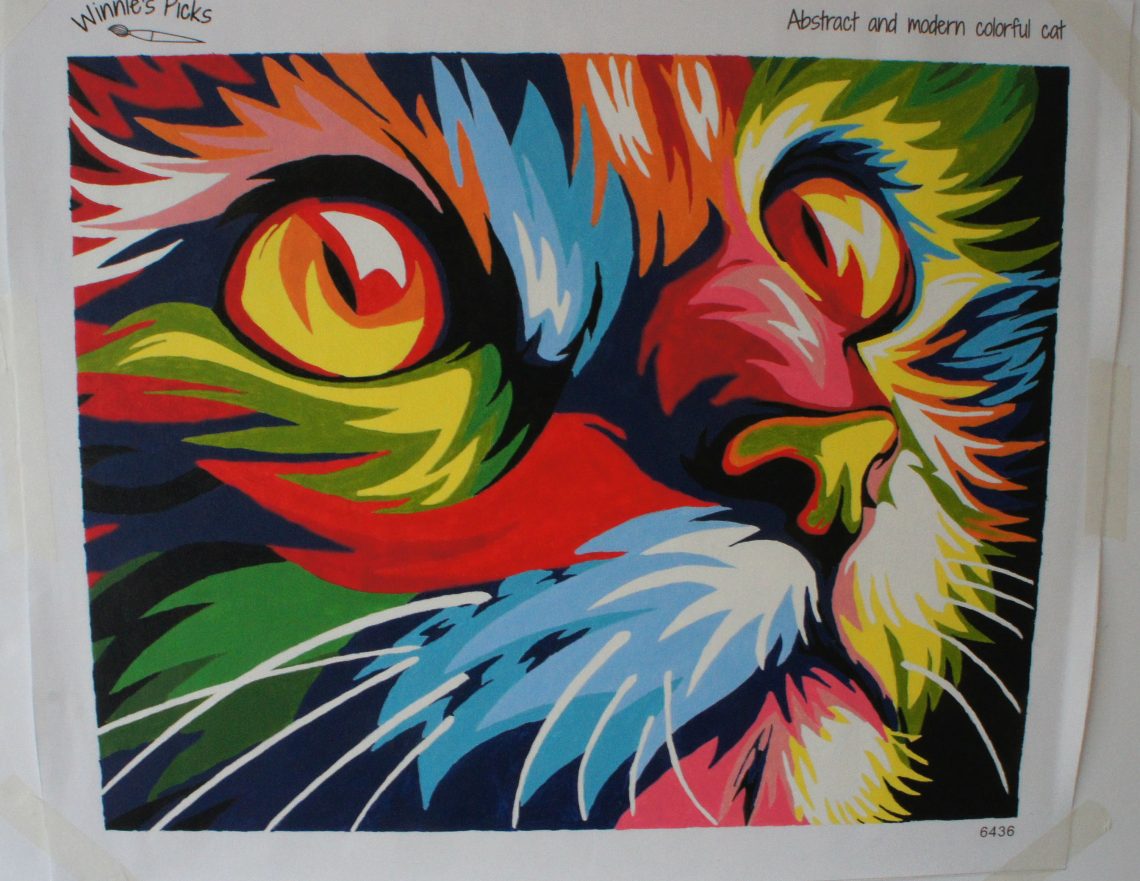 Finally I will frame my picture using stretcher bars and hang it on the wall in our guest bedroom.
In Conclusion:
If you have ever wanted to paint but do not know where to start, this is the place. I found painting this cat incredibly enjoyable and relaxing. It is definitely an excellent mindfulness activity as you need to focus on what you are doing.
I am no artist and on occasion found it hard to get neat lines and a good finish. Any artist would look at my brush strokes and be horrified but that does not matter. I did not paint it for an exhibition, just for my wall.
I found the kit to be of a good quality and there was plenty of each colour of paint. The brushes are in a selection of sizes that allowed me to work on fine detail and complete larger areas.
My feeling is that if I could achieve a good result anyone could. I am not a painter and yet I am ridiculously proud of this picture. Even my teenage son likes it and he would be brutally honest if it was poor.
It would be very exciting to complete a Custom Paint by Numbers Kit based on a photograph of mine  so I may attempt one in the future. I would definitely recommend Winnie's Picks for a painting by numbers kit.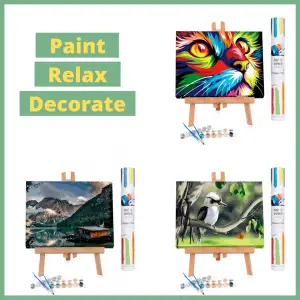 If you are interested in other craft projects take a look at:
How to make a fabric covered notebook
Make a paper organiser from a cereal box
Remember to pin this review for later when you are ready to purchase your painting by numbers kit.