Paper Flower Tutorials – tried and tested
As an Amazon Associate I earn from qualifying purchases
Paper flowers can be absolutely gorgeous and last so much longer than fresh flowers. You can use paper flowers to enhance a room, give as a gift or decorate a party. However, they can be really expensive to purchase or difficult to make. I have found some easy to follow tutorials that give great results.
I have tried all of these tutorials that do not require a Cricut myself and you can see the results. I have updated this article to include some flowers made using a Cricut as I know that so many of you have one now. These paper flowers cost pence to make and do not take too long so take a look and have a go!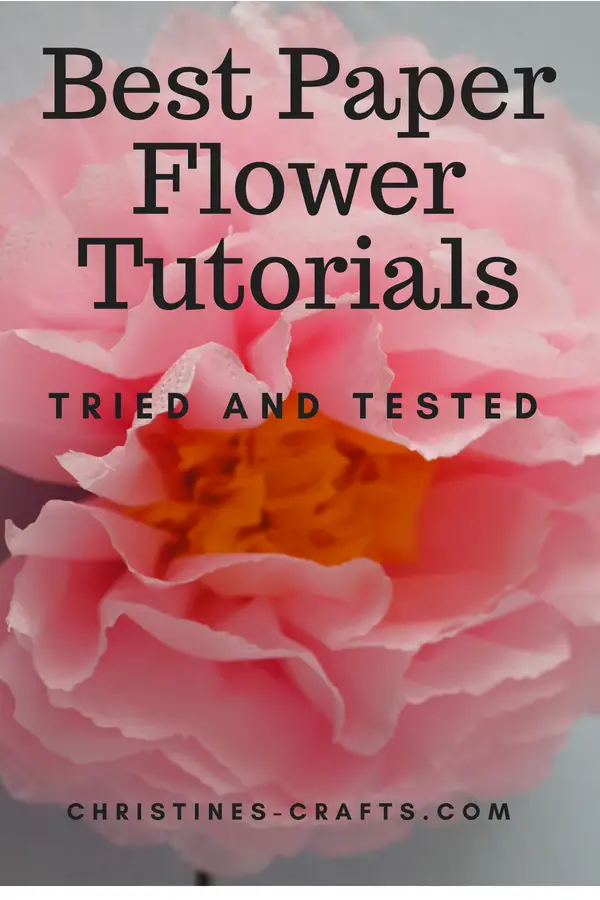 This page contains affiliate links meaning I earn a commission if you use those links at no cost to you. I only recommend brands I use and trust.
Cosmos
I saw these delicate flowers and could not resist having a go at them. You can find the tutorial which includes a great video tutorial at  dreamyposy.com. They turned out beautifully and I enjoyed making them, despite Emily the cat helping me. Hot melt glue, tissue paper and a cat are not a happy combination! Each flower took me about half an hour and was really quite relaxing, not too fiddly. A few of these would look great in a vase. I love the fact that they are so realistic despite being made from tissue paper in a few minutes. There is a large selection of tissue paper at Amazon.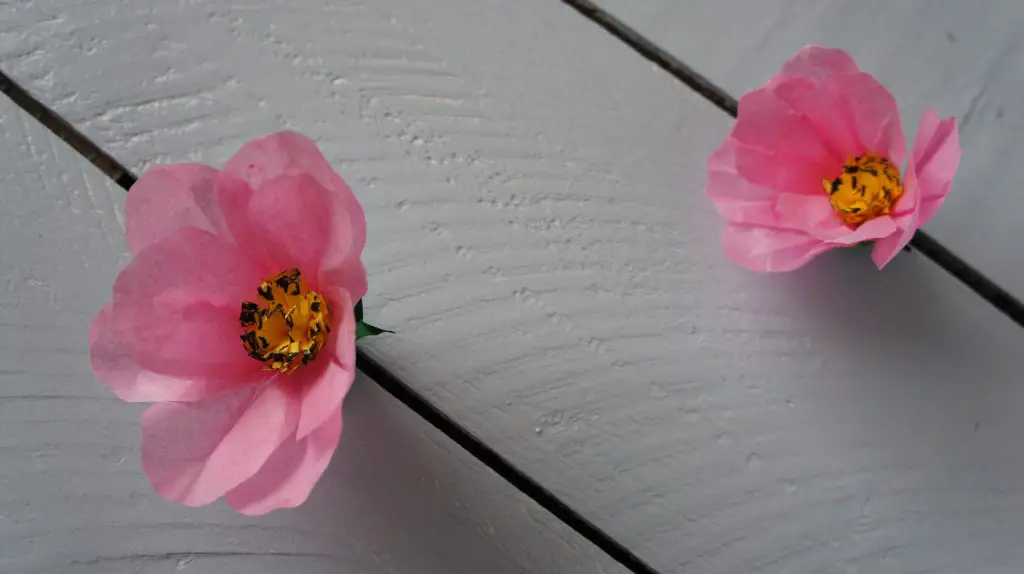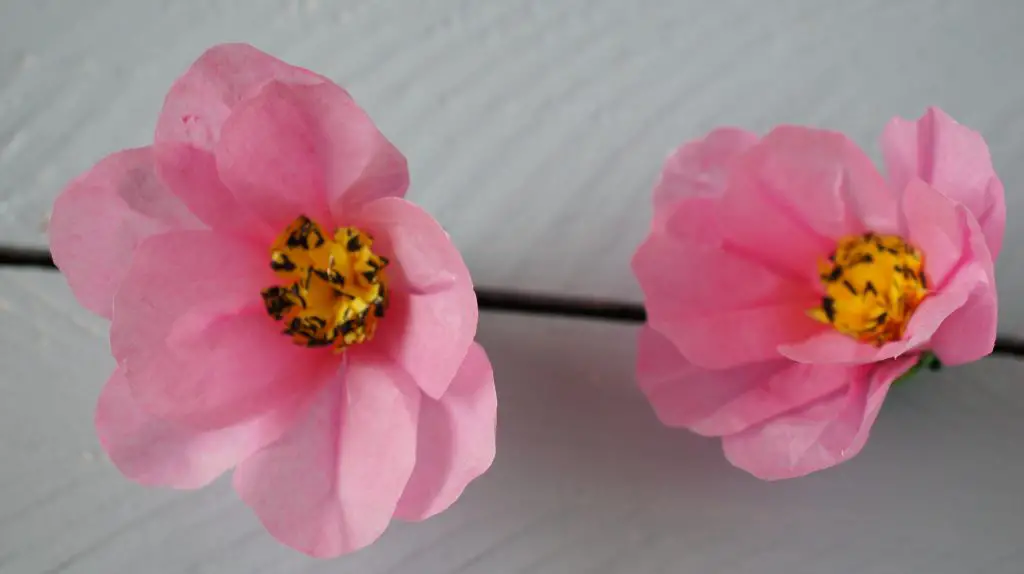 Book Page Rose
I love this rose. I enjoyed making it and I think it looks fabulous. I have actually made a vase full of them! The tutorial is for a book page rose but could be made with any paper you like. You can use any book you like. How about using old music scores or even just copier paper? The rose looks fabulous but is surprisingly easy to make. They are great for parties or weddings. You can add a stem to place them in a vase or bouquet or you can leave them without and place them in a bowl or on a garland.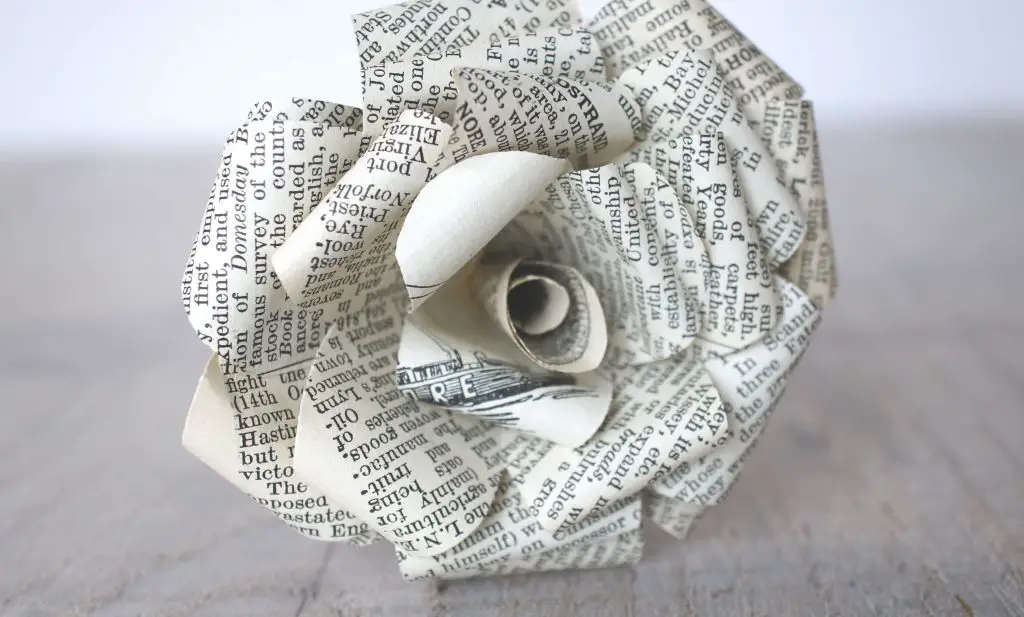 Map Roses
These are very similar to the book rose above. The tutorial is at pillarboxblue.com. My roses are made from an A-Z map and to be honest the paper was a bit stiff. I tried to get an old map to use but all the maps I could find were one-sided and I really wanted two-sided. I also made one using a vintage map printed from the internet. Again, the paper is a bit stiff. I think that these would look stunning with softer, more flexible paper.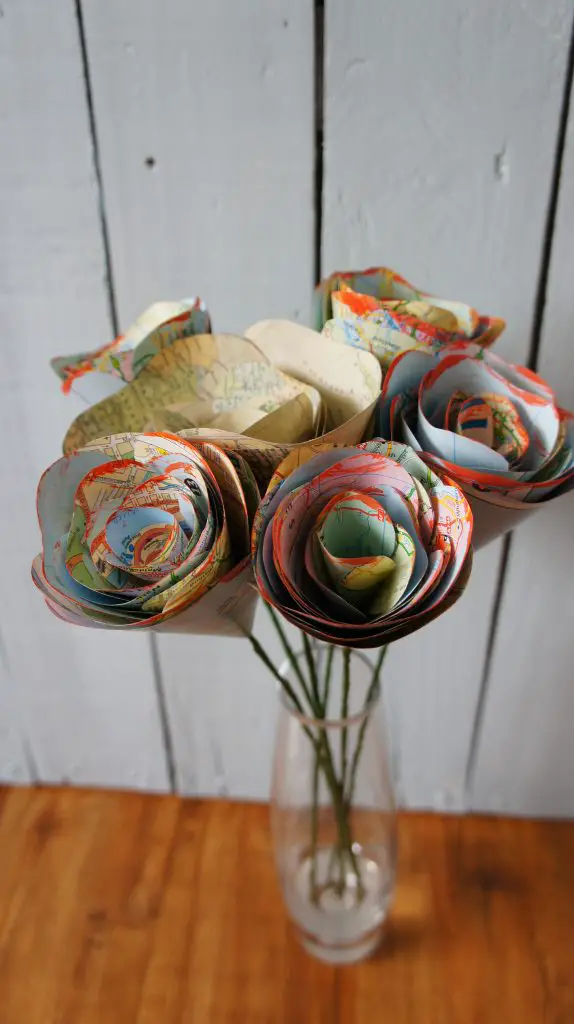 Hanging Flower Decoration
This really surprised me. The tutorial is available at lynettesphotoart.blogspot.com. I really like the result much more than I expected to. It looks really pretty. I have it hanging in my study/craft room. Again, I have used my old music book which gives it a nice aged look. If I had to pick a flower that it was most like it would be the chrysanthemum. It probably took me about an hour to make but I do not have a punch so I made all my circles using a pair of compasses and scissors!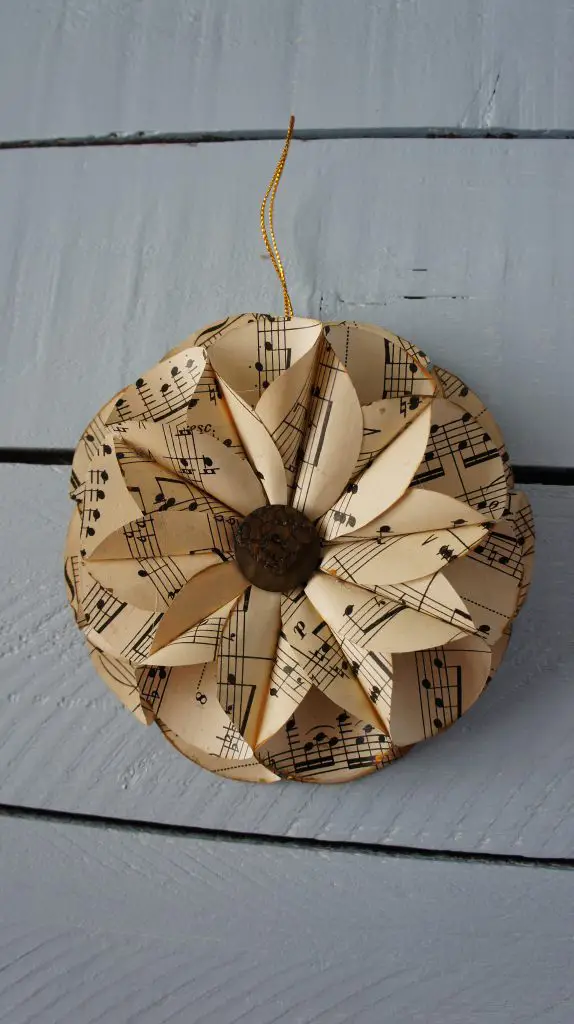 Peony
This tutorial is development of a basic tissue paper flower and I think that it makes a peony. The tutorial is really easy to follow and I was pleased with the result. It is a variation on a theme that people have been making for years. I like the introduction of the yellow centre. It really makes the flower.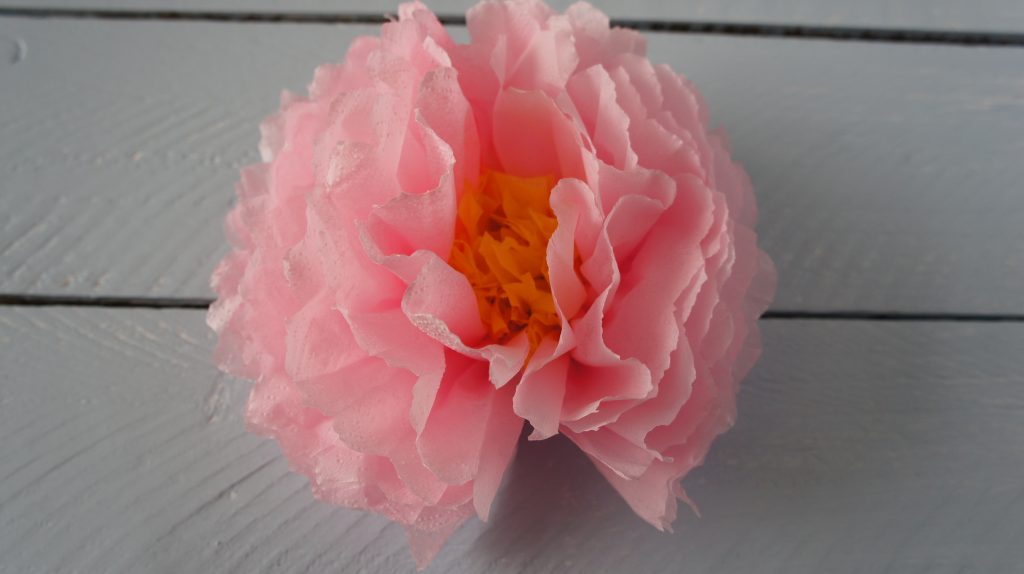 Origami Rose
What could be more romantic than a rose? Well, if you want a quick, easy to make paper rose then look no further than these Origami roses. They are super quick and easy so you could make loads for an event or a party. Fully detailed tutorial so do not worry if you have never done Origami before.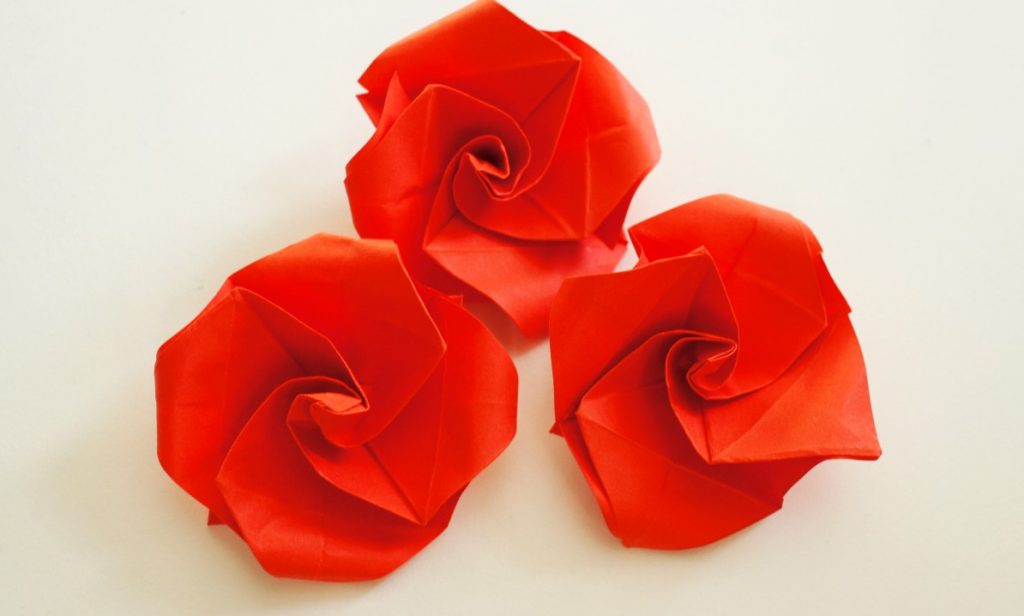 Napkin Flowers
This tutorial on my blog at Easy tissue Paper Flowers is very  easy to follow.  These flowers are super easy to make and you can produce them in bulk to decorate an event very quickly and inexpensively. I used paper napkins bought from IKEA for £1.25 for a pack of 50. So, they cost 2.5p per flower! These are super quick to make, taking about 10 minutes each. You could make the basic flowers and then fluff them up later whilst watching television if you were mass producing them. Endless colour options available so you can be really creative.
They remind me of being a child when we made hundreds of them for carnivals!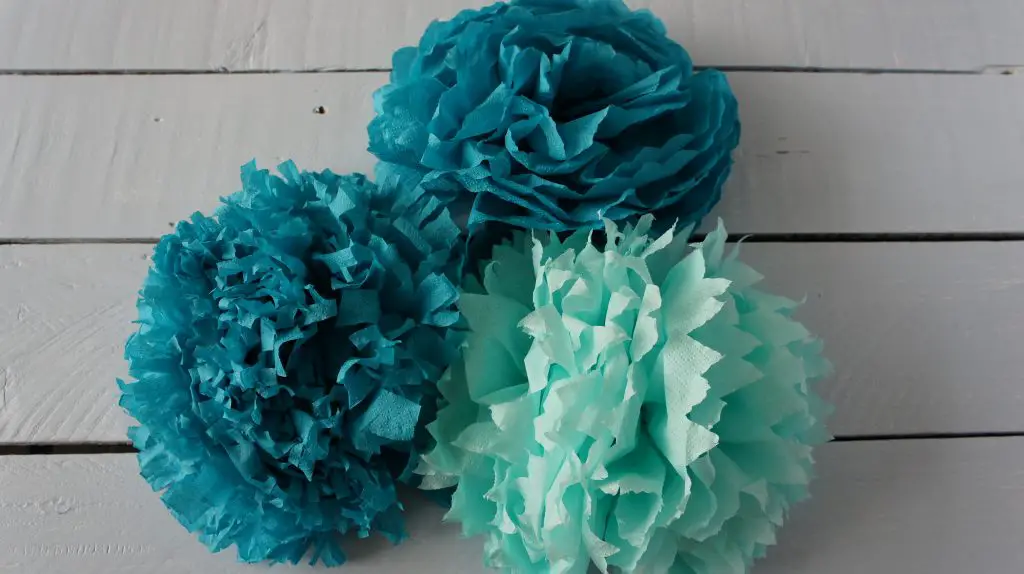 Origami Tulip Flower
I love tulips but they are here for such a short time in the garden. How about making your own paper Origami tulips and having them all year round? They are not too difficult to make and look really effective. You only need basic Origami skills that are fully explained in the tutorial. I loved making these.
So, I hope you feel inspired to get creative. Let me know how you get on and add any tutorial links you think are brilliant.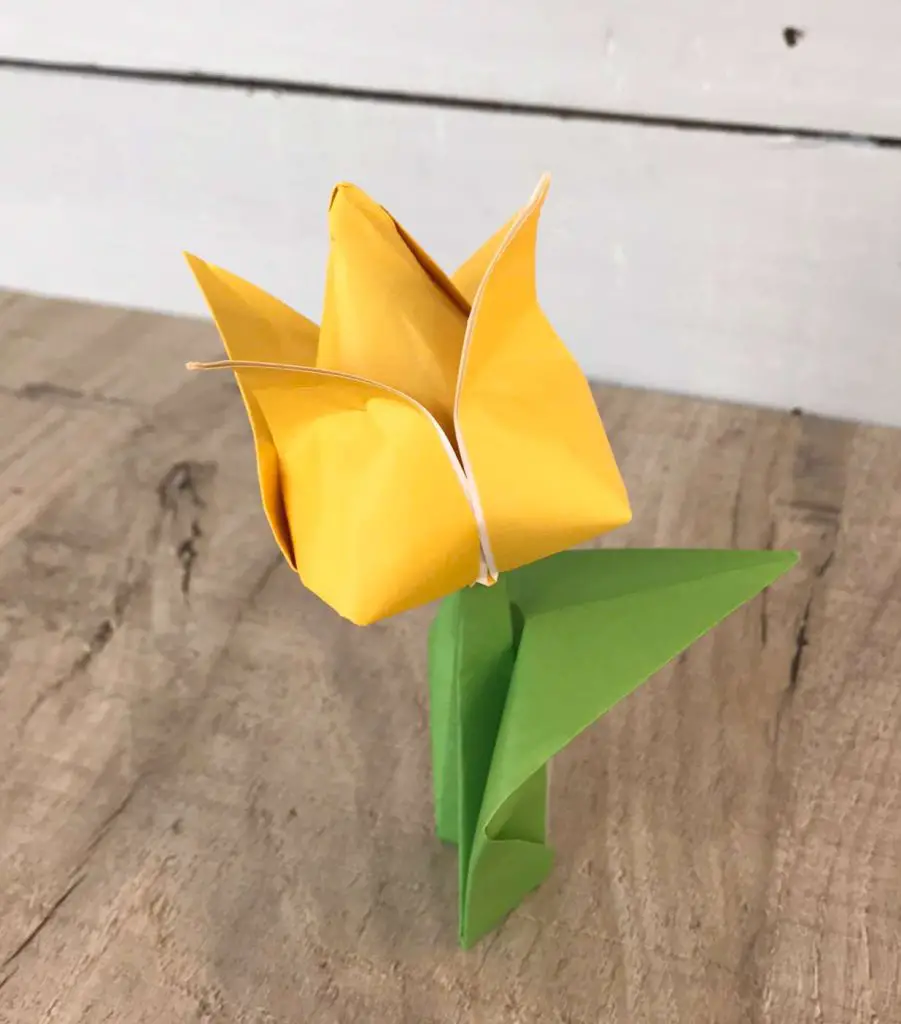 And next …
If you like making flowers then check out these other great ideas:
Gorgeous flowers from magazines
Fabric Flower Tutorials – Tried & Tested

Denim Flowers from Old Jeans
Remember to pin this article on Pinterest so that you can find all these fabulous tutorials again.