Crocheting a Blanket as a beginner
As an Amazon Associate I earn from qualifying purchases
This page contains affiliate links meaning I earn a commission if you use those links at no cost to you. I only recommend brands I use and trust.
Crocheting a blanket may seem ambitious as a beginner but in an earlier post, Crochet blanket – Apres-ski design,  I told you about a kit I had bought at a craft show to have a go at crocheting. That was back in March. Well, I have finally finished it! I am really pleased with it even though it is far from perfect.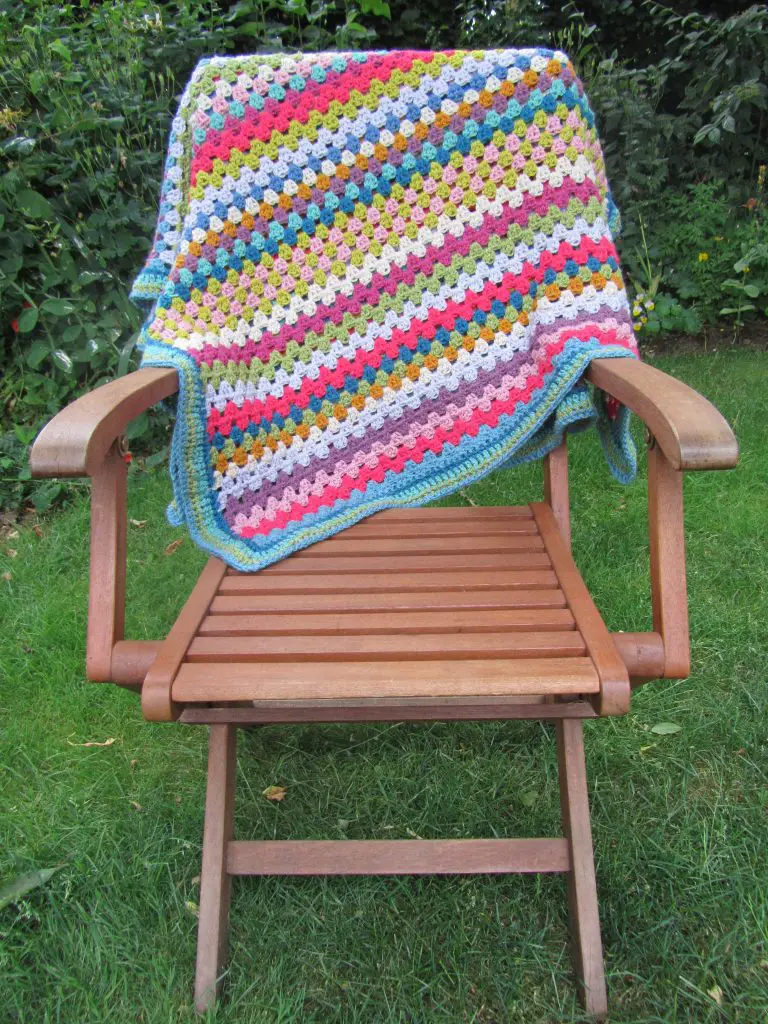 It looks really good if you do not look too closely. As a first crochet project I am really pleased with it. I have learnt basic stitches, changing colours, adding a border and that if I crochet for too long I get a sore neck the next day! I found turning at the ends of rows a challenge at first and that does show at one end of the blanket. It is a bit uneven. I also had to learn how to pick up the stitches to add the border. Again, my learning is included in the blanket. It all adds to the character!
If I had my time again I would go for a design without so many colour changes. It did make it more challenging and there were so many ends to weave in. However, the repetitive design was fabulous as I got to improve my proficiency but I could also work on it in front of the television. It meant that I made good progress and really enjoyed it.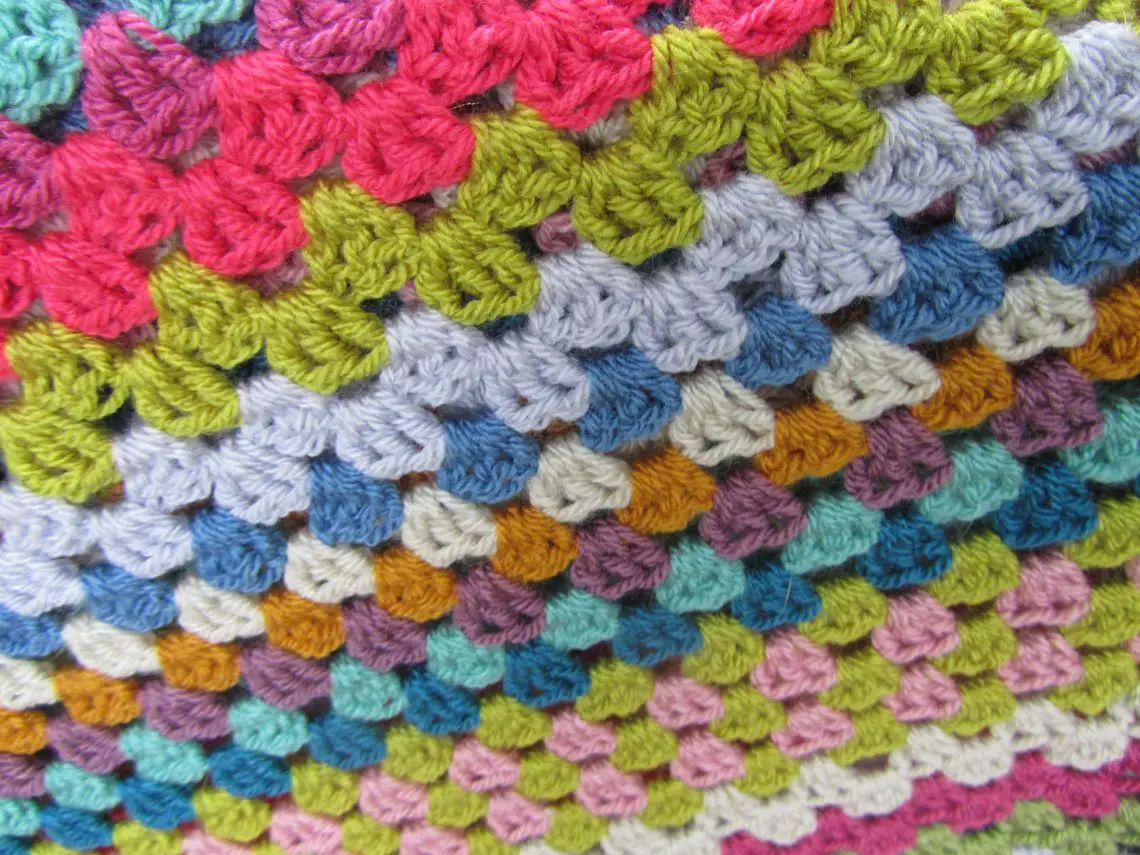 The pattern was easy to follow and there was plenty of yarn in the kit. I recommend Black Sheep Wools as they are very helpful. If you live near Warrington, UK, then pay them a visit at their craft barn as they have a huge selection and knowledgeable staff. Failing that they have  a good online shop.
My first experience of a crocheting project  has led me to draw the following 5 conclusions:
A good book and youtube are essential if you are teaching yourself
Ergonomic hooks are fantastic (mine are these from Amazon)
Too many yarn colour changes are not a good idea
Weaving ends in and them staying in is a challenge
It is really relaxing
I am keeping the blanket on my settee and use it on chilly evenings. Emily also approves of it!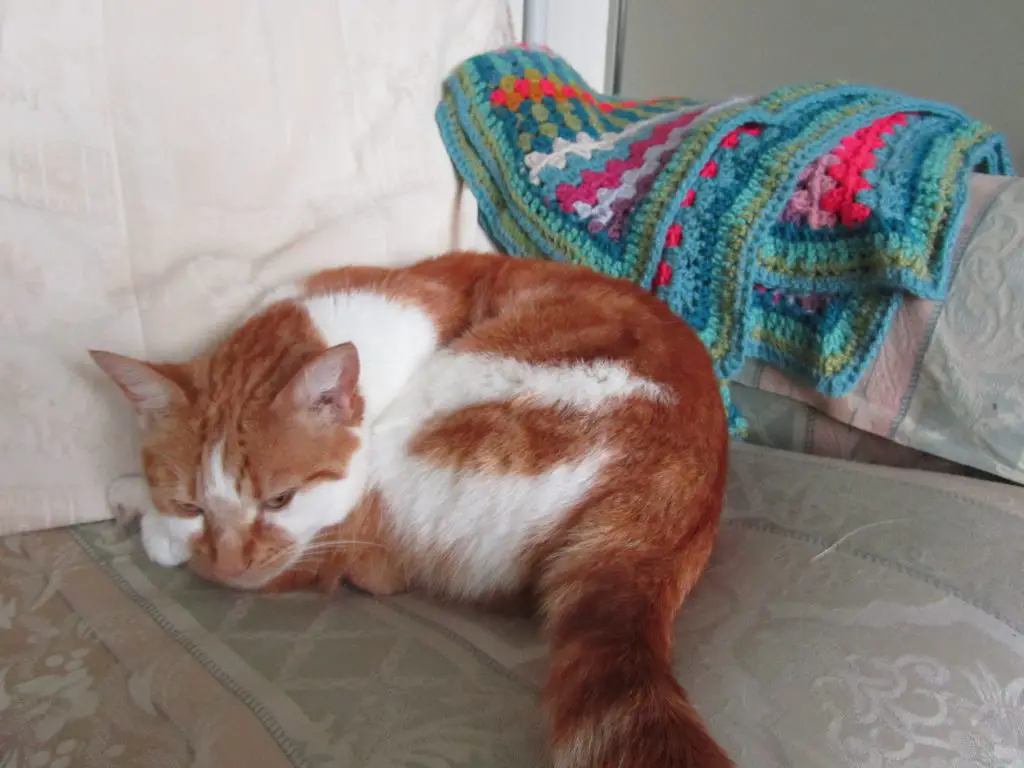 So, in summary, I recommend crocheting and I intend to have a go at some more projects. Perhaps a smaller project first would have been a good idea but I loved it anyway and the sense of achievement upon completion was enormous.
I would welcome any advice on weaving ends in without them coming out again later! Please comment below with your best advice.