Crocheting a Blanket as a beginner
As an Amazon Associate I earn from qualifying purchases
Should a beginner attempt a blanket?
Crocheting a blanket may seem ambitious as a beginner but as there is no increasing or decreasing or shaping it can actually be quite straightforward. It allows you to learn some stitches and repeat them until you are good at them. I bought a kit at a craft show to have a go at crocheting. I am really pleased with it even though it is far from perfect.

I also bought a book called 'A little Course in Crochet' which is by Dorling Kindersley. It is really good and is a fabulous step by step guide to the basic stitches and getting started. It also includes a table to translate between UK and US terms. There are even some projects in there to get you started. If you prefer being shown how to do things there are lots of tutorials on Youtube that show you the basics.

I also bought a set of ergonomic crochet hooks. I have tried the traditional ones in the past as they were given to me but they made my wrist hurt. No such trouble with ergonomic ones so they are well worth the money!

This page contains affiliate links meaning I earn a commission if you use those links at no cost to you. I only recommend brands I use and trust.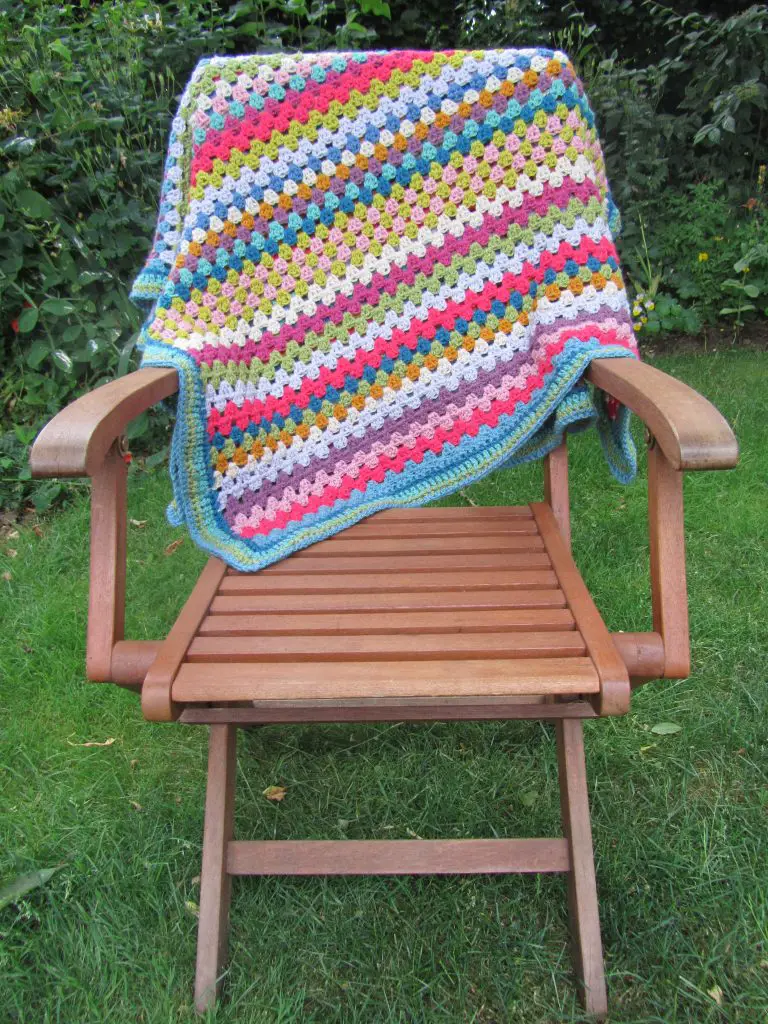 What I would say, though, is that a smaller project with fewer colour changes may have been a better idea! Perhaps a cushion cover or table mat would give the same benefits in less time.
From my experience I would say that it looks really good if you do not look too closely. As a first crochet project I am really pleased with it. I have learnt basic stitches, changing colours, adding a border and that if I crochet for too long I get a sore neck the next day!

I found turning at the ends of rows a challenge at first and that does show at one end of the blanket. It is a bit uneven. I also had to learn how to pick up the stitches to add the border. Again, my learning is included in the blanket. It all adds to the character!
If I had my time again I would go for a design without so many colour changes. It did make it more challenging and there were so many ends to weave in. However, the repetitive design was fabulous as I got to improve my proficiency but I could also work on it in front of the television. It meant that I made good progress and really enjoyed it.
Kit or Just a Crochet Pattern?
I am biased here as I did a kit and enjoyed it. However, if you see a pattern you like that is quite simple then go for it! It can be cheaper to do it this way too. Also, if someone gifts you some yarn then all you need is a pattern and a crochet hook.

This pattern was easy to follow and there was plenty of yarn in the kit. I recommend Black Sheep Wools as they are very helpful. If you live near Warrington, UK, then pay them a visit at their craft barn as they have a huge selection and knowledgeable staff. Failing that they have  a good online shop.
Top Tips for Crochet Beginners
My first experience of a crocheting project  has led me to draw the following 5 conclusions:
A good book and YouTube are essential if you are teaching yourself
Ergonomic hooks are fantastic (mine are these from Amazon)
Be careful whether you are using UK or US terms (very confusing)
Too many yarn colour changes are not a good idea
Take your time and relax
Weaving ends in and them staying in is a challenge
It is really relaxing
I am keeping the blanket on my settee and use it on chilly evenings. Emily also approves of it!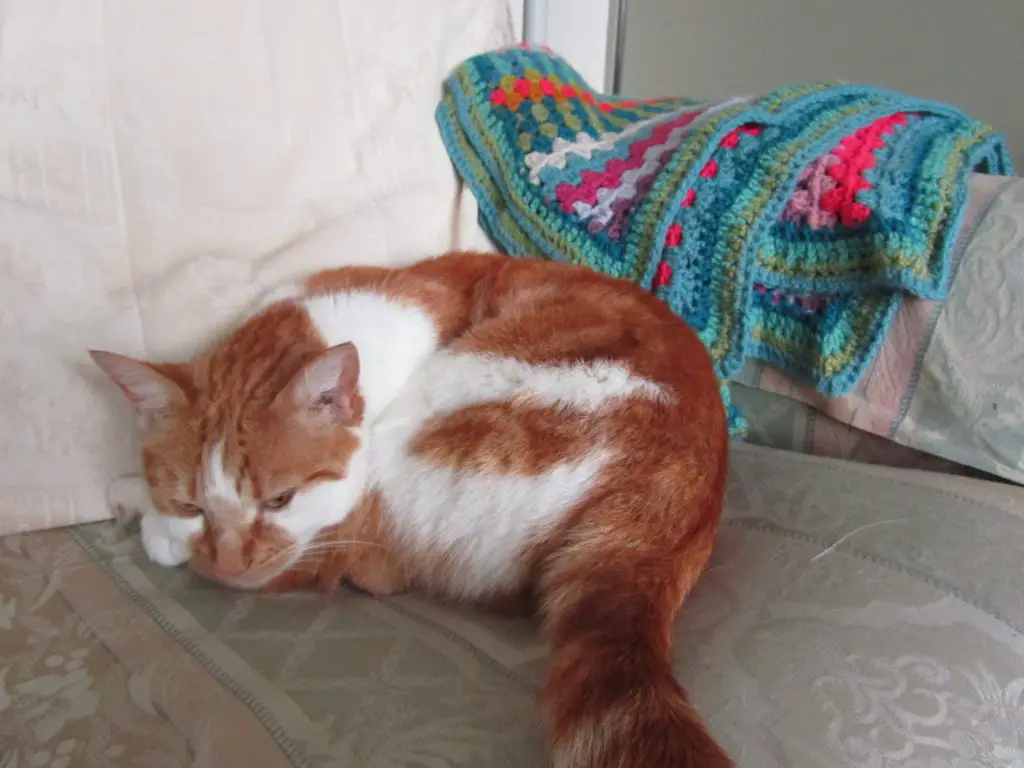 What's next?
So, in summary, I recommend crocheting a blanket and I intend to have a go at some more projects. Perhaps a smaller project first would have been a good idea but I loved it anyway and the sense of achievement upon completion was enormous.

I have now gone on to make a few more projects including some Amigurumi which is the Japanese art of crocheting (or knitting) small, stuffed, yarn creatures. I still really enjoy it and have progressed to quite a few different things but I still rely on my trusty book and YouTube.

If you would like some other yarn craft ideas then how about making some yarn dolls. These also come with a cute poem for gifting with them.

Or you could try your hand at French Knitting. On this website you will find a tutorial to make your own 'Nancy' and tutorials for knitting and casting off. A great craft for kids to get involved with.
I would welcome any advice on weaving ends in without them coming out again later! Please comment below with your best advice.