Fabric Flowers Tutorials – tried and tested
As an Amazon Associate I earn from qualifying purchases
Fabric flowers make beautiful embellishments for many items. They can be quick to make and use up fabric that you have left over from other crafts. Also, of course, you can make them to match other items you have already made.
I have been searching the internet for simple but effective fabric flowers to make. Here I am introducing you to these top  tutorials and how I got on following them to produce my own flowers. I have also included my own flower tutorials so that you can find those easily too.
This page contains affiliate links meaning I earn a commission if you use those links at no cost to you. I only recommend brands I use and trust.
Flowers from Old T-shirts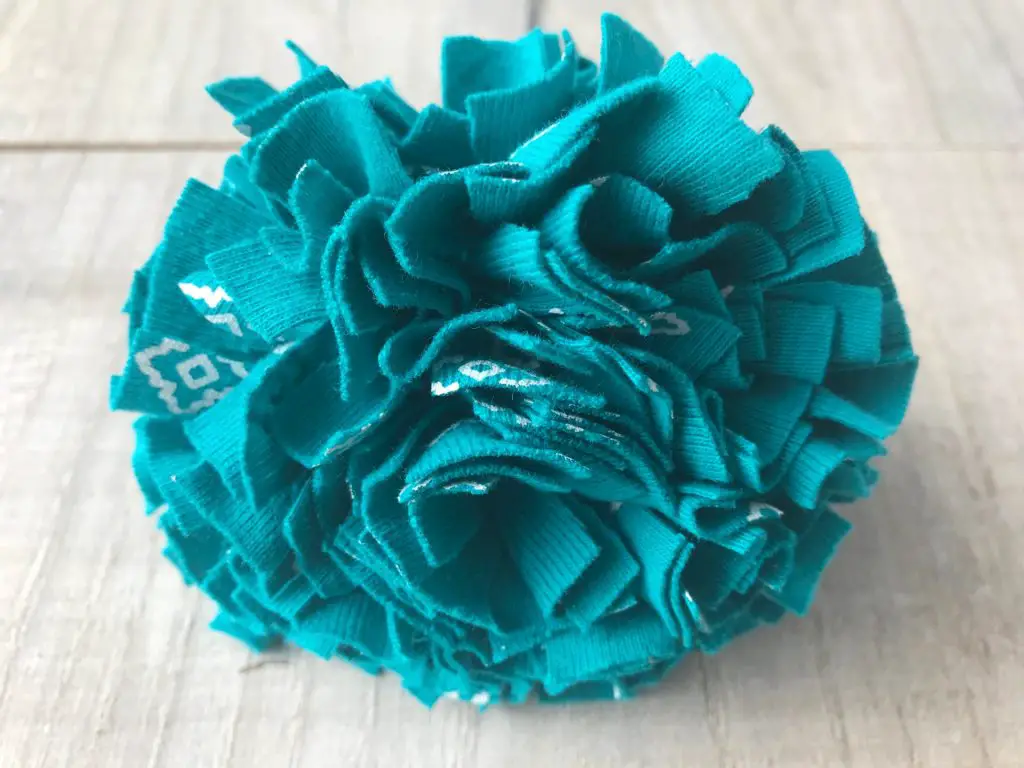 These gorgeous flowers are so easy to make and use old t-shirts so they are really good for your budget and the environment. This is one of my tutorials and you can find it here. You just need some wire, a needle and thread, scissors and an old t-shirt. You use very basic sewing skills so don't let that put you off. They look fabulous in a vase or you could gift them to a friend as a bouquet.
Silk Ball Flowers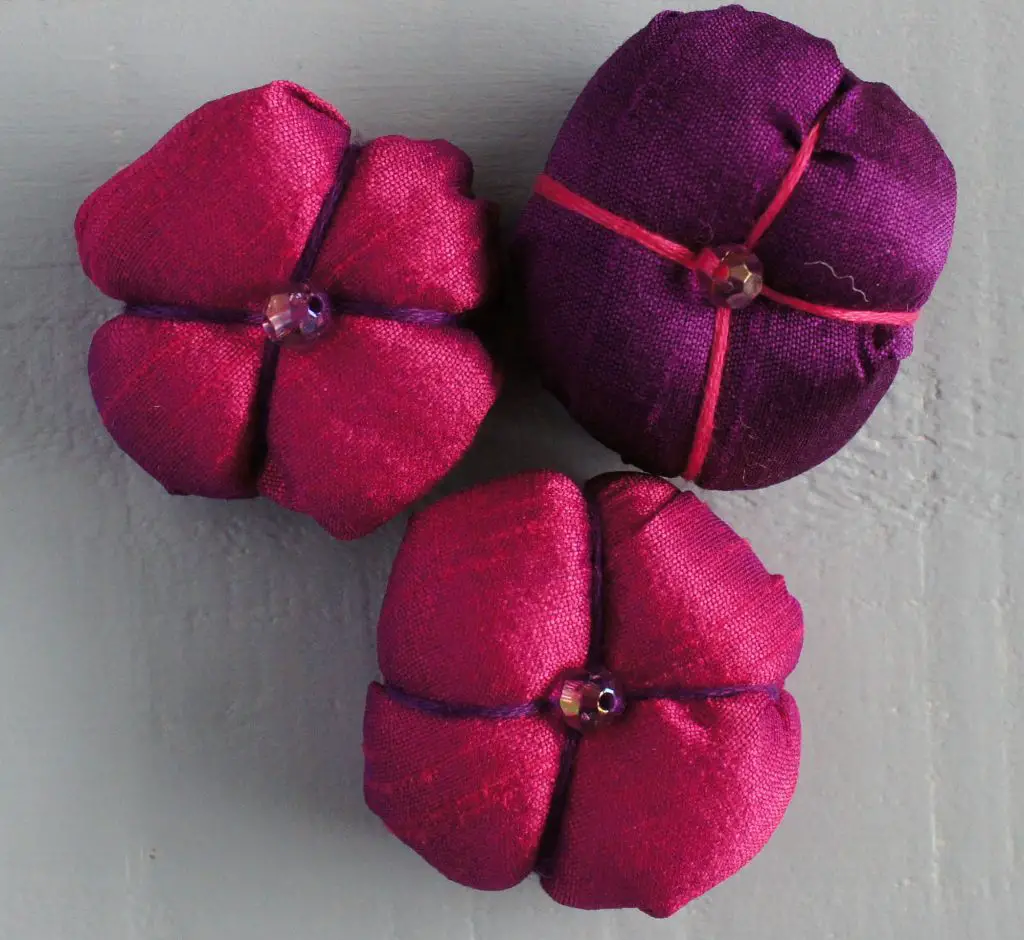 These cute flowers are made from silk but you could use any scraps of fabric that you have. I recommend a thin fabric so that it wraps well. They are really quick and easy to make and form robust little flowers. As a result they are great for attaching to clips, hairbands, bags, etc. You can read the whole tutorial here.
Shabby Chic Denim Flowers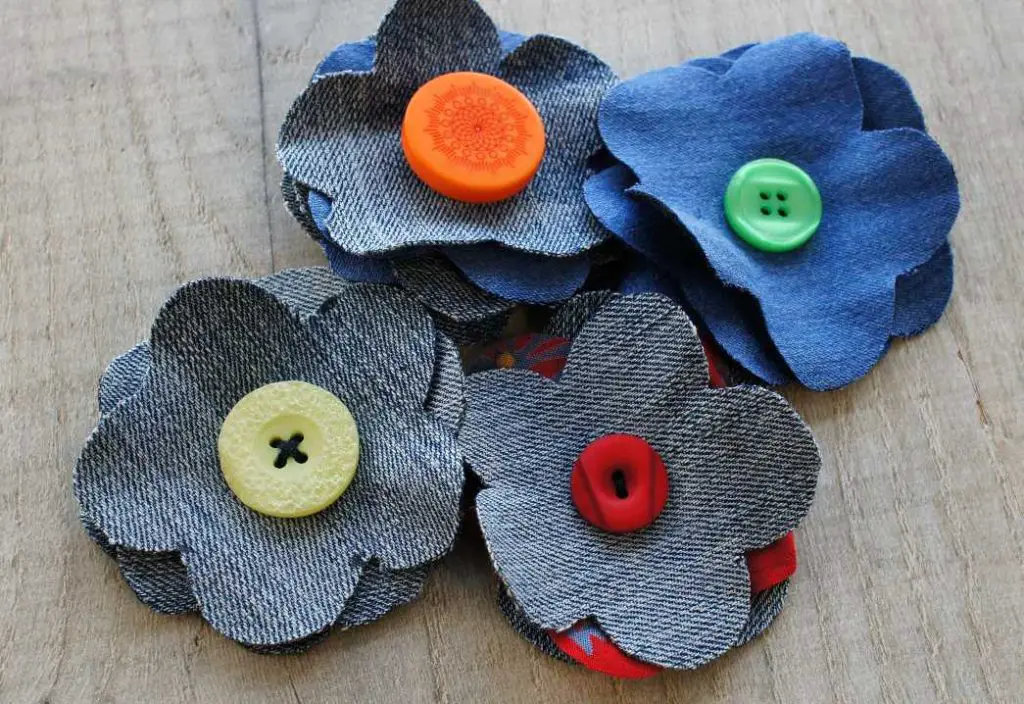 These flowers are so quick and easy to make and great for your wallet as they are made from upcycling old jeans (or indeed any other clothing). They can be made by sewing or gluing so great for everyone. You could attach them to clothes, hairbands, clips, etc. I have sewn mine onto an apron and they look fabulous! You can read the whole tutorial and watch the instructional video here on this website.
Ric Rac Flowers
When I was a child, in the 1970s, ric rac was all the rage but I had not seen any for years. So, when I came across this idea I had to have a go. The tutorial I followed is available at practicallyfunctional.com. It is really easy to follow and they are quick to make. I tried various sizes of ric rac, as you can see. I definitely recommend using larger ric rac. The small one was so fiddly! Whatever the size of ric rac the hardest part is wrapping the two strips around each other. I pinned them together at the end to stop them separating. I have attached mine to hair clips and giant paper clips to make bookmarks. Overall, I really enjoyed these and the resulting flowers are really pretty.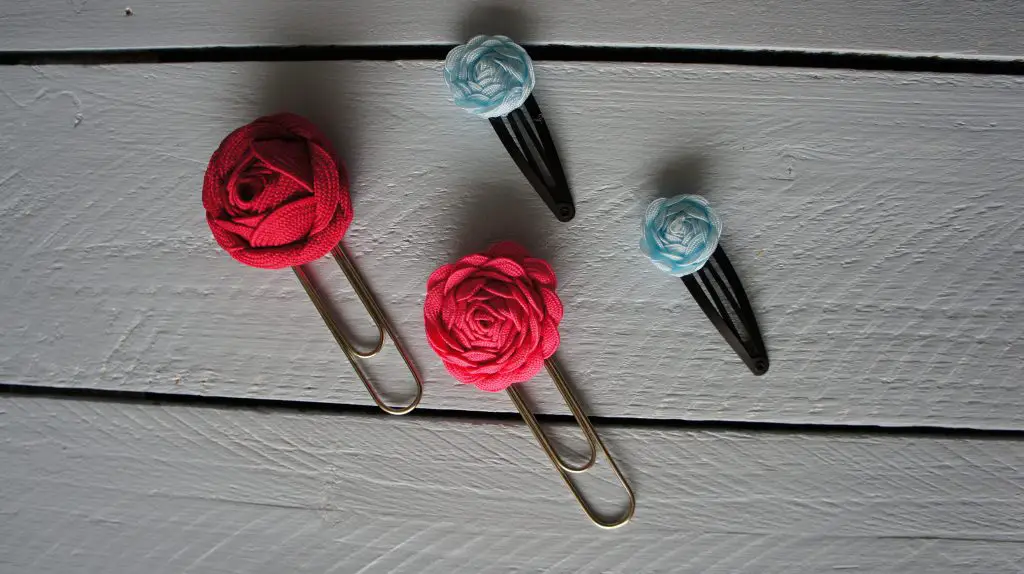 Gathered Fabric Flowers
This tutorial at crazylittleprojects.com is well presented and easy  to follow. I used some strips of fabric and had a go. I did the smaller one first and it went well but I did not like having raw ends on the strip. So, for the larger one I hemmed the ends of the strip before making up the flower. I think that it gives a better finish. Again, I have attached them to giant paper clips but I think that you could easily attach them to a bag or brooch pin.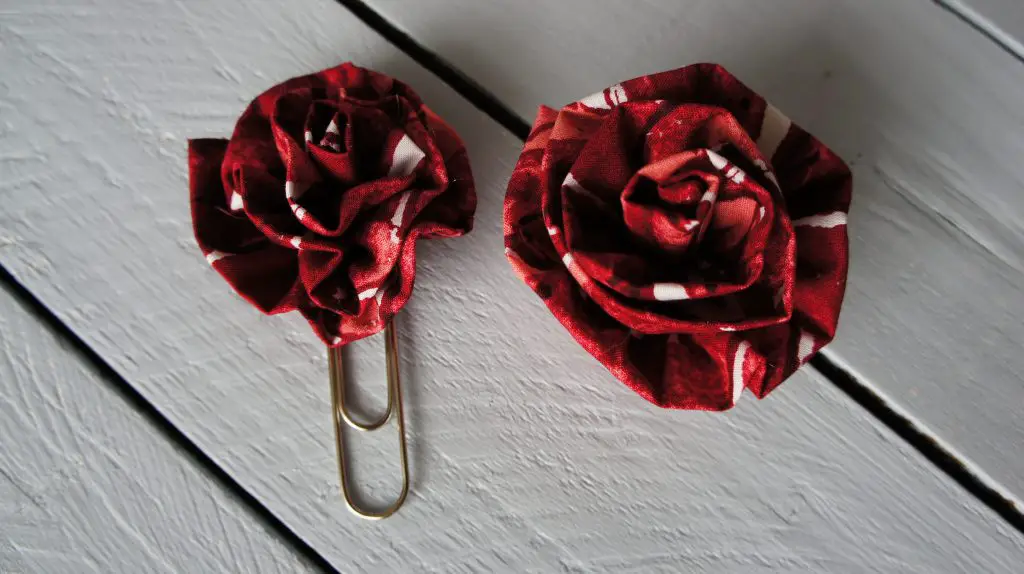 Yo Yo Flowers
These are incredibly simple to make and I have used them before on simple shopping bags. This tutorial is easy to follow and has nice ideas for adapting and developing them into your own style. Whilst I like making these I do not like the finished result as much as some of the others here. They are great for attaching to something where you do not want too much fabric sticking out.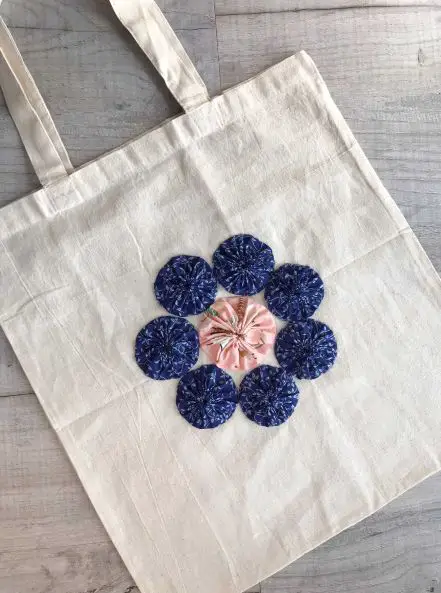 Felt Flowers
As you know I like felt flowers. I have made them before and you can see how I got on then by reading my earlier post 'Felt Succulents and Flowers'. I decided to have a look around for some more tutorials and liked this one at cutesycrafts.com as it was easy to follow and I got a lovely flower at the end of it. Felt is also lovely to work with as it does not fray. I like the felt flowers but I do not think that they are very robust so I will not be attaching them to any clothing or bags.
The Works sell packs of felt sheets for £1.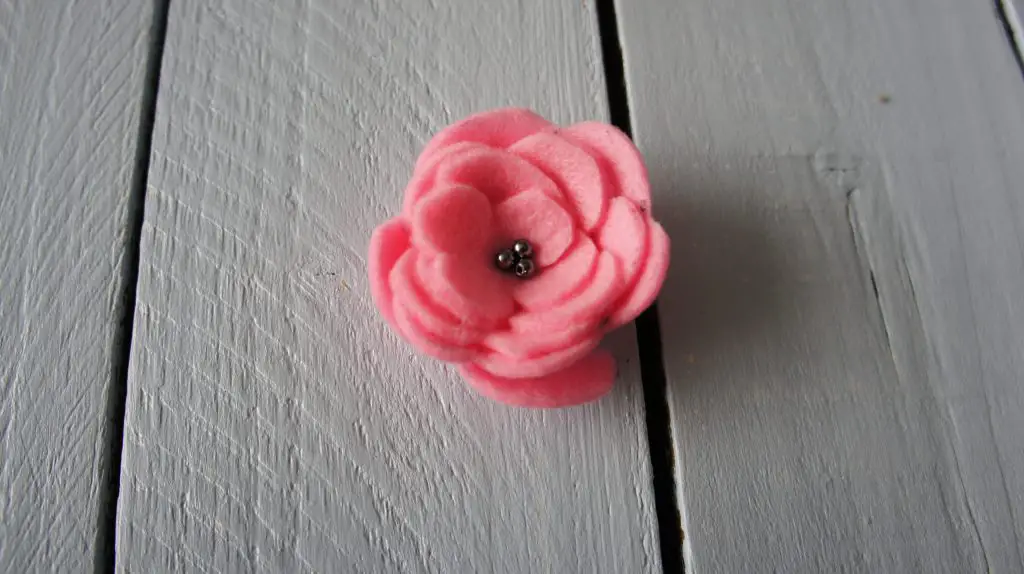 Rosette Flowers
I have seen these flowers before and thought I would have a go. I think that these were the least successful for me.  The tutorial I followed at sweetcsdesigns.com was very clear. My controlling nature got the better of me and I had a go with a folded and sewn strip of fabric. I could not imagine working with all those fraying edges! The result is rather boring. So, I had another go with fraying edges and you can see the difference for yourself. They are so much prettier!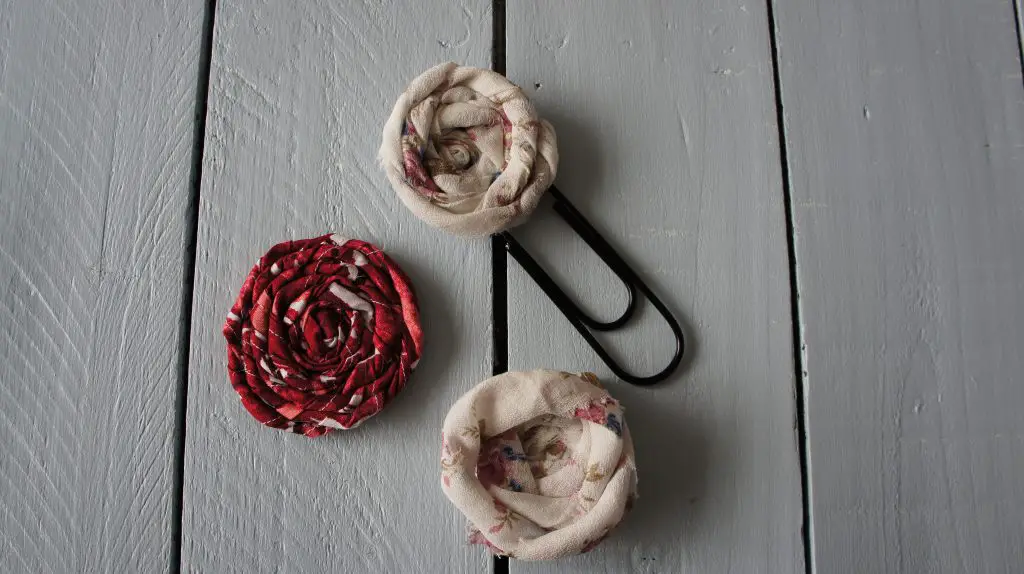 In summary, I love making fabric flowers as you get a beautiful result in any fabric you like in a very short time. They are incredibly versatile as you can select your style and fabric to suit your application.  Many of them are great for children to make too, just steer them clear of the hot melt glue gun. You do tend to burn your fingers on the glue a bit when it gets fiddly.
If you enjoyed the fabric flowers check out my article on paper flowers that are absolutely gorgeous.
If you like sewing you might like to try some of my other projects:
Sewing a Reading Cushion / Pillow
Let me know in the comments below if you get motivated to have a go or if you recommend another style of  fabric flower. Remember to pin this page on Pinterest so that you can find it again (and all those great tutorials).