Super Thoughtful, Inexpensive and Easy Gift to Make for your Friend
As an Amazon Associate I earn from qualifying purchases
Do you want a special little something for your friend that shows you care but without a huge expense? Then how about a handmade gift for a friend? You need no special skills and it costs nearly nothing. Plus you can make it in a few minutes with items you already have at home.

Your friend will love how thoughtful the gift is yet it is such an easy DIY gift. DIY presents are always a bit special and this one has such a positive message. They are perfect gifts for Friendship Day!

They are so inexpensive and quick to make that you could make them to sell for charity at a fair or event. Great for kids to assemble!

This page contains affiliate links meaning I earn a little commission if you use those links at no cost to you. I only recommend brands I use and trust.
You will need:
Select your DIY Gift Container
There is a massive choice of items you could use as a container for your gift items. The quickest, cheapest and easiest is to use an envelope. You could just use one that you have lying around or you could make a cute one. Here is a tutorial to show you how to make a book page envelope like the one I have used.

You could make an Origami envelope or packet like these ones here. They all make your gift a little more special and personalised.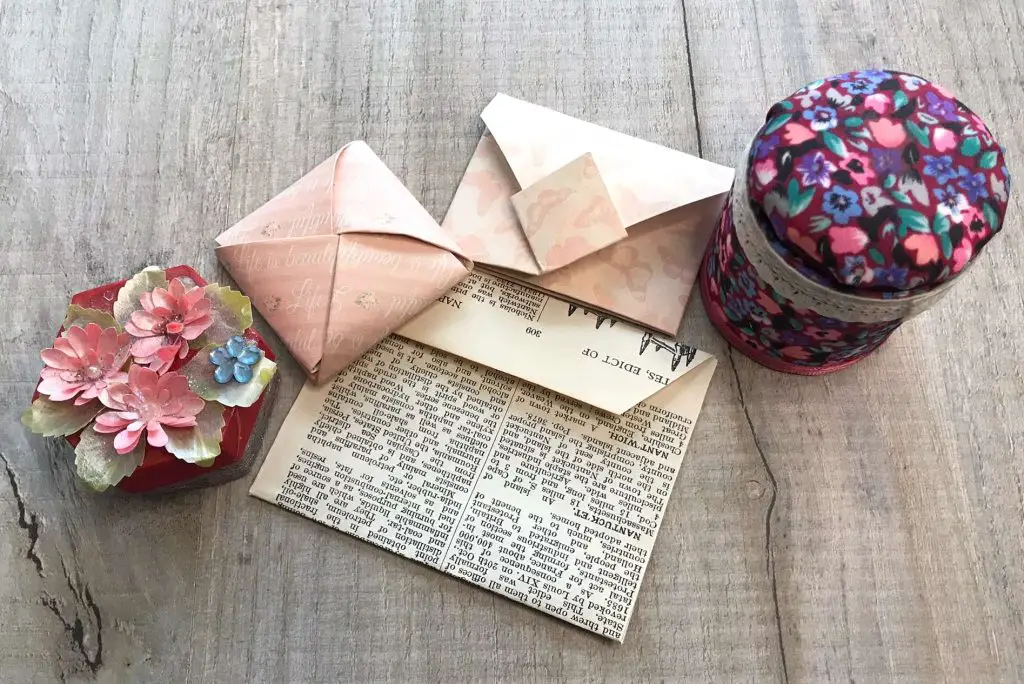 A small box is obviously a great idea. You can decorate one yourself or simply leave it plain. A matchbox would make a great small gift box if you are happy to decorate it.

You simple need a small container to hold all the items.
Gather your Gift Items
Simply gather all the items you need. The size of them is not important so long as they fit into your chosen container. Equally as you can see I used a UK penny. The value of the coin is not important; it is symbolic. However you can always include a higher value coin or note if you prefer.

Cut your eraser, candle and string down to whatever size you like. Print off the poem copies ready to include in your gift. You can enlarge or reduce these to suit your needs. I have included a sheet with 9 small copies on and a sheet with one large copy on. Select the one that suits your needs. A great idea to add some personality to your gift is to use coloured paper that you know your friend will like.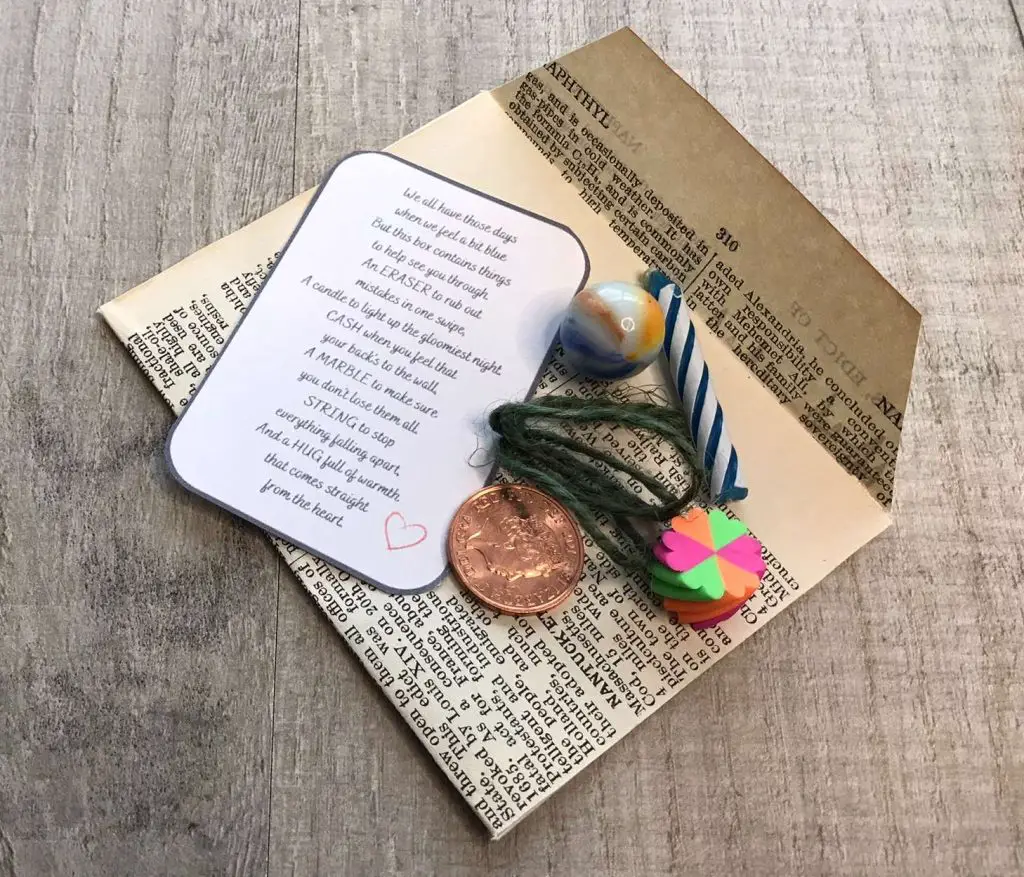 And finally …
Simply place all the items into your chosen container and remember to mentally add a hug! Now all that is left to do is to give your handmade gift to your friend and hopefully see their face light up. I hope that you have enjoyed making a thoughtful DIY gift for a friend.

Because of their size, these gifts are also great for sending through the post as letterbox gifts. Imagine the joy at receiving one of these through your letterbox.

If you are looking for some homemade gift ideas that take a little longer then how about sewing some eco friendly make up remover pads. Save the planet and create a really useful gift. Or perhaps if you do not sew you could create some geometric wall art in colours you know your friend adores.

If you are looking for an any occasion card then how about making a super cool card in a few minutes with no special tools!

Whatever you decide to make your parcel will look even more special if you add a bow. So make one yourself out of old magazine pages.

I hope that you have enjoyed assembling your gift and that your friend loves it. For more great gift ideas you can follow me on Pinterest and pin this idea for later!