Sew Stylish Fabric Coasters from Fabric Scraps in under 10 minutes!
As an Amazon Associate I earn from qualifying purchases
If, like me, you are always looking for great projects to use up your fabric scraps then this scrap fabric coasters tutorial is for you. They are super quick and easy and really do a great job. They look great, soak up any small spills and are easily washed in the machine.

You can make a set of any number you like to match your home decor and even make loads of them for a party or event. How about matching your wedding or party decorations?

You can also scale up the measurements and make large fabric placemats using this method. Or, you can make smaller drinks coasters if you only have small fabric scraps.

This page contains affiliate links meaning I earn a little commission if you use those links at no cost to you. I only recommend brands I use and trust.
You will need:
Fabric scraps that are at least 5.5″ square.
Fusible fleece (or thick interfacing may work)
Normal sewing supplies
I recommend a sewing machine but you could sew these by hand.

If you like watching video tutorials then scroll down to the Video Tutorial at the bottom of the written instructions.
Cut out your Coasters
You will need to cut out your coaster fabric and fleece. You will need 2 squares of fabric for each coaster and they should be 5.5″ by 5.5″. If you want the coasters to have different fabric on each side then make sure you cut out an even number of each fabric.

Cut out 1 square of fusible fleece for each coaster 5″ by 5″. This reduces bulk in the seams.

For each coaster you should have 1 square of fusible fleece 5″ by 5″ and 2 squares of fabric 5.5″ by 5.5″.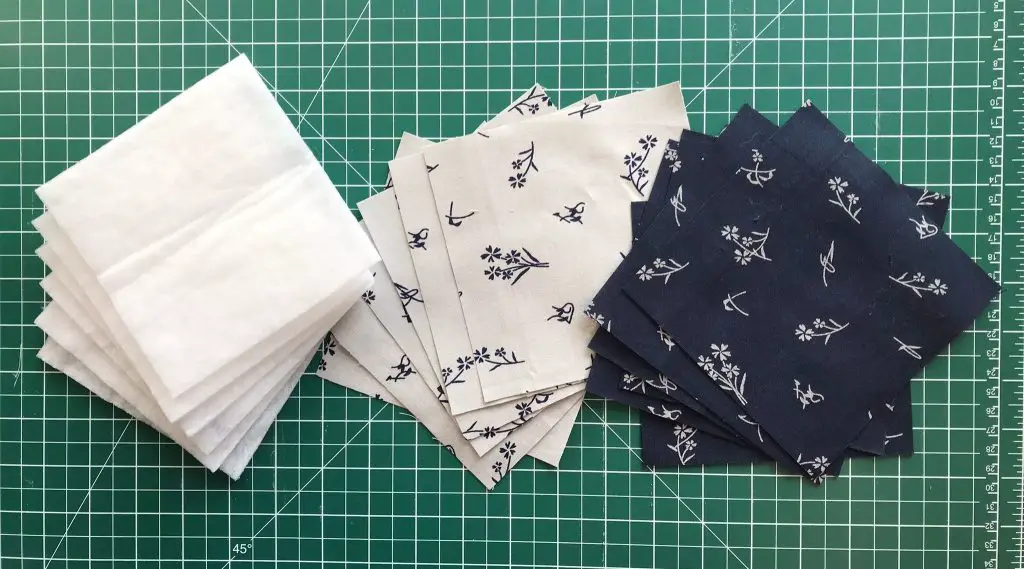 Attach Fusible Fleece to Fabric
For each fabric coaster take one square of fabric and attach the fusible fleece in the centre to the wrong side. This should leave a 0.25″ gap all the way around. The best way I have found to do this is to apply some heat to the fleece on the fabric. Then, turn the whole lot over and press it on the fabric side. I just find it easier to get sufficient heat to activate the glue fully without damaging the fleece this way.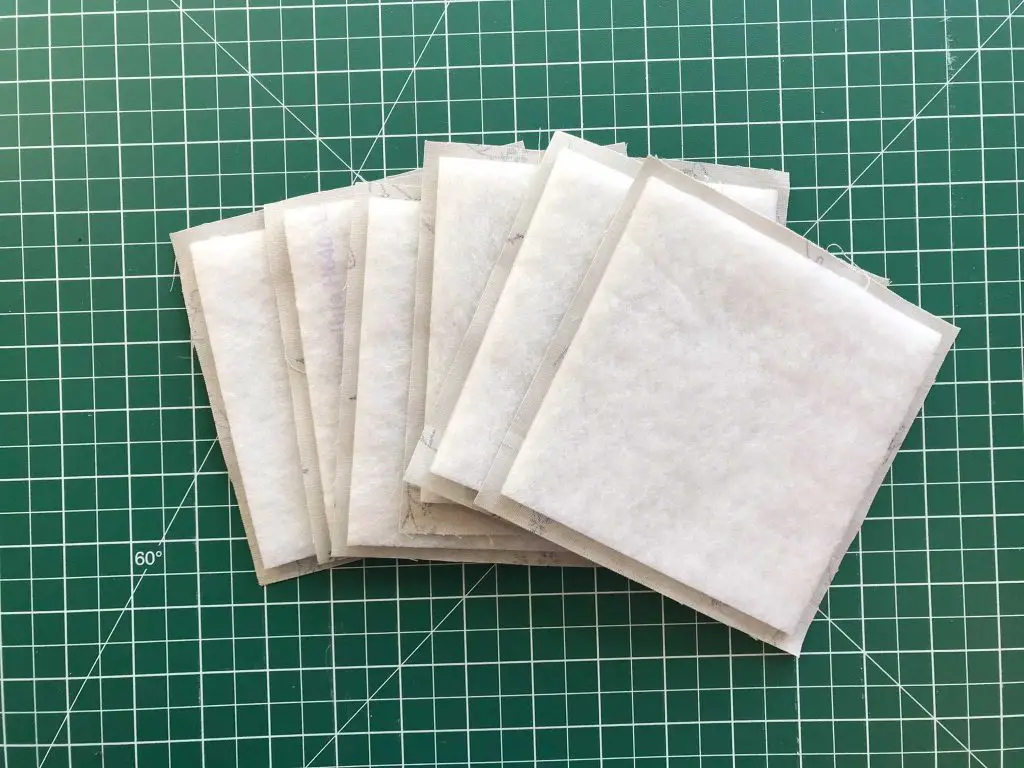 Assemble and Sew the Fabric Coasters
Take one fabric square and place it on the table right side facing up. Place a square with fusible fleece attached directly over it right side down. Right sides are facing each other!

Pin or clip around the whole square. Mark where you will leave a gap in your seam. I recommend leaving a good 2″ open for turning the coaster out through.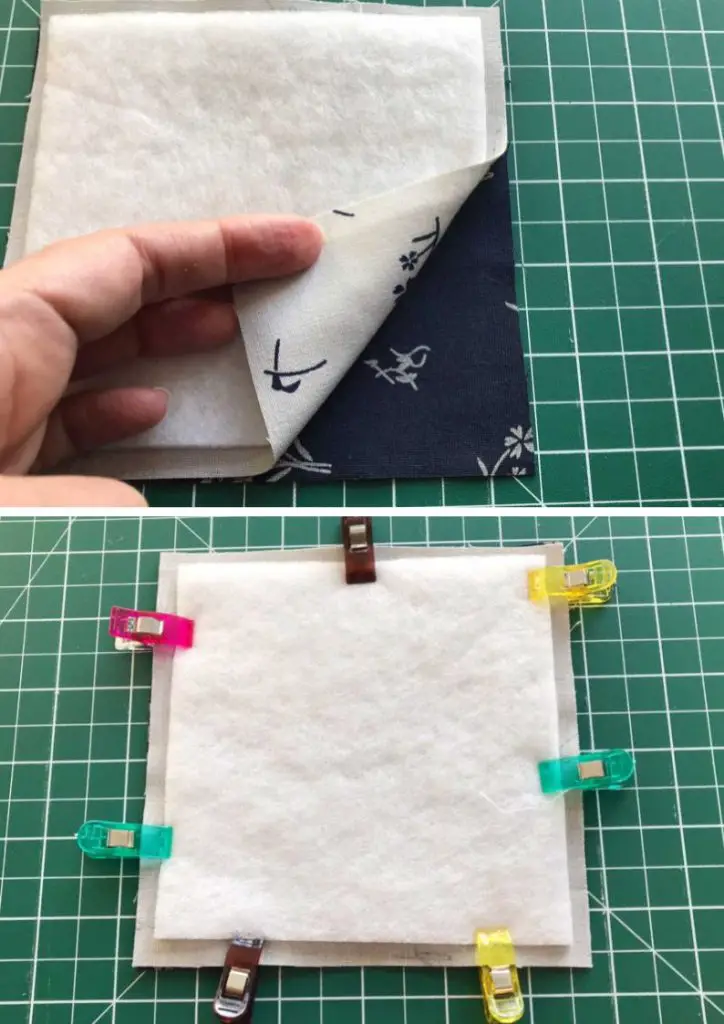 Sew around the whole coaster using a 0.25″ seam allowance and leaving your gap for turning out. Once you have sewn around the coaster clip the corners so that the bulk is reduced. Just be careful not to cut your stitches at all.

Then turn your coaster the right way out. If you have any trouble turning the corners out try using a pointed object that is not too sharp. A chopstick works really well for this. Press your coaster making sure that the raw edges on your opening are pressed in so that you cannot see them.

All you have left to do is to top stitch around the whole square. This will decorate your fabric coaster and close up the hole that you left in your seam. I sewed mine with an ordinary stitch 1/8″ from the edge of the coaster.

You can get creative here and use 2 rows of top stitching or a fancy stitch on your machine. You could even do a quilting pattern over the whole coaster if you wanted to.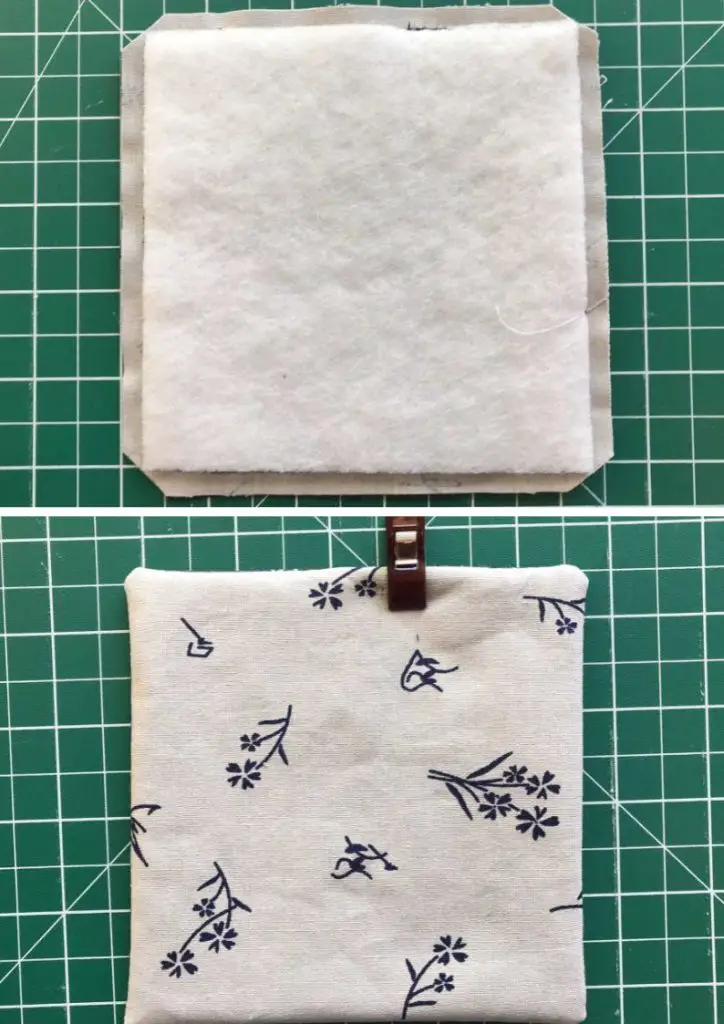 Fabric Coasters Video Tutorial
This video is also available on my YouTube channel.
And then…
Congratulations, you have finished your fabric coasters. How quick and easy was that? You could easily run 6 of these up and fasten them up with a ribbon as a gift for a friend. What a great way to use up those fabric scraps and cheer up a friend.

If you enjoy sewing then check out some of my other sewing project ideas and tutorials:
Let me know in the comments below how you get on with your fabric coasters and if you have any ideas for developing them for all the rest of us sewists.