Face Masks DIY – 5 of the best, tried and tested
As an Amazon Associate I earn from qualifying purchases
Well, most of the world is wearing face masks some or all of the time so it is only sensible that many of us are looking to make our own face masks DIY. I currently have an adult household of 5 so I was quick to make some face masks for us but they are not all the same. I have been trying out various designs and identifying the advantages and disadvantages of each. Trust me when I say that my audience is not shy in giving me their opinion.
That is what this article is all about. I will show you what I have made, link to the original face mask tutorial so that you can make one and explain to you what I have learnt about each face mask. These are some of the best face mask patterns to sew. As you will see I wear spectacles so I will try to comment on that but to be honest I find they all steam up my glasses to some degree once it is cold outside.
All of my face masks have been made from cotton. The gaiter mask is made from old t-shirts and the rest are all made from fat quarters.
Some of it comes down to personal preference and also time of year but more of that in the explanations. So, let's get started and see which is best for you.
Surgical Style Face Mask
This face mask is the traditional surgical style with 3 horizontal pleats. The tutorial at Sweet Red Poppy shows you all you need to know to make adult and child sizes of these masks. It is an online tutorial but you can also download a printable pdf version. I have made both adult and child sizes and they have been universally popular. Everyone agrees that they are comfortable and easy to use.
They are easy to sew with a sewing machine requiring only straight sewing. Forming the pleats can be a bit fiddly but pressing the face mask first to form them works really well. You could easily change the size of the masks by varying the length of the elastic or adjusting the size of the fabric rectangles used.
Overall this is the mask that I have made the most of and that gets used a lot in our house. That probably tells you all you need to know. Take a look now at Sweet Red Poppy.
No Fog Face Mask Pattern for Glasses
If you are looking for an anti-fog pattern then this is a great choice. This face mask involves a little more thought but to be honest the video tutorial is so easy to follow that it seems very straightforward. The big question is 'Does it stop your glasses fogging up?'. Well, it is currently my favourite fitted face mask pattern for glasses and that is because my glasses have not been fogging up and because it is comfortable.
The shape of the mask holds it away from your face slightly which makes breathing more comfortable. Overall it is easy to make if you follow the tutorial closely and it is undoubtedly easy to breathe with it on.
As it is a YouTube tutorial I have embedded it for you here.
Gaiter Face Mask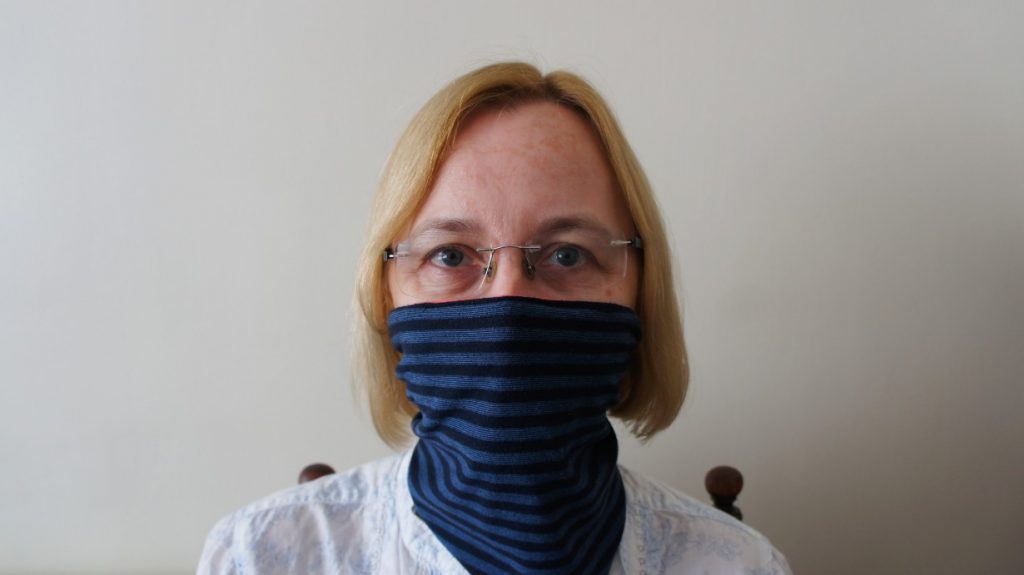 This gaiter mask is on the Jennifer Maker website. This is the style of face mask that I have worn the least as it has been summer here. I suspect that I will wear one of these a lot in winter as it will be great for keeping me warm and covering my face. It can easily be pulled up when entering a building and lowered when leaving (or left there if it is really cold).
It is super easy to make and there are written and video instructions. There are dimensions to cut out and also printable pdf templates if you prefer. It is also suitable for your Cricut. There are various sizes and you really do have everything you could need. Jennifer's instructions are excellent.
The key to success with gaiter masks is stretchy fabric and getting the sizing right. I used old t-shirts to make this one and I think stretchier fabric would have been better.
There is the option to include a nose wire and / or a filter pocket but I did not do either. It is lovely and comfortable but I am not sure how well it will stay up so I may make the next one with a nose wire.
So, take a look and see what you think at Jennifer Maker.
Fitted Face Mask
This face mask is a fitted shape and has a nose wire. It is from hellosewing.com. There are great instructions online and you can download and print off the instructions. It includes a pattern for the fabric pieces as it is shaped.
This is the first type of mask that I made as they were recommended to me. They are not as quick and easy to make as some of the other face masks but they are comfortable and do fit your face well.
I have worn mine a lot and it always stays in place well and feels comfortable. The nose wire does allow you to fit it to your face and reduce fogging of the glasses.
So, take a look and download your pattern from hellosewing now.
DIY Breathable Face Mask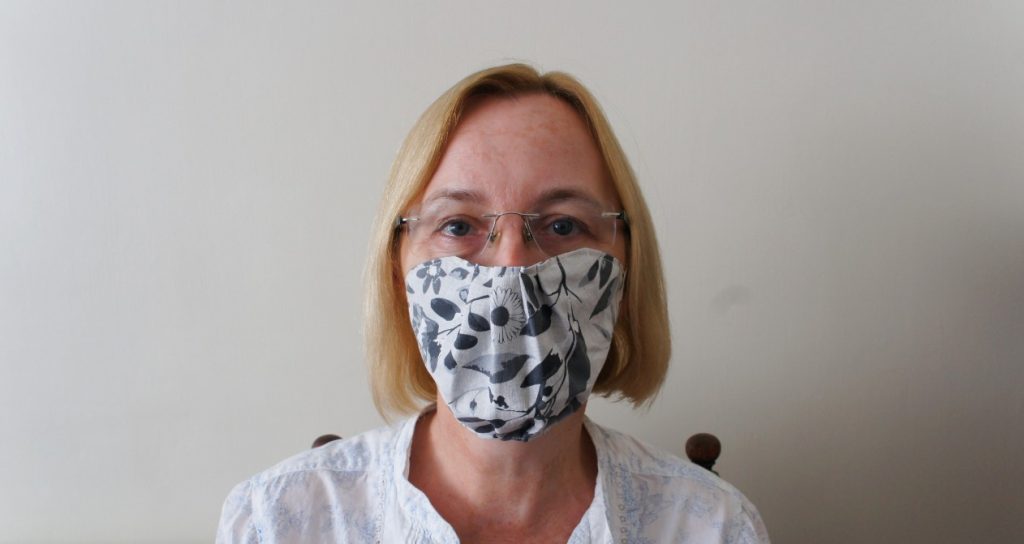 This final mask is billed as a breathable mask and is shaped to allow you to breathe. As you can see this mask is quite large on my face and I find that it slips down quite a bit. If I make another of these for me I will make it slightly smaller. However it is shaped away from the nose and is therefore easy to breathe through.
The instructions are really easy to follow and I had no trouble making this mask. Again, the pleats can be a bit fiddly but persevere as they make the shaping.
As this is a YouTube tutorial I have embedded it here for you.
Summary of Face Masks DIY
In summary I would say that the easiest face masks DIY to make from these 5 are the surgical style face masks. I have found that it is easy to set up a little production line and make several together. They also seem to fit a lot of people without adjusting the size at all.
My personal favourite to wear is the 'no fog on glasses' design as it is comfortable and does minimise fogging on my glasses.
I can honestly recommend all of these tutorials as easy to follow and get great results from. If you are needing some fabric re-useable face masks then try some of these and you will not go wrong.
If you enjoy sewing then take a look at some of my other sewing tutorials:
Easy drawstring bag to keep your masks in
Sign up to my regular newsletter today to make sure that you do not miss any of my tutorials and articles.