15 Fat Quarter Makes Kit Review
As an Amazon Associate I earn from qualifying purchases
This page contains affiliate links meaning I earn a small commission if you use those links at no cost to you. I only recommend brands I use and trust.
I saw this fat quarters kit and it appealed to me. A book full of ideas and some fat quarters to get started with. So, I jumped right in and bought it. It is a nice size kit and I thought that it would probably make a nice gift. I decided to use the kit and review it on here. If I like it I will buy another for a gift!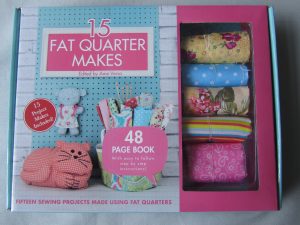 The book is a cute little book with, not surprisingly, 15 items to make. There are full instructions for each idea. I decided to make the crafter's treasure bucket. It is the largest item in the book and uses most of the fabric included. Had I chosen a different project I could probably have made a few items using the included fabric.
The instructions in the book are clear and easy to follow. It would benefit from more pictures to demonstrate steps but I managed just using the instructions. At the back of the book is a stitch library to help with any stitches that are new to you. There are also templates for some of the craft projects. On the craft I made it was not possible to get the 'bucket' out of one piece of fabric as it said so I had to improvise. That would be my only criticism of the book. I will definitely make more items from it. I like the look of the 'cool colourblock tote' and the 'ditsy teddy bear'.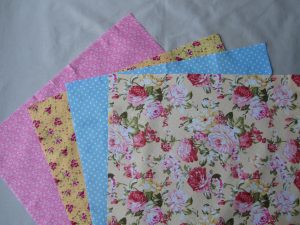 The fabric included in the kit is very thin and, in my opinion, not very good quality. It frays very easily when you are working with it. However, it has made a lovely result in the end.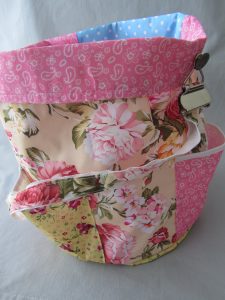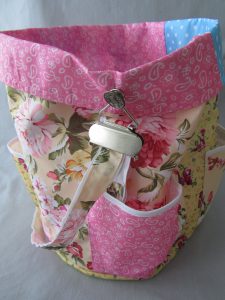 I purchased this kit at The Works in the UK . There is also a larger book available, '50 Fat Quarter Makes'.  This is available from Amazon. This includes the 15 makes and many more. It is full of good ideas. so, if you are a fat quarters hoarder this may be the book for you!
If you like sewing you might like to try my other projects:
Remember to pin this article so that you can find it again!
Let me know what you are making with fat quarters via the comments section below.