Best 27 DIY Christmas Tree Decorations (for all ages and all budgets)
As an Amazon Associate I earn from qualifying purchases
We all know that absolutely the best Christmas tree decorations are hand made either by us or our kids. It makes the tree so much more special and personal. Whether you want a co-ordinated tree or a mash up there is something here for you!

I have gathered together the best tutorials that are easy to follow and give a great result so that you need look no further.

So settle back and take a look what you can make this Christmas to make your tree extra special!
Popsicle Stick Sled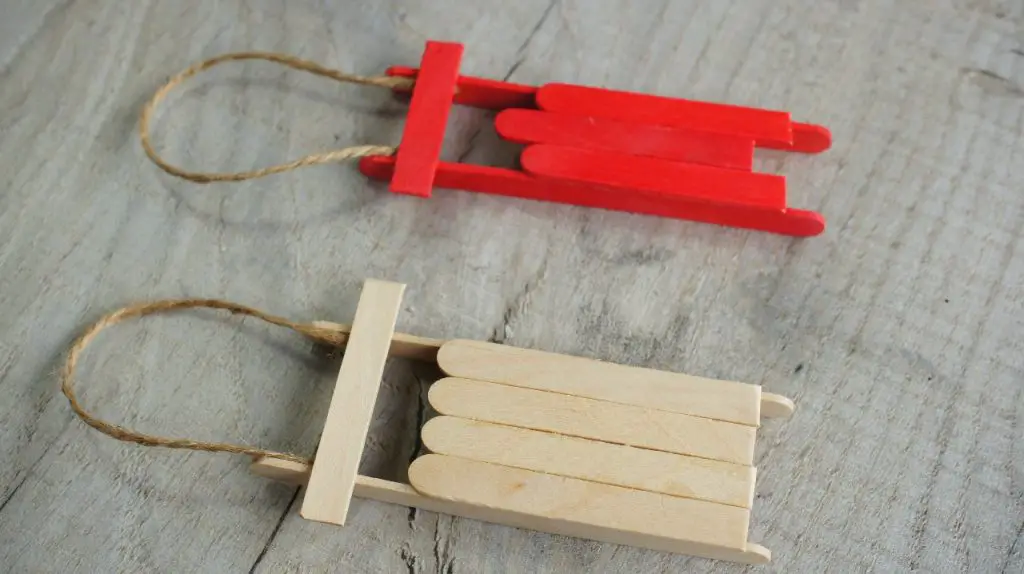 How cute are these little sleds? They are very quick and simple to make and you can make them any colour to match your tree and seasonal decor. They cost very little and you can even embellish them. What about adding photos to the sleds and gifting them to relatives?

Not only a decoration but a great personalised gift idea too. Take a look at the sled full instructions with video tutorial now.
Laundry Scoop Christmas Decorations
How pretty are these sweet Christmas scenes. It is hard to believe that they started life as laundry scoops! These are easy to make and you could easily involve kids in making these. But be careful you are using hot melt glue. Perhaps let them design them and you do the gluing.

Let your creativity run wild and develop your own scenes or use these as inspiration. Again these make great little gifts as well as decorations for your Christmas tree. Full step by step instructions that are easy to follow.
Beautiful Angel Wings
Angel wings are always a great Christmas decoration and these are no exception. They look adorable and are made from old cloth doilies so another great upcycling project. If you don't have any cloth doilies you should be able to pick them up from a charity shop.

The detailed step by step instructions show you exactly how to make them and get a great result.
Pompom Tassel Spool Decorations
They may not have the catchiest title but these hanging decorations are adorable! They are great for upcycling old spools and using up yarn scraps! Many of you could make these for free, I am sure.

They are lovely and traditional in style too so look great on any traditional tree. The step by step instructions have some great photos and ideas for using other items on them.
Repurposed Eyeglasses Ornaments
What a fabulous idea these are! If you wear eyeglasses then you are bound to have old pairs and probably broken ones. This is a truly creative way of re-using them for decorative purposes.

They look adorable hanging on the tree and you can add any embellishments you like. Step by step instructions that are easy to follow make these a great addition to your tree.
Woolly Hat Ornaments
I love these woolly hat ornaments for so many reasons. They are simply adorable and they can be made for free using scraps of yarn from other projects. Plus they are great for kids to make too!

You can make them to match a colour scheme or go crazy and make lots of different colours. Full step by step instructions and video tutorial to show you how to make yours.
Paper Polish Stars
If you are looking to spend pretty much no money then how about these paper Polish Stars? They are made entirely from paper and glue plus a thread and buttons to hang them from.

You can use any paper and you could even try old magazine pages. There is a video tutorial and step by step instructions to show you exactly how to make them.
Christmas Wish Lists
These little ornaments are so sweet and you can make them every year with your kids as keepsake ornaments. What better way is there to save their wish lists?

They can be made with your kids or you can simply get them to add their list in if you prefer. So sweet and also look great on the tree. Step by step instructions will show you the secret to success with these.
Easy Straw Christmas Ornaments
These colourful trees are definitely a craft to complete with kids. They look fabulous and are fun to make. You can choose the colour straws you use and make the trees to match your decor.

There are step by step instructions plus a free template to download. Take a look and make your trees today.
Birch Bird Ornaments
These simple birds are so effective on the tree and are all natural so look great if that is your theme. They use bark that has already fallen from a tree so no environmental damage done.

The step by step instructions include a free template so you do not need to be able to draw! These birds have the added benefit of being hard to break if they get knocked off the tree.
Twisted Paper Ornaments
These twisted paper ornaments are easy to co-ordinate with your other decorations by a careful selection of paper / card. They are great for older kids to get involved in.

These step by step instructions will show you how to make them with very few supplies!
Hanging Fabric Christmas Tree
How about adorning your Christmas tree with Christmas trees this year? You could buy some fabric and make a whole tree full of them or how about using up your fabric scraps and making an interesting tree!

This tutorial includes a free printable pattern so you can get started right away. You can run them up on the machine in no time but you could also sew them by hand if you prefer.

Take a look at The Happiest Camper.
Wood Veneer Ornaments
Now, these are something a bit different and look fabulous! They are made using coloured wood veneer and in the tutorial Vineta uses skateboard veneer so they would be great for any skateboarders!

Fabulous detailed tutorial at The Handyman's Daughter that anyone with a bit of woodworking experience can follow.
Baby's First Christmas Ornament
Everyone loves to celebrate baby's first Christmas with a special Christmas tree decoration but they can be expensive. How about this fabulous DIY alternative?

Celebrate your first Christmas with baby by making a baby bottle decoration. Great for new parents and grandparents alike. Take a look how to make yours at The Soccer Mom Blog.
Christmas Fabric Ornament
How about a fabric bauble of your own design? These are surprisingly easy to make, require no sewing and are great for using up fabric scraps. They are made on polystyrene (styrofoam) balls so you can make them any size.

Take a look at the full tutorial here.
Gingerbread Man Mason Jar Lid Ornament
How cute is this? We all associate gingerbread men with the holidays and these are a great way to add gingerbread men to your tree without baking a thing! Plus you can use them year after year.

They are easy and inexpensive to make and you can involve the kids in making them. Take a look at the full tutorial at Ann's Entitled Life.
DIY Paw Print Ornament
Do you have any cute pets with paws? Well, why not involve them in the decorations, especially if it is their first Christmas with you? These clay ornaments are adorable and a great celebration of your animal friend.

Take a look at a wonderful, detailed tutorial at Where the Smiles Have Been.
Felt Star Christmas Ornaments
These felt stars are simply adorable and are a fabulous little hand sewing project. You can practise your embroidery skills too! Add a few beads and it will really catch the light.

Suitable for all levels of sewist including beginners. Follow the detailed tutorial at Beginner Sewing Projects.
Wedding Invitation Bauble
How about this for a fabulous idea? Make a bauble using one of your wedding invitations to act as a reminder of your special day. Or how about using party invitations from a special day or indeed anything you think is suitable.

See the whole tutorial and indeed more ideas at A bride on a Budget.
Milk Plastic Santas
Now for something completely different! These cute Santas are made from something called milk plastic! If you want to know what that is and how you make it you will have to take a look.

If you are crafting with kids this will also help them learn all about science. Take a look at STEAM Powered Family.
Christmas Decorations for Knitters
Do you have a knitter in your life or are you a knitter? Then, how about a Christmas tree decoration that reflects your hobby or business? Try one of these baubles and everyone will know you knit!

Full detailed tutorial available here on this site.
Clothespin Angel
Would you like a super simple yet chic angel for your tree this year? Then look no further than these adorable clothespin angels. Very inexpensive to make so great if you want to make a few.

Fully detailed tutorial awaits you at Ann's Entitled Life.
Santa Seashell Ornaments
I absolutely love these! They are absolutely adorable and a little bit different to other decorations. You don't need amazing artistic ability or loads or resources to get a great result.

Full tutorial available at Down Redbud Drive.
Origami Waterbombs
If you choose the right paper then Origami Waterbombs make fabulous Christmas decorations. They can sit on the branches of your Christmas tree and catch the light.

Obviously these are very cheap to make and once you master them you can make loads! Involve the kids too! Full video tutorial at Origami Expressions.
Map Christmas Ornament
Do you sew? Then you probably have old cotton reels stored away somewhere? How about turning them into these super cute hanging Christmas tree decorations? You could even use a map that is particular to you and make them very personalised.

Fully, detailed tutorial at Pillar Box Blue.
Button Trees
How about making some cute little button trees to hang on your Christmas tree this year? These are super quick and easy to make and great for using up those old buttons you are storing for 'one day'.

Take a look at the written and video tutorial.
Traditional Norwegian Christmas Tree Decorations
These traditional Norwegian Christmas tree decorations are really easy to sew and super quick on the machine. You can fill them with whatever treats you like (edible or otherwise).

They are great to give your guests as gifts to take home too. So see how to make yours today.
And now …
So, there you have it, 27 fabulous decorations for your Christmas tree this year. I hope you agree that there is something for everyone. If you have any further suggestions please add them using the comments below so that we can all benefit from your idea.

Whatever you craft for the holidays enjoy them and relax!