Review of Craft Den and their Craft Products
As an Amazon Associate I earn from qualifying purchases
UPDATE ON 27th May 2022
Craft Den is currently on a short break. Hopefully they will be back soon!
I first found @craftdenco on Instagram and loved their products. So, I bought a few bits and pieces. Since then I have made a few purchases! Craft Den is a small independent online craft retailer in the UK. Recently they have opened up their own shop, having started out on etsy.
The fact that I have bought a few items from them should show you that this will be a largely positive review. In the interests of full disclosure I will tell you that Dawn at Craft Den gave me these supplies to test and demonstrate on Instagram for free but I am not an affiliate and I will not benefit in any way if you make a purchase.
The first thing that I would say about all the products I have had from Craft Den is that the packaging is beautiful. It is environmentally responsible and has a simple elegance. Anything you purchase would make a fabulous gift as it is already packaged well.
Kumihimo Friendship Bracelet Kit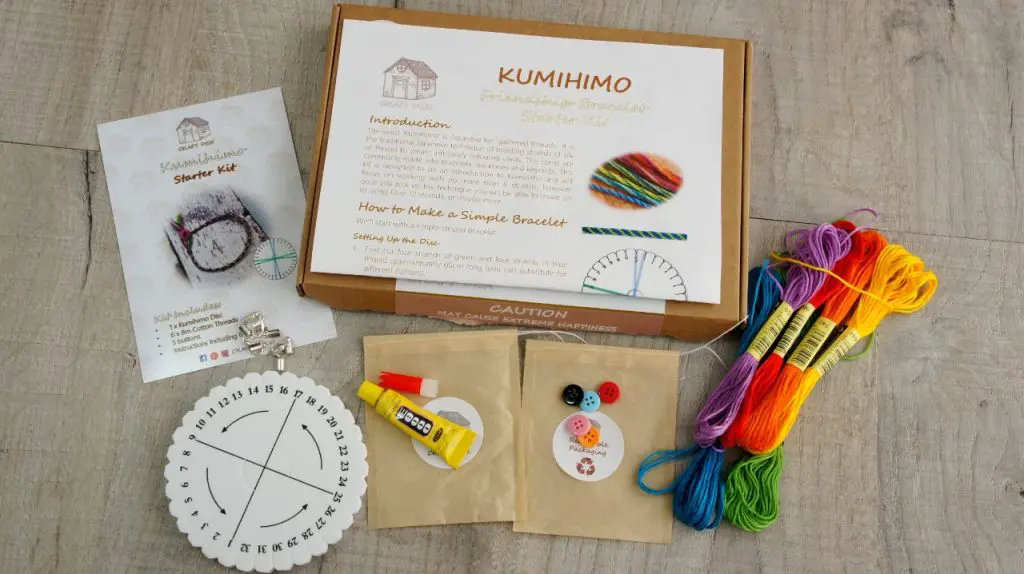 Like all Craft Den products this kit is beautifully packaged and made me smile before I even opened it. This picture shows the kit and clasps and glue in addition to the kit (shown in the picture). You purchase those separately. I have never made friendship bracelets before (I know) but I found it super easy and addictive with this kit. It became my 'go to' craft in an evening. I love the fact that the disk has arrows and numbers on it so when I lose my concentration I can work out what I was doing really easily!
Here is an unboxing video so you can see exactly what you get.
I would definitely recommend this kit for a gift or someone starting out making friendship bracelets.
Pattern Weights
These pattern weights are lovely and made me smile all the time I was using them. I used them alongside my existing pattern weights that I made. If you want to know how to make your own check out these 2 tutorials 'Make your own pattern weights' and 'Super Simple Dressmaking Pattern Weights'. They were a great addition to my existing weights and I love the flexibility of my pattern weights now.
If you want them for a gift they come wrapped in tissue paper so all ready to gift.
Cross Stitch Beginner Kit – Rose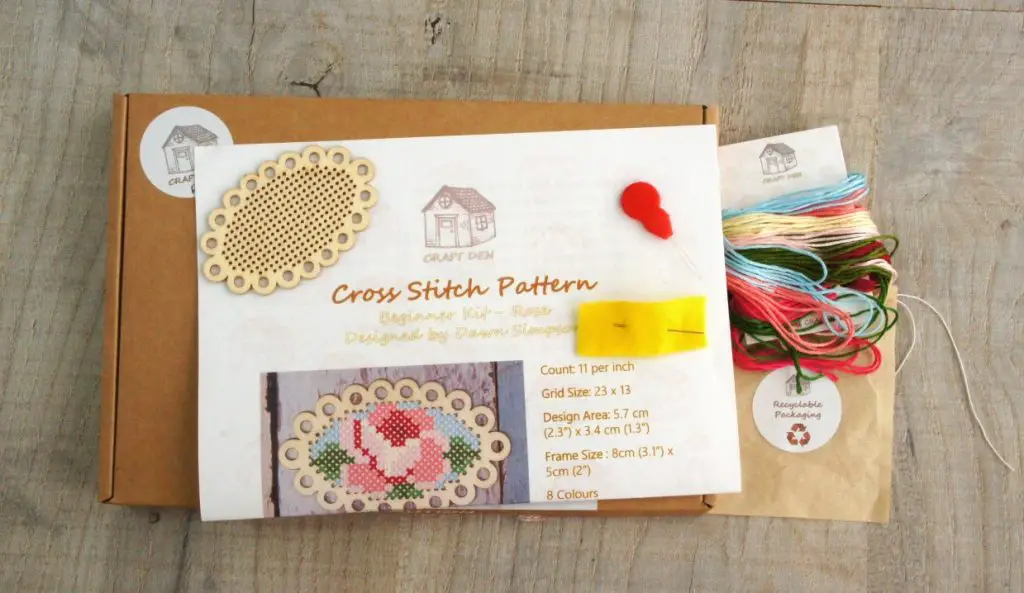 This is a perfect kit for a beginner. I have done a lot of cross stitch over the years but this is the first time I have used a wooden grid. It is definitely easier than on fabric so great for a beginner. The pattern is printed in colour which makes it really easy to follow. The instructions are clear and detailed so again great for a beginner. You receive everything you need including a needle and needle threader.
The final part of this kit being excellent is that you end up with a thread minder to use when you are cross stitching your next projects. I am using mine with all my Christmas card cross stitch kits.
Here is an unboxing video so you can see exactly what you will get:
Iridescent Stork Scissors
These are perhaps my favourite scissors ever. They are just so pretty! Plus they are great as general little craft scissors when you are sewing, knitting, crocheting or making friendship bracelets. I can't help smiling whenever I use them.
Any crafter would be super pleased to receive these as a gift. They come in 2 different sizes depending on your preference. Take a look here.
Here is a short video showing you these scissors too:
Needle minders
This is exactly how this set of needle minders arrived, with their very own display flag. I would never have thought of displaying my needle minders but now I have this I love it and they are on display in my study. No longer a struggle to find one in the bottom of my sewing box. I was converted to needle minders a few years ago. They are magnetic and it means that you do not lose your needle when you put it down and you do not damage your work by putting your needle through the fabric.
They work really well and there is a fabulous selection of designs available. Take a look.
Summary
I would recommend Craft Den as a great supplier of craft items. It is a small independent business with great customer service so check them out and see what takes your eye. They have a wide range of products and they also sell digital cross stitch and embroidery patterns.
Currently (in 2020) shipping is only within the UK so international buyers can only download digital patterns. Maybe this will change in the future, I don't know. I hope so for all you international crafters!
If you are looking for more inspiration on craft shopping then take a look at some of my other reviews:
Painting by Numbers – Winnie's Picks
Diamond Painting – an Introduction
Remember to pin this article on Pinterest so that you can find it later.