The Best Gifts for Crafters – A Guide
As an Amazon Associate I earn from qualifying purchases
Gifts for crafters – such a big choice! We all know someone crafty and want to buy them something great for Christmas or their birthday but what? What are the best gifts for crafty people? There are so many crafts out there and so many options within each one. Well, this guide will show you the best options (in my opinion). All your research done for you!
I have not bought all these kits, etc so I cannot guarantee their quality but they all seem from what I can see to be great gifts for crafty people. To see them simply click on the title or picture. They are all available online and some are great for last minute gifts for crafters.
If you are the crafty person then read on for some inspiration for your Christmas list or perhaps a treat for yourself.
Yes, there really are 11 – I squeezed an extra one in!
This page contains affiliate links meaning I earn a small commission if you use those links at no cost to you. I only recommend brands I use and trust.
This is a complete kit to introduce anyone to the art of diamond painting. It includes everything you need to produce this set of coasters including a holder for the completed coasters. If you have never tried diamond painting before it is very relaxing and you do not need to be artistic to achieve fabulous results. If you want to know more about it then read my Introduction to Diamond Painting here.
I recommend a kit like this because you will get everything you need to start even if you have never done it before. You will also finish with something lovely that you can enjoy. It is also great for older kids to do so maybe consider them when looking at these.
If you remember painting by numbers kits from your childhood then these are nothing like that. If you would like to see my review of the kit shown above then take a look at it here.
You can get kits for all levels of skill at Winnie's Picks and I chose a starter kit and loved it! You can also get custom kits from your own photographs. Definitely worth considering for a gift.
Currently in 2023 kits range from $24.95 to $59.95.
I have included this particular kit as it is something a little bit different. It is a kit that contains 123 pre-cut small wooden pieces and instructions. This is not a quick and easy make. It is billed as taking about 5 hours and it is suggested that it would be a great family build to help older teens bond with parents (or grandparents).
Upon completion you end up with a beautiful small treasure box, under 5″ square. All the reviews tell you that it is fiddly to do and the pieces are very small so you can break them. Recommended for someone with great manual dexterity and a love of working with small items.
I have included this cute little panda kit but, to be honest, there are lots of different designs to choose from. It is the latch hook work that I love. If you have never tried working with a latch hook then a cushion is a great place to start. This is a very relaxing craft and anyone who likes other yarn crafts will probably enjoy it. They may even move onto whole rugs!
In this kit you get one latch hook craft tool, pre-cut yarn pieces, one illustrated instruction guide and one color-coded canvas. It has everything you need to get started with this craft.
As you can see from the image this kit is everything you need to have a go at wood burning. This is a starter kit so probably not suitable for someone who does wood burning already. It will allow you to have a go and create some great designs.
This is everything you need to get started apart from some wood!
This is a beautiful little kit to get started with needle felting. It comes in a lovely little gift box too! The whole kit (in the box) measures 12″ by 8″. It contains everything to make the cute little figures shown.
If you have never tried needle felting then this kit will allow you to try it and see if it is for you. I would just point out that this kit contains very sharp needles so be careful if you are thinking of using it with teens.
This is a starter kit for jewelry making. It is great if you have never done it before. It contains tools and equipment so that you can open it and start creating your own jewelry. Great for teens!
This is not really suitable if you already create your own jewelry, only for beginners.
This is a starter kit for someone who has not tried embroidery. It includes three hoops and stamped embroidery cloths. All the designs are pretty florals. That is why I chose this kit to include here. Not only will you learn some embroidery skills but you will also finish with 3 beautiful pictures
Great introduction to embroidery without too much expense.
If, however, you have an experienced sewist to buy for and a lot more to spend have you considered an embroidery sewing machine for beginners? If so, then check out this review before proceeding any further. What a fabulous gift that would be!
I had to include a craft caddy in this list. Every crafter always needs more storage solutions and a caddy that you can move around with you is indispensable. I selected this one to include because it is a good size (15.25 x 9.5 x 8 inches) and includes lots of compartments to keep everything organised. It also has excellent reviews.
Great gift idea for most crafters.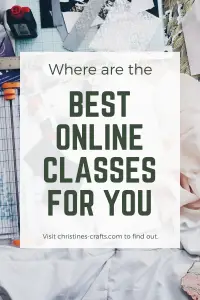 If you know a crafter who is always looking to learn new skills then look no further than Creative Live online classes. I have taken a couple of them and they were great, really enjoyable and informative! Read my full review here. The classes cover such areas as photography, sewing, music, art and much more.
In 2022 currently classes vary in price from free to $149 for the yearly pass. These classes make a great last minute gift! No gift wrapping required!
Amazon Prime is a perfect as last minute gift or for those who have it all. Some key Prime benefits:
* FREE Two-Day Shipping on millions of items
* No minimum order size
* Instant streaming of thousands of movies and TV shows
* Unlimited, ad-free access to over a million songs and hundreds of playlists.
Clearly for a crafter the free 2 day shipping is the most appealing! Get 3 month or 12 month membership.
Summary:
In summary there are loads of gifts for crafters out there. This list is to help you find something quickly online that your crafter should like. Help them to try something new and inspire more creativity!
If you want to find more information about some of these crafts then take a look at:
Diamond Painting – An Introduction
Creative Live Online – an Honest Review
Ergonomic Crochet Hook Set – Review
Painting by Numbers for Adults
Remember to pin this guide to Gifts for Crafters on Pinterest so that you can find it later. Let me know in the comments below which gift you would like to receive the most!