Easy Peasy Cushion Covers
As an Amazon Associate I earn from qualifying purchases
Cushion covers can be so easy to make, without press stud fastenings or fiddly zips. All the skill you need is the ability to sew in a straight line. I do mine on the sewing machine but you could even do them by hand. This demonstration will use a latchhook kit I made and then needed to turn into a cushion cover. You can see how I got on with the latch hook kit on my earlier post. Any fabric or panel you choose can be used to make a cushion cover.
This page contains affiliate links meaning I earn a commission if you use those links at no cost to you. I only recommend brands I use and trust.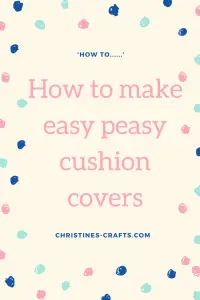 You will need:
Cushion cover front panel
Material for back of cover (twice the size of the front panel is more than enough)
matching thread
sewing machine (or needle and patience)
Cushion Cover Instructions:
Cut two pieces out of the back cover material that are as tall as your front panel. One should be nearly as wide as your front panel and one should be about half as wide as your front panel.
Double hem a small hem along one edge of each piece. These should be along the edge that will lie vertically when placed on the front panel and that will be on the panel (not at the edge). If your fabric has a right way up then this is important at this step.
Place the largest piece on the front panel. Make sure that right sides are facing and that the raw edges match up.
Place the smaller back panel piece on top of these pieces with right side facing down onto the other pieces.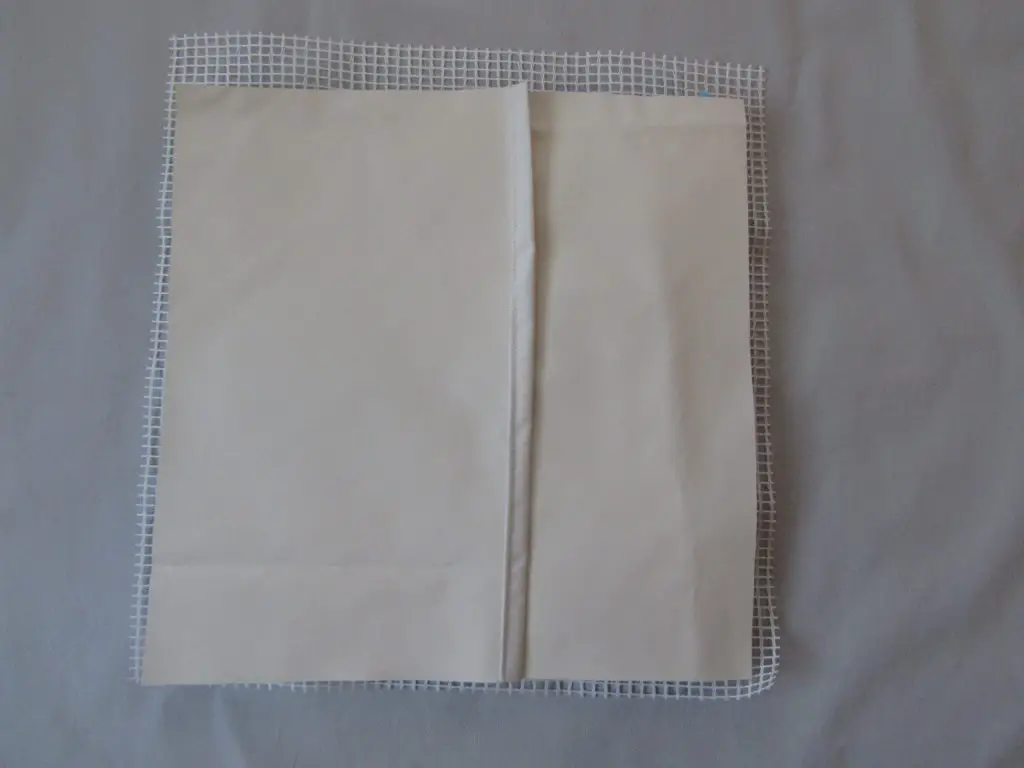 Now pin all the way around the cover. making sure that all 3 pieces are pinned together and that you have sufficient seam allowance. In my case, I also had to make sure that all the wool was inside the cover and not caught in the seam.  
Carefully stitch all the way around the cover removing the pins as you go. If you find this difficult, simply tack the pieces together first so that everything is held securely in place. Trim the seam allowance and cut the corners.
Turn the cover right side out and poke the corners out carefully. You have now completed your cover. Simply place your cushion pad inside and enjoy!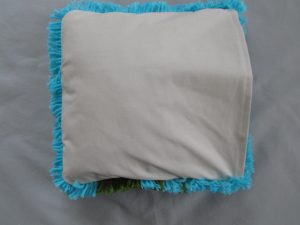 So, as you can see, cushion covers can be really easy to make with simple sewing skills. You can use any front panel that you like to make a cushion cover using this technique. Alternatively you could use the same fabric for the front and the back panels. Get creative and please let me know how you get on.
If you like sewing you might like to try one of my other projects:
Shabby Chic Flowers from old Jeans
Remember to pin this article on Pinterest so that you can find it again!