Christmas Music Bauble
As an Amazon Associate I earn from qualifying purchases
This beautiful Christmas music bauble is so easy and inexpensive to make. You could make a lot of them and theme your tree! I have used some old music for mine as I love the effect. The whole bauble only took about 15 minutes (plus drying time). Once I had the completed bauble I decided to add some colour with some tiny red roses that I already had.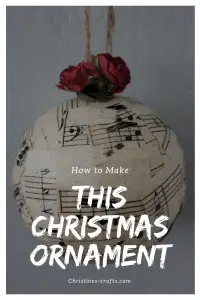 This page contains affiliate links meaning I earn a small commission if you use those links at no cost to you. I only recommend brands I use and trust.
You will need:
Christmas bauble (new craft bauble or old bauble you no longer want)
Decorative paper (thin)
Any further decorations you like
Step 1: Cut paper
Cut your chosen paper into small pieces. I chose to use strips approximately 1cm (0.5″) wide by 2.5cm (1″) long. You could use any shape or size you like. However, the larger the pieces the harder it will be to get them to stick down smoothly. Mine did not go down smoothly but I was quite happy with the slightly uneven effect.
Step 2: Cover bauble
Decoupage the whole bauble using your pieces of paper. This involves brushing glue onto the bauble and then sticking the pieces of paper down, overlapping. Make sure all the paper is covered in glue. I cover this process thoroughly in the tutorial 'Decoupage Tutorial and Project Ideas'.
Hang the bauble to dry somewhere. I used a fork propped up on my kitchen worktop to hold the bauble away from everything.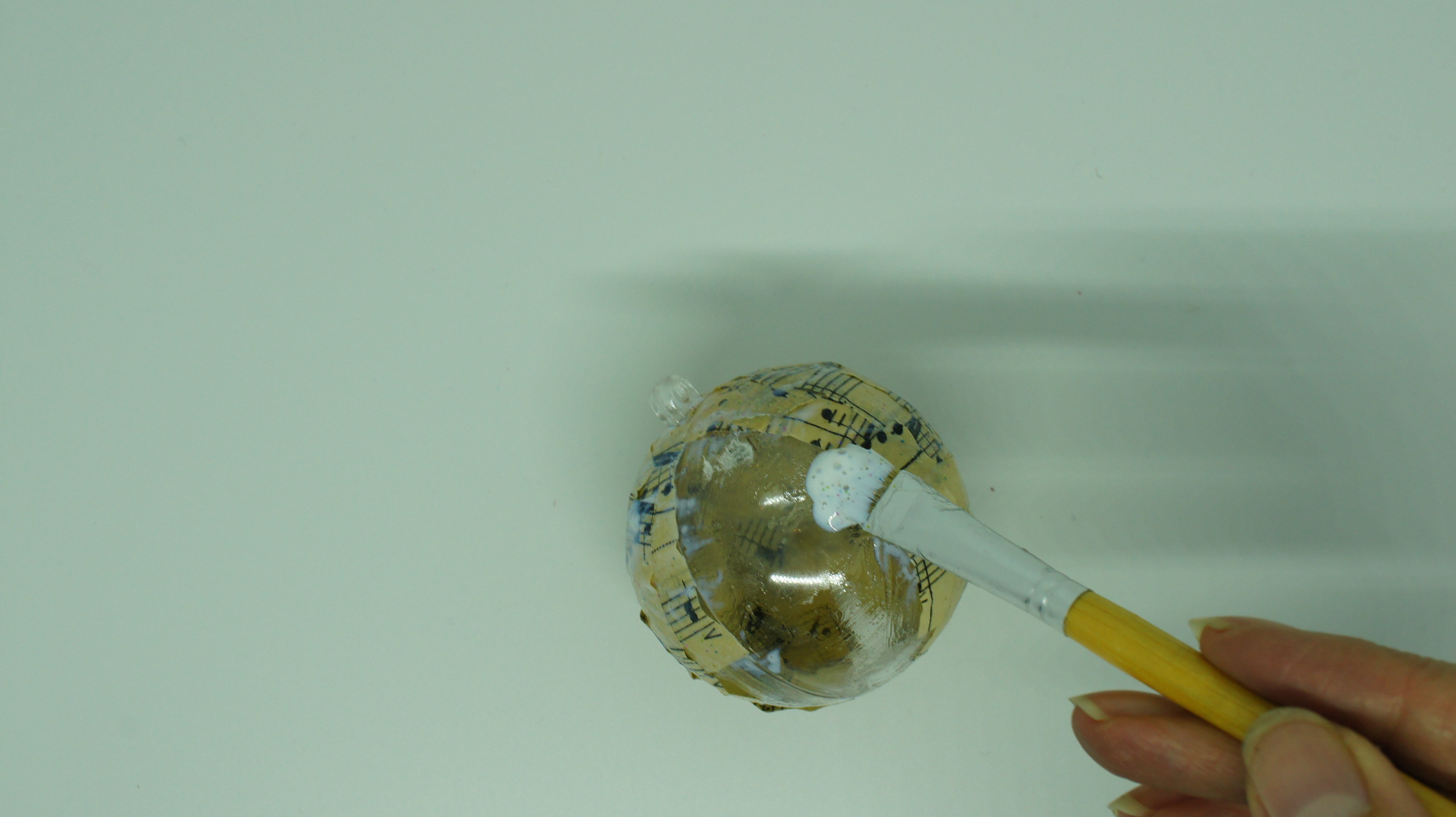 Step 3: Embellish
If you would like to make your bauble more interesting then attach any further decorations. I twisted my roses onto the top of my bauble. Then attach a hanger. I used the twine that came with my bauble for a rustic finish.
Hang the bauble on the Christmas tree and enjoy!
You can develop this simple idea as much as you like. You will notice that I used a glue with glitter in it so that it will look great in the Christmas tree lights. The only limits to what you can achieve are your imagination. Please let me know how you get on and what baubles you make using the comments section below.
If you are looking for Christmas ideas other than a Christmas music bauble you might like my other Christmas tutorials:
Remember to pin this on Pinterest for later so that you can find it!