Quick Inspirational Framed Picture
As an Amazon Associate I earn from qualifying purchases
This is a super quick but effective way of creating some beautiful individual art for your home. This inspirational framed picture is so easy to make. On the internet and social media in particular I often see inspirational quotes. However, they can seem a bit bland to form a picture on their own. This is a little project to brighten up any quote.
This page contains affiliate links meaning I earn a little commission if you use those links at no cost to you. I only recommend brands I use and trust.
You Will Need:
A 3d or box picture frame (Hobbycraft stock a good range)
Paint (optional)
Printed quote that fits inside your frame (My quote is from my Ultimate Homemaking Bundle that I purchased earlier in the year. ) Many are available on the internet including these from Adoramapix.
Embellishments (eg paper flowers)
Glue (Tacky Craft Glue is really good for this)
Step 1: Paint your frame (optional)
This is an optional step depending on your frame and your desired finish. My frame is small (approximately 15cm (6″) square) and bare wood. As a result I decided to give it a coat of paint (2 actually). I used a light colour but it definitely improved the finish. You may prefer the plain wood or have one already painted.
Step 2: Stick quote in place
If necessary cut down your quote to fit into your frame. If you are using a quote from the internet then be sure to print it the correct size. This may take a little trial and error! Simply glue your quote in place. If you might want to change your quote then use a little blu-tac instead so that you can remove it at a later date. This is what I decided to do!
Step 3: Decorate quote
Now decorate your picture however you like. I was lucky enough to have some paper flowers so I glued those onto the picture. As a result I can remove the whole picture and replace it if I want a new quote to help me along. I have done this as you can see below!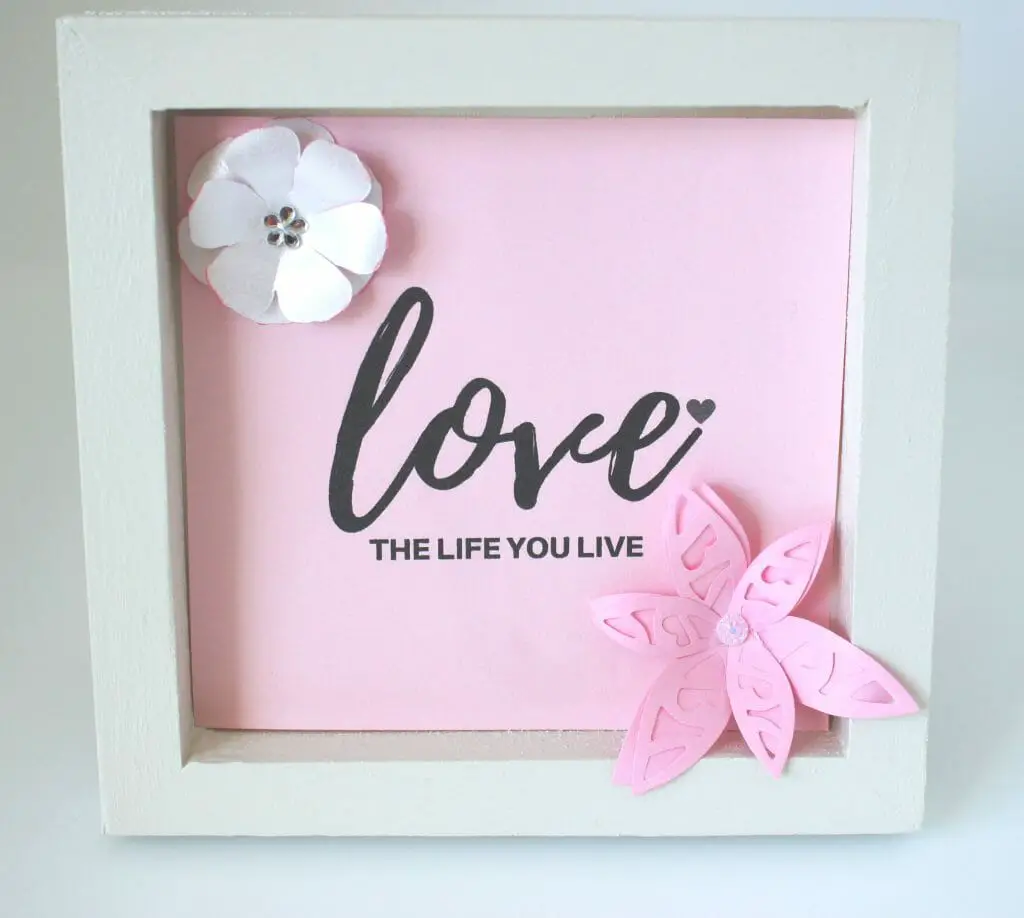 You are finished, you now have your own inspirational framed picture!
If you do not need to paint your frame then this craft could easily be completed in half an hour and by kids for special gifts for friends and family. Perhaps for grandparents or mum on Mother's Day.
Mine is small but sweet. However there is nothing stopping you making this with  any size frame that you like. If you choose a box frame with a glass front just be careful to keep all your embellishments inside the glass and small enough that they do not look squashed.
I hope that you enjoyed making your artwork. If you enjoy different crafts then try out these:
Bracelets to make in under 30 minutes
Gorgeous Flowers from Magazines
Remember to pin this article on Pinterest for later. You can follow me on Pinterest or Instagram. I would love to see you there!
Please comment below. I love to read your feedback.