Bring Autumn into your home with a DIY fall leaf bowl / basket
As an Amazon Associate I earn from qualifying purchases
The best thing about autumn (or fall) is the fabulous colours on the leaves. This autumn /fall leaf bowl brings those fabulous colours into the home with very little effort. If you love fall / autumn then you will love this leaf bowl in your home. Complete the bowl in less than 30 minutes and then just wait for it to dry. It really brings some seasonal joy into the home. It is quite delicate (that is part of its charm) but it would easily hold some pot-pourri.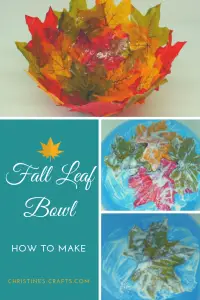 This page contains affiliate links meaning I earn a small commission if you use those links at no cost to you. I only recommend brands I use and trust.

If you would like a printable version of this tutorial then please take a look at my shop.
What you will need:
Artificial leaves – great packs available at Amazon
Decoupage Glue – like Modge Podge
Small Brush
Balloon or bowl
Cling film / cling wrap
Video Tutorial
You can also view this video on my YouTube channel.
Step 1: Inflate a balloon
I recommend using a balloon to make your bowl as in my experience the leaves stick rather well to the bowl / cling film and can be hard to remove. Inflate your balloon to the size bowl you would like and place it in a bowl to keep it in place. You will notice in my photos that I changed the bowl supporting the balloon during the making of my leaf bowl. This was because my balloon was moving about too much.
If you use a bowl instead of a balloon cover the bowl with clingfilm first so that your leaves do not stick to the bowl.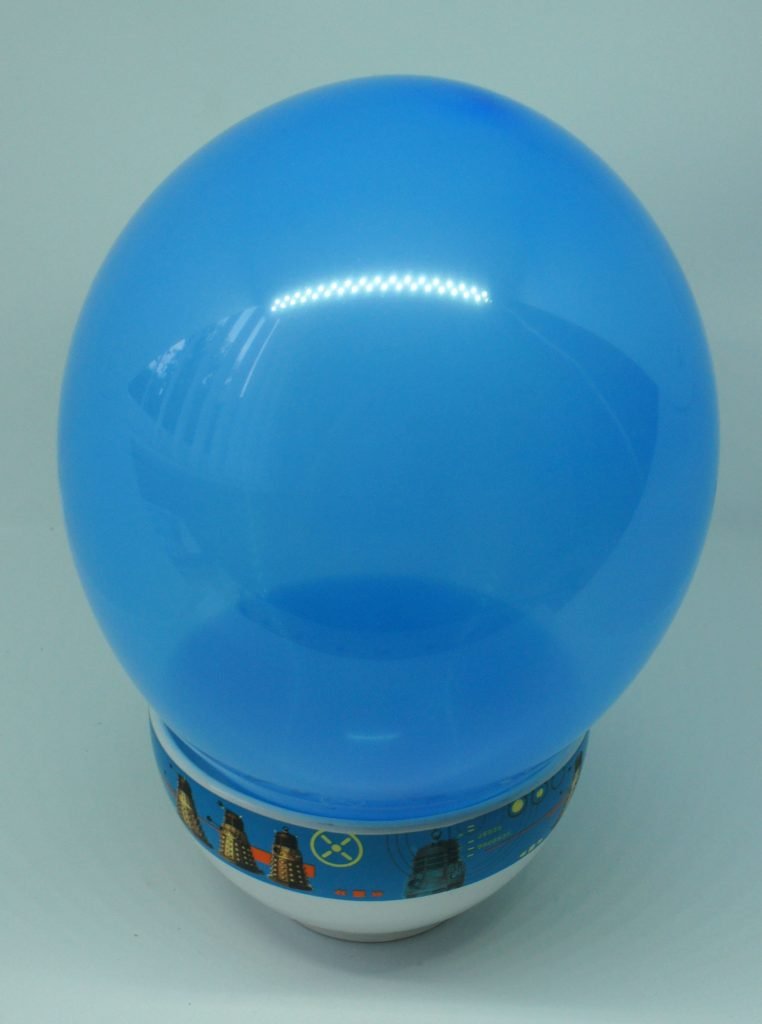 Step 2: Stick leaves to balloon
Apply glue to the balloon and using more glue stick a leaf to the balloon ensuring it is covered in glue. It is just like any other decoupage. If you need any tips take a look at Decoupage Tutorial and Project Ideas.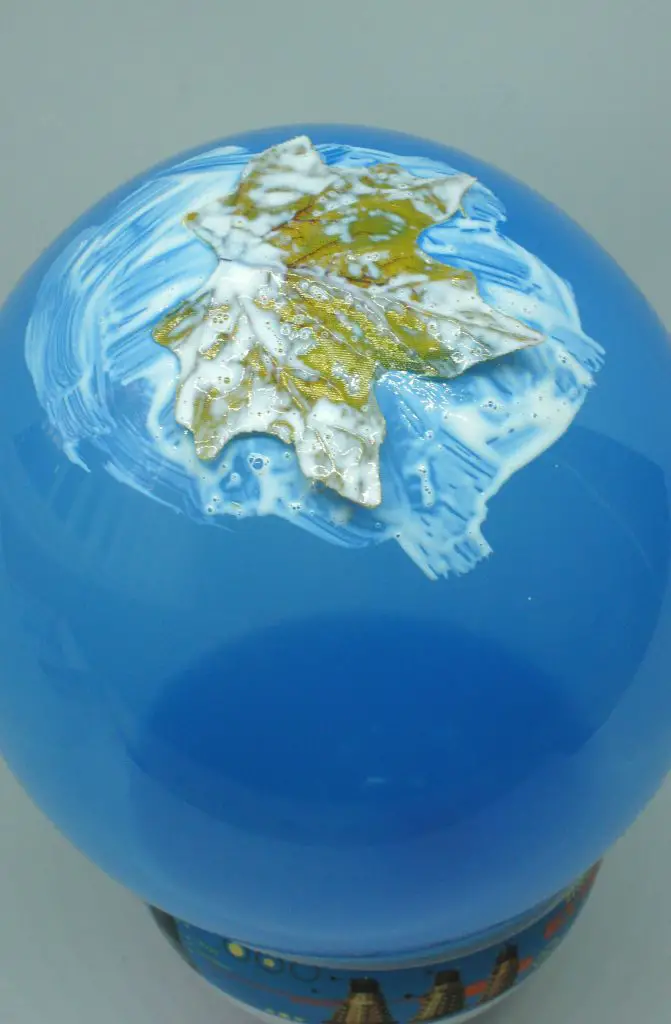 Add further leaves making sure that they overlap until you have the size bowl you require. Always go a little bit bigger than you want as it may sag as you squash it a bit later to get a flat bottom on the bowl.
Step 3: Cover with clingfilm
Carefully cover the leaves with a layer of cling film (wrap) to hold the leaves down flat. You may have noticed on the photographs that they tend to stick up a bit.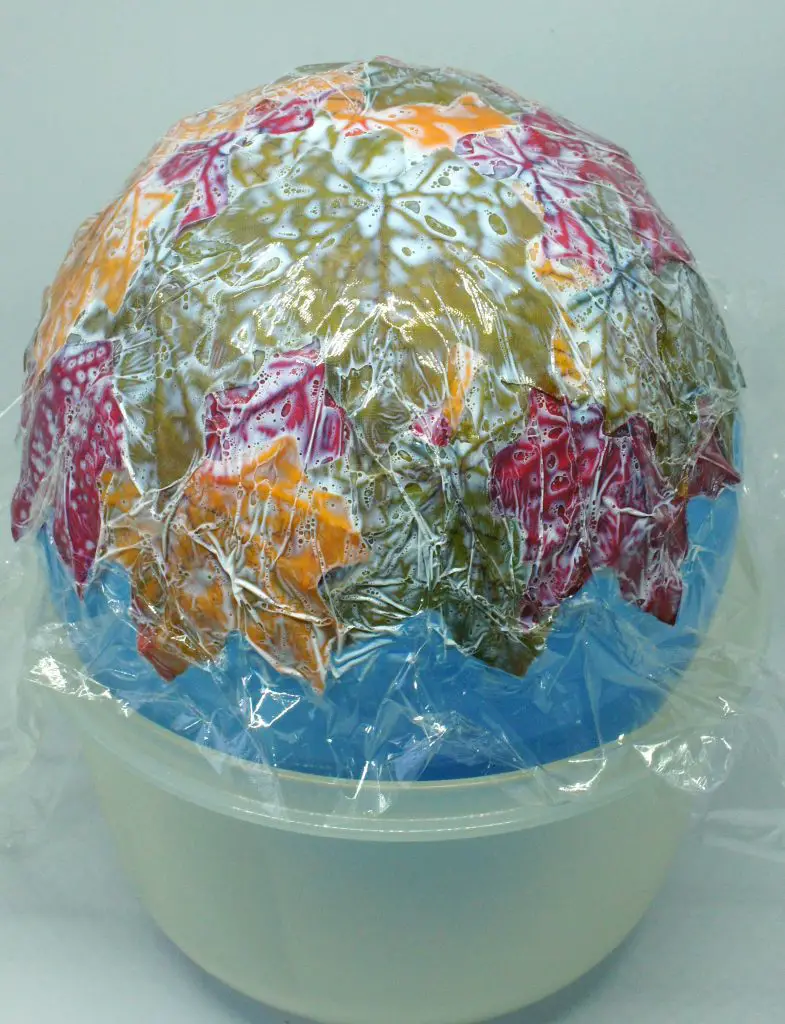 Now it just needs to dry!
I found that if you leave the cling film on the leaves it takes a very long time to dry. I slowly peeled the cling film up and away from the leaves over the following 24 hours. This allowed it to dry more quickly but kept the leaves held down. I still had a few sticking out but I quite liked the effect.
Once it is completely dry deflate the balloon slowly and peel it away from the leaves. You now have a fall leaf bowl! If there are any straggly bits of glue then snip them off.

Remember if you would like a printable version of this tutorial then please take a look at my shop.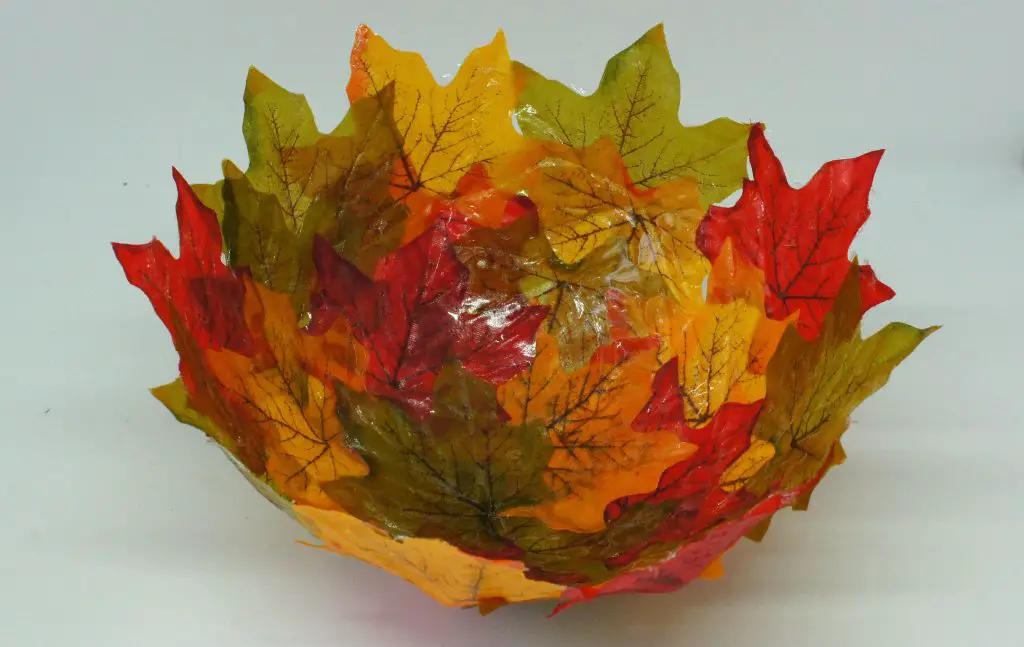 If you used a bowl then your leaf bowl will probably have a flatter bottom and sit more evenly on a flat surface. It is a matter of choice. Here is one I made on a bowl.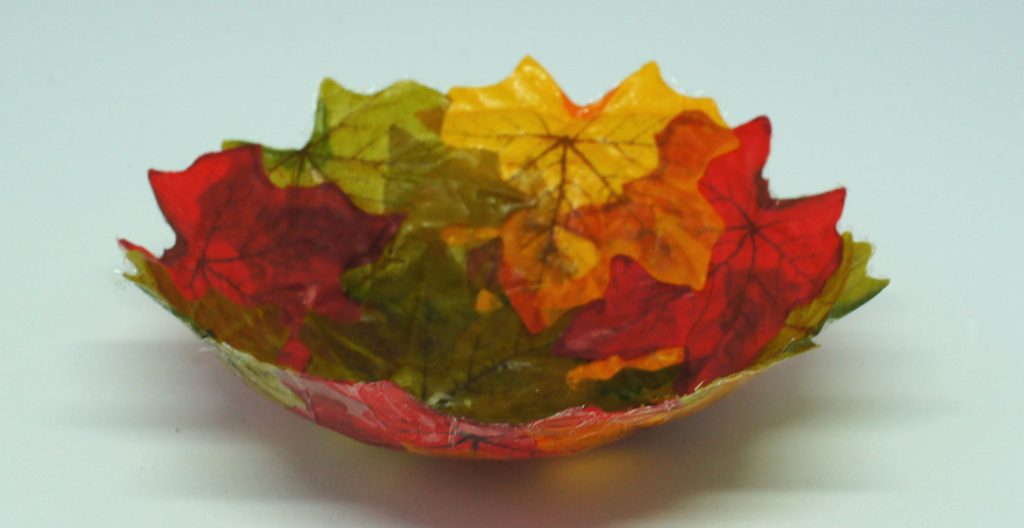 I am keeping both of mine as they are and not putting anything in them so that we can enjoy all those rich colours by the window.
If you enjoy making items for your home then check out these great tutorials:
Make a paper organiser from a cereal box
Gorgeous Flowers from Old Magazines
Make your own doorstop to match your decor
Remember to pin this tutorial on Pinterest so that you can find it later (perhaps next autumn / fall).