Cross-Stitch Xmas Kits
As an Amazon Associate I earn from qualifying purchases
This is a review of  Cross Stitch Xmas Kits. These kits are small and are primarily intended to be used to make Christmas cards. That is what I have used them for. They are quick to do and can be very effective. They certainly make a card that shows you care.
This page contains affiliate links meaning I earn a commission if you use those links at no cost to you. I only recommend brands I use and trust.
Where to buy:
I bought my kits in Hobbycraft which you can link to here. My kits are no longer available but some of these new ones look super cute. 
There are also some great kits available on Amazon that you can link to here.
There are lots of these kits available and they tend to retail for about £2 to £3.
What do you get?
In these kits you usually get everything you need to complete the cross stitch. In the case of hobbycraft you get:
fabric to work on
threads
pattern
needle
Review:
I found the kits to be good quality and easy to follow. The pattern was clear and in colour so it was easy to see what the work should be looking like and what colour I should be sewing with. As usual with cross stitch I found it all a little bit small. Once you reach a certain age small work becomes more difficult despite varifocals! 
I was please with all my completed kits. However, I had a clear favourite and that was the mistletoe. I think that it was because there was no writing on it. I found the writing on the other two to be difficult to see or read once the kits were finished.
Here are pictures of all 3 in cards so that you can see what you think.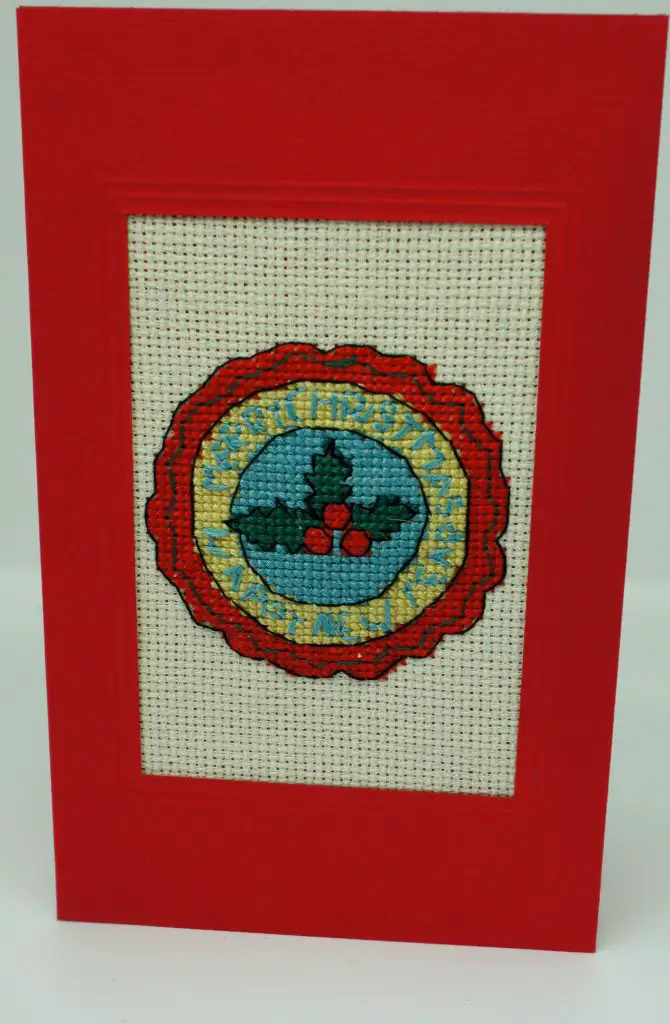 In summary:
If you fancy having a go at one of these Cross Stitch Xmas Kits I recommend it. They do not take long and you only need basic sewing skills. If you can sew a cross stitch then you can do these. The patterns are easy to follow and I really enjoy the quick completion. I have done cross stitch pictures in the past that have taken me years to complete.
So follow the links at the top of this page and see which ones appeal to you.
If you are busy preparing for Christmas then take  a look at my tutorials:
Remember to pin this article on Pinterest so that you can find it later.