The Best Easy 3D Homemade Valentine Card Ideas for You to Make
As an Amazon Associate I earn from qualifying purchases
If you are looking for Valentines Day card ideas then you have come to the right place. Specifically, 3D heart Valentines Day cards are what we are all about here. If you want to make a Valentine card then why not make one that is 3d but also easy to make.

This list will not only show you the ideas but show you how to make them too. I had such fun making them and I am sure you will too. These are also great for kids to make.

Many of them can be made using scrap paper so they are incredibly inexpensive to make too (and great for the environment).

If you are looking to make a Valentine's Day gift too then check out these tutorials:
This tutorial is part of a challenge for February where a whole group of incredible crafters from around the world join together and create sustainable crafts based on a theme. This month it is Love so be prepared for some fabulous makes at the end that will be great for Valentines Day.
General Tips
You can use any folded card (not just purpose made blank cards)
Experiment with your hearts until you like them
Add text as you like
Develop the designs – these are the basics
You can use a heart punch if you have one
How to Make a Folded Heart
Several of these Valentines Day cards are made using paper folded hearts so I am going to show you how to make yours whatever size you like. It is really easy to make them and you do not need any drawing ability. Which is good as I do not have any!

Simply fold your piece of paper and draw half a heart on it. Keep the paper folded and cut out the shape that you drew. When you open it out you will have a pretty paper heart. If you do not like the shape simply try again until you get it right.

If you want several hearts that are identical simply place your heart onto the fold of the paper and cut around it. Repeat until you have enough hearts for your project.
Bunch of Hearts Valentine Card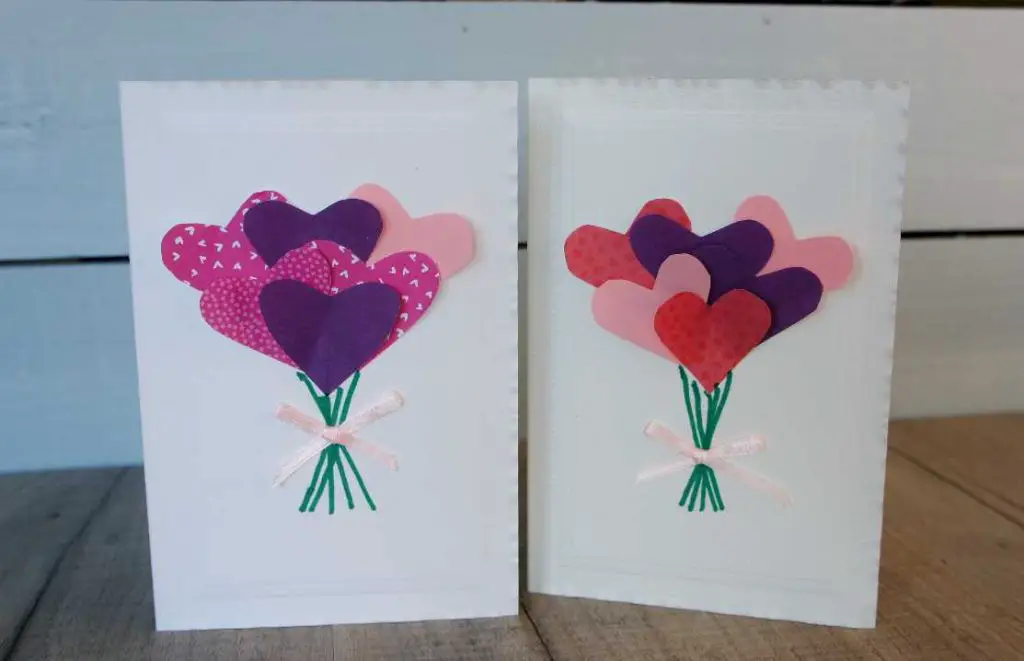 What could be nicer than a bunch of hearts? It is like a Valentines card and a bunch of flowers all in one.

Simply cut out as many folded paper hearts as you like and glue them to your card to look like flowers. They should overlap each other and remember to only glue down the fold. You want the hearts to curl up and give the 3D effect.

Then draw in your stems using a green felt tip pen and cover where they cross using a small bow or similar.

You are all done and how easy was that?
Video Tutorial for the Bunch of Hearts Card
Giant 3D Paper Heart Card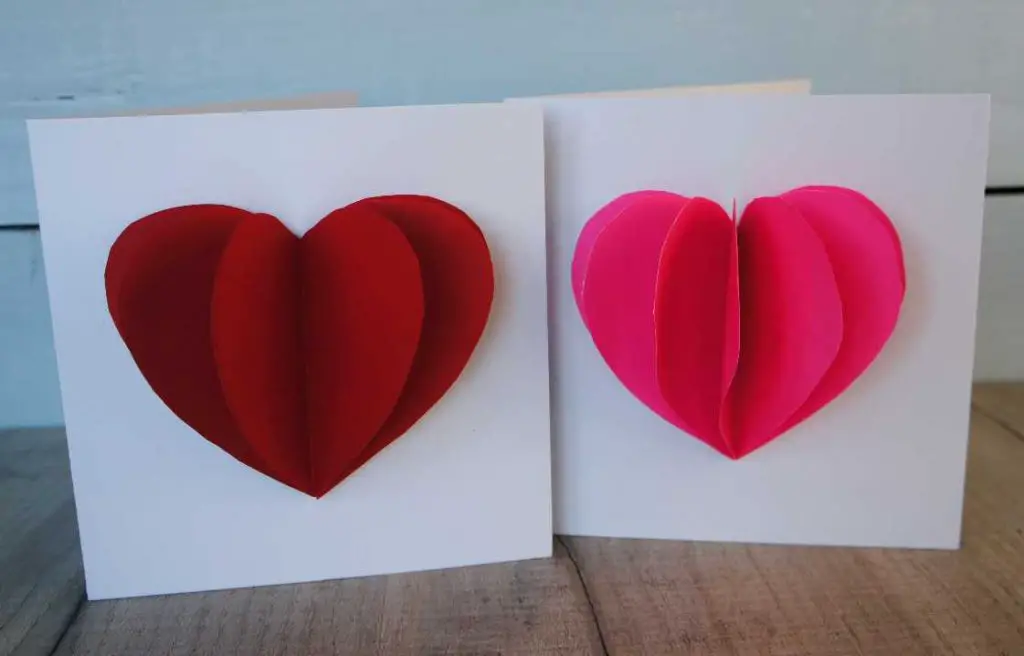 This DIY Valentine card is also made using the folded paper hearts. This time you want to cut some that are nearly as big as your card. I used six on mine but you could easily use more and get a fuller heart.

Glue them to each other in a pile of folded hearts. Then open them out and you will have your 3D heart. Then turn it over and glue the back. Stick it to your card.
You are finished unless you want to embellish it further.
Video Tutorial for the Giant 3D Paper Heart Card
Button Heart Card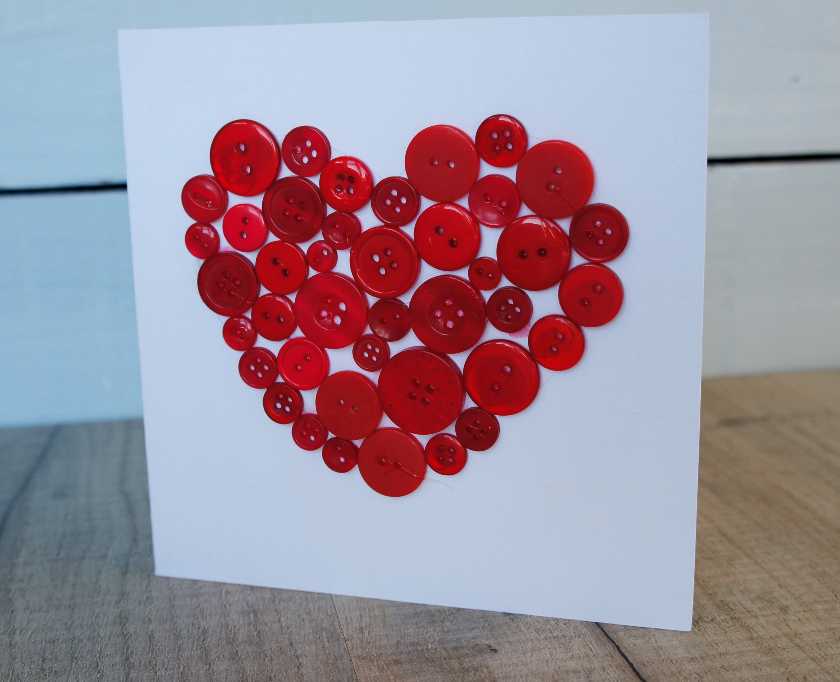 This DIY Valentines day card idea is very much from the button tin! If you craft a lot you probably have a button tin with all sorts of buttons in it. You can raid that for this card. Alternatively you can buy a small packet of matching buttons just for this project.

Simply draw a heart on your card the size that you want. I drew a heart using the folded heart method above and drew round that. Then glue your buttons to fill it. I used a multi-purpose glue but you could use hot melt glue if you prefer.

Let it dry and you are finished.
Tissue Paper Heart Card
These make great DIY Valentine cards for kids. They will love the whole process! As for the button heart card you need to draw a heart on your card. Take your chosen tissue paper and rip it up into small pieces. Mine were about 1″ to 2″ but it really does not matter what size they are. Then screw each piece up into a tight ball.

Once you have a pile of these that you think will cover your heart apply glue to the heart shape only and then press your tissue paper balls onto it. Press them down firmly and leave them to dry. I used multi-purpose glue but PVA glue would work really well, especially with kids.

As a slight variation you could only apply glue around the edge of the shape and form a heart shape of tissue paper balls without filling the shape.

Another easy way to make 3D Valentines cards.
Video for Tissue Paper Heart Card
Simple Heart Design Cards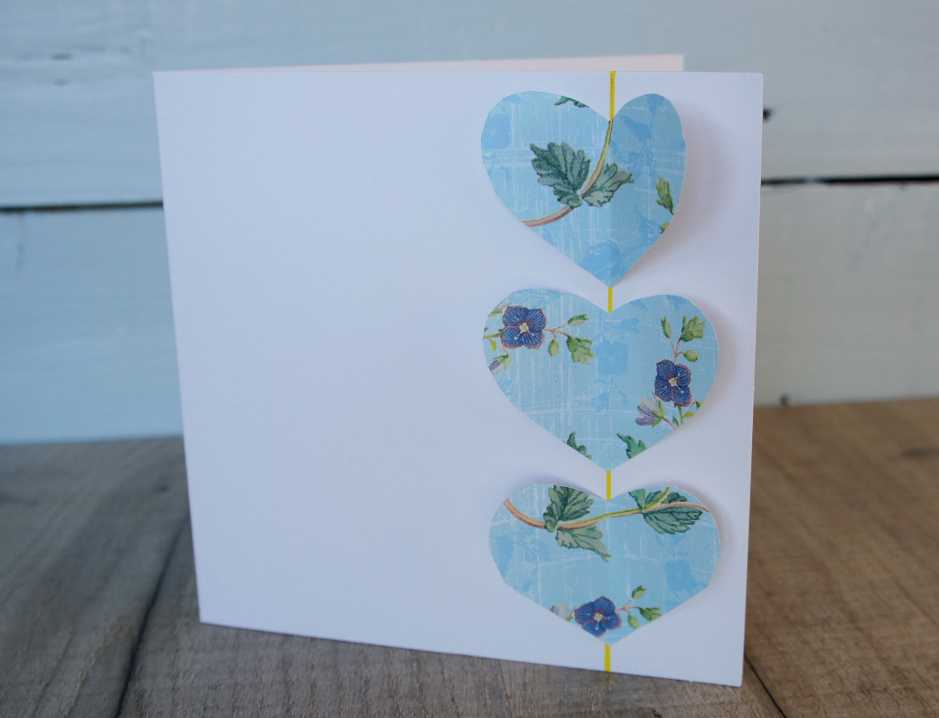 This card is very much an example of what you could do with your hearts and a bit of creativity. If you only glue the fold down then your card will always be 3D, yet it will fold flat into an envelope.

I have simply drawn a vertical line and then added 3 paper hearts. I could have used a piece of ribbon or string for more interest. Or what about adding a grid of paper hearts in a uniform pattern?

Or how about a washing line style where you 'hang' your hearts on a string or ribbon? The options are endless. Get creative and see what you can come up with.
And so …
I hope that you now have some great ideas to make a Valentines card and that your loved one appreciates your efforts. Here are all the other great crafts that my amazing crafty friends have for you. Take a look and get creating: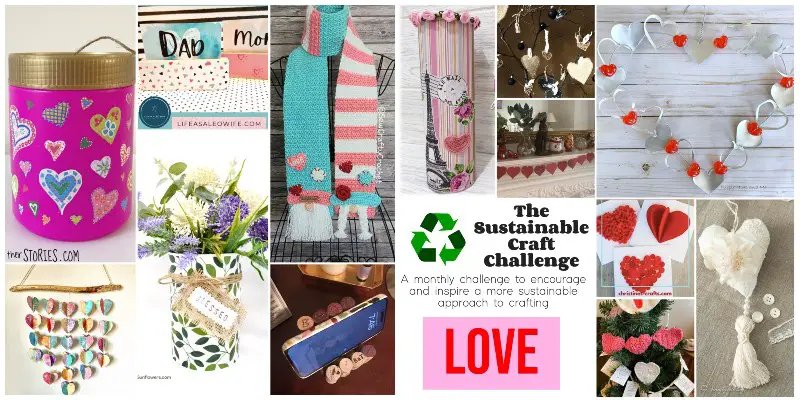 Heart Covered Plastic Container Upcycle

Cute Paper Heart Garland

Valentines Day Gnome Scarf

Wire Hanger Soda Can Heart Wreath

Crocheted Heart Garland

Wine Cork Phone Holder

DIY Love Container for Valentines

DIY Heart Garland from Upcycled Cards

DIY Lace Valentines Hearts

DIY Valentine Branch Tree

How to Decorate a Tin Can Planter
Happy Valentines Day