Christmas Sloth Decoration
As an Amazon Associate I earn from qualifying purchases
This kit for a Christmas sloth decoration was a great buy and so easy to make. These kits are perfect for making with kids. There is some sewing but it is simple and quick to do. The result, as you can see, is a cute sloth to hang from your Christmas tree.
This page contains affiliate links meaning I earn a commission if you use those links at no cost to you. I only recommend brands I use and trust.
I bought this kit in The Works but I was in an actual store on the high street. They do not appear to have it online but there are some kits in Amazon :
Review
I purchased the kit because it was only £1 so not a big risk and because I thought it might be a great introduction to sewing for kids. 
When I opened the kit I was pleasantly surprised at the contents:
The instructions are very clear and easy to follow. All the parts are included and the face items are self-adhesive. The only extra item that I needed was a needle.
The first task is to sew around the sloth including the feet and a hanging loop. It does not say how to do this but the picture on the packet is self-explanatory. It is a simple running stitch with pre-punched holes so great for kids. Make sure you include the stuffing before completing the sewing!
It  is then simply a case of attaching the facial features as shown on the picture and tying his scarf on.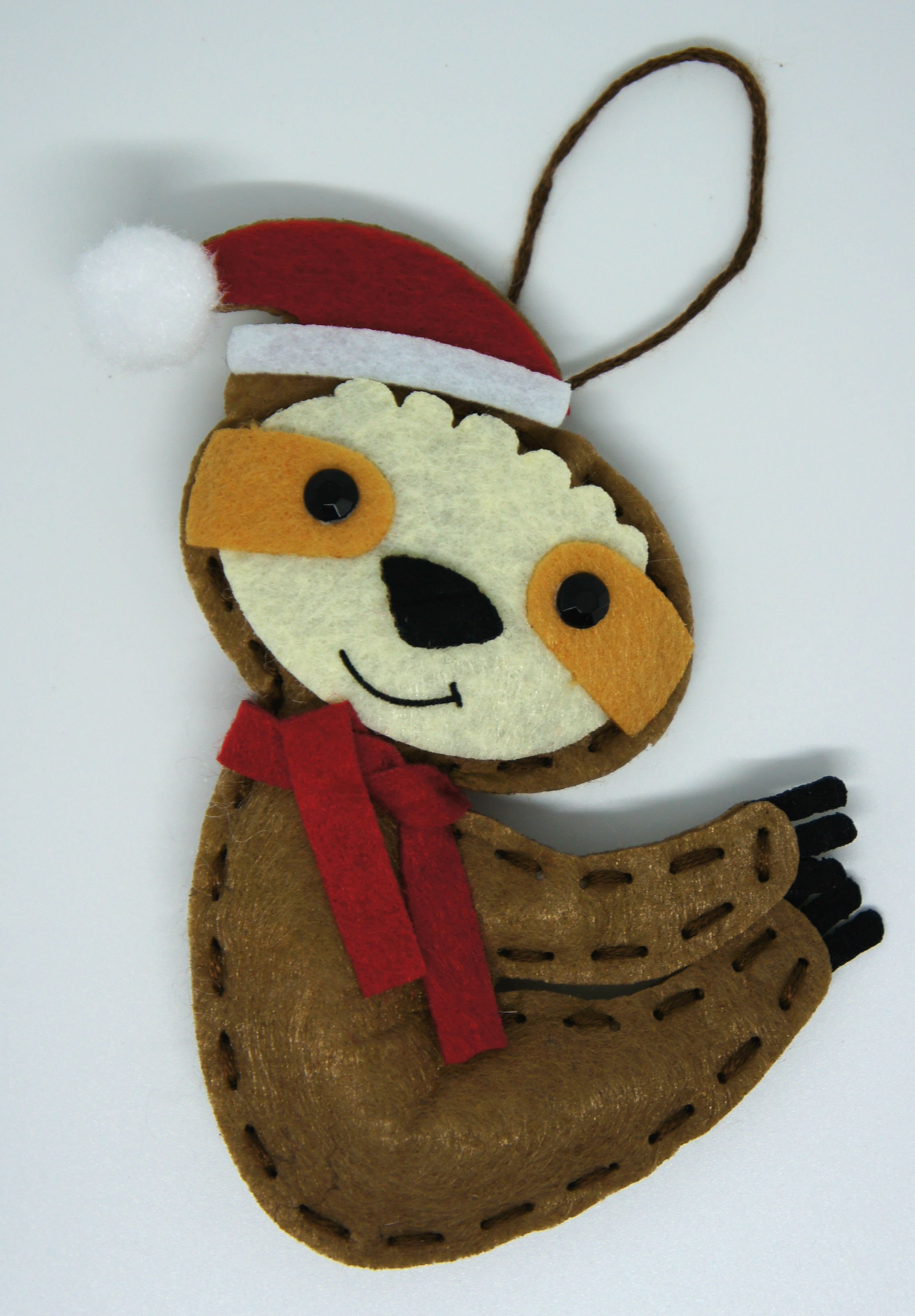 In summary, I thought it was a delightful little kit that resulted in a cute decoration for the tree in very little time. It is perfectly achievable for a child or someone who does not do much crafting. No great skills or equipment needed.
So, if you fancy a decoration with a difference pop into The Works for a Christmas Sloth Decoration kit or try out one of the similar kits linked above from Hobbycraft. 
If you make your own Christmas decorations then try out my other tutorials and ideas:
Christmas Fabric Bauble – full tutorial
Traditional Norwegian Tree Decorations
 If you are not ready to make your decorations just now pin this article for later!