£25 Craft Box Subscription Review – What do you really get?
As an Amazon Associate I earn from qualifying purchases
So, you think that a craft box subscription would be nice or great as a gift for a loved one. But, which one and will it be any good? Well this article will tell you all about Craftiosity, a UK based craft box subscription company. You can then decide if this is for you.
Craft box subscriptions are a great way of trying new crafts and producing some fabulous items. You get one box with a complete craft project in it every month. They allow you to try lots of different crafts without buying all the equipment. These craft boxes are for adults.
This page contains affiliate links meaning I earn a small commission if you use those links at no cost to you. I only recommend brands I use and trust. I was given this craft box for free to try it out but my views are all my own and I have chosen to write this review.
Why Craftiosity?
There are several companies out there doing craft kits so why did I choose to try Craftiosity? Well, I liked the look of their website and their previous craft boxes. If you look on their website you can see previous boxes and buy some of them. These make a great gift and you know exactly what the person will receive.
They describe themselves in the following way
Craftiosity is the UK subscription box of modern craft kits, where each month we send a limited edition project to help crafters unwind and take them on a mini creative adventure.
Subscribe or gift and the box will arrive beautifully packaged, full of the tools, materials and instructions to make a complete project. Subscriptions are £24.95 a month with free UK postage, and gift vouchers are available. 
They appeared to me to be a company that cared about customer service and quality. My dealings so far with them confirm that both of these things are true.
If you would like to see me unboxing my craft subscription box and completing my craft project then scroll down to the video at the bottom of this article.
Unboxing Video
This video can also be viewed on my YouTube channel.
What will you receive?
If you take out a monthly subscription you will receive a different craft box each month. Each box is sealed in plastic to protect it from the weather if it is left outside by the postman. The boxes measure 10.5″ by 7.5″ by 3″. It fitted through my letterbox but it may not fit through them all.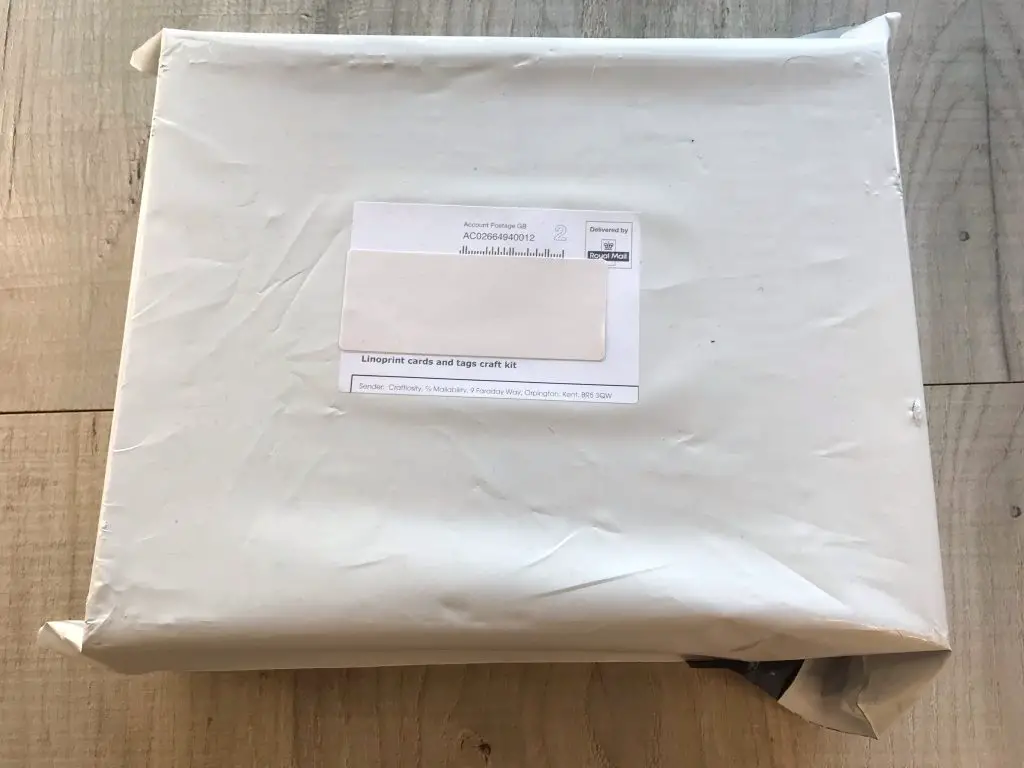 When you open up the plastic you find a very pretty, good quality box. It is all branded and clearly designed to protect the contents. It feels very exciting to open even if you do know what craft is included.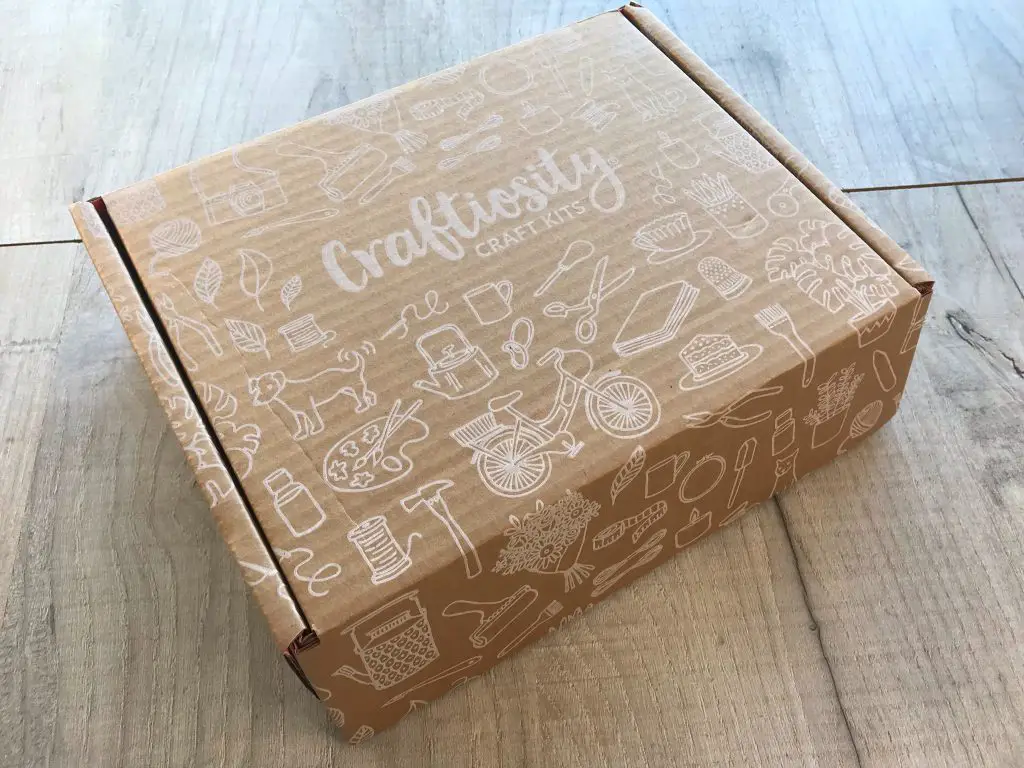 Once you open the box you are not presented with a jumble of bits and pieces. It is all well packaged and feels special! It really does feel like opening a gift. There is also an invitation to share your make with them on social media. You feel like you are part of a club.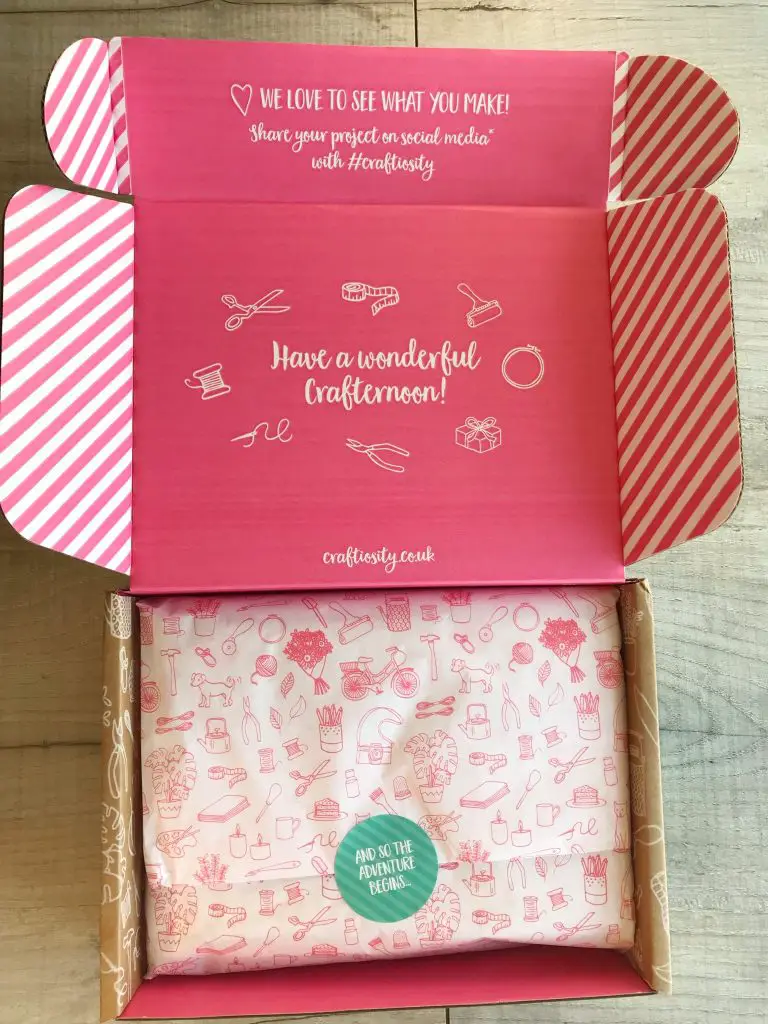 Craftiosity Craft Subscription Box November 2021
This particular box is from November 2021 and is all about lino printing. It is not a craft I have ever tried and I was keen to get started. As I opened up the box and handled the items, good quality was what I thought. Even the welcome card is printed on good quality card.
Here is a picture and a list of what was included:
Welcome card
3 picture cards
Instruction Leaflet
Card containing video tutorial details
Template
2 Ink Pad (red and green)
Gold pen
Cutting tool and handle
5 cards and envelopes
5 gift tags
2 squares of lino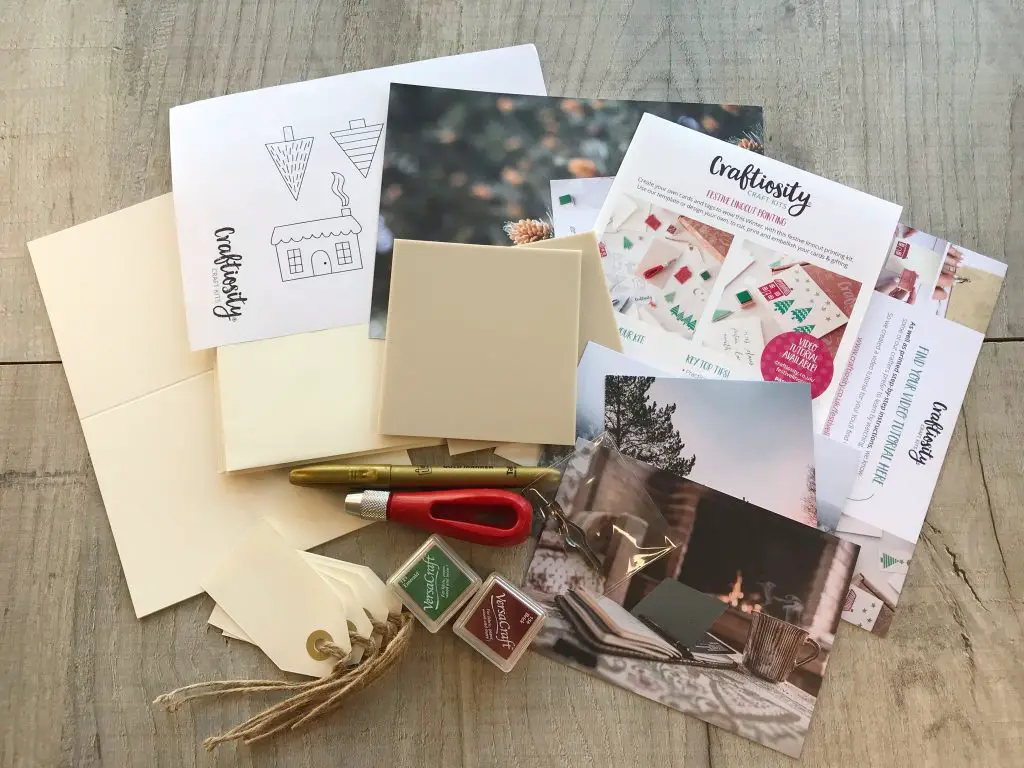 Completing the Craft
I really enjoyed this craft project even though I would not say it is my finest work! I was impressed with the instructions which included so many photos and hints and tips. There is also a video to watch if that is what you like. I found the combination was a winner and would suit everyone.
I was impressed with the lino cutting tool. It was sharp and cut the lino well and it was quick and easy to get to grips with. I have included a few photo so that you can see me doing it.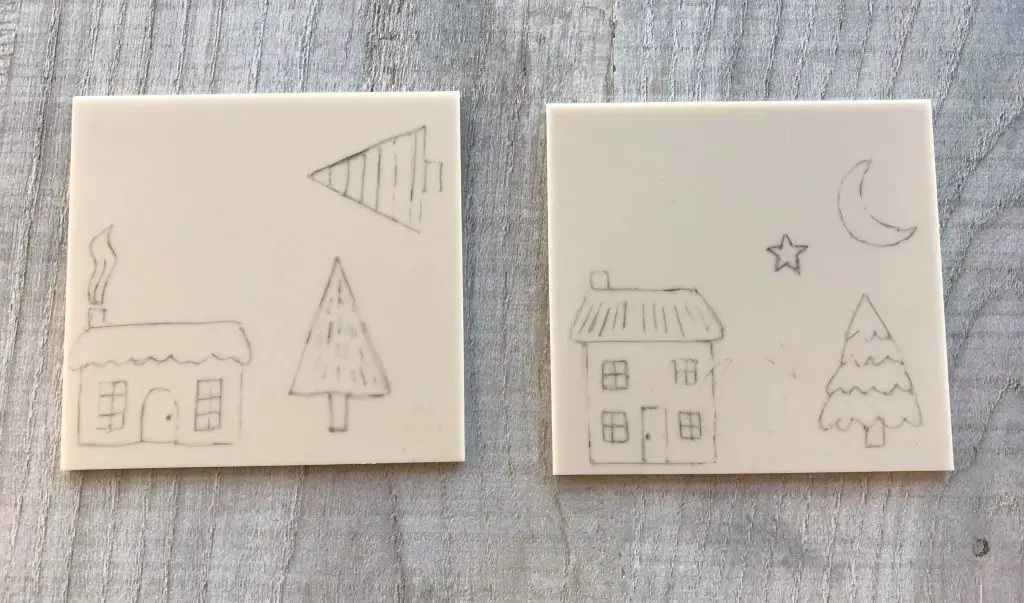 Once you have your stamps made it is time for stamping with them. Again, the ink pads and cards / gift tags were good quality and made some super end results. I will definitely be using them this Christmas!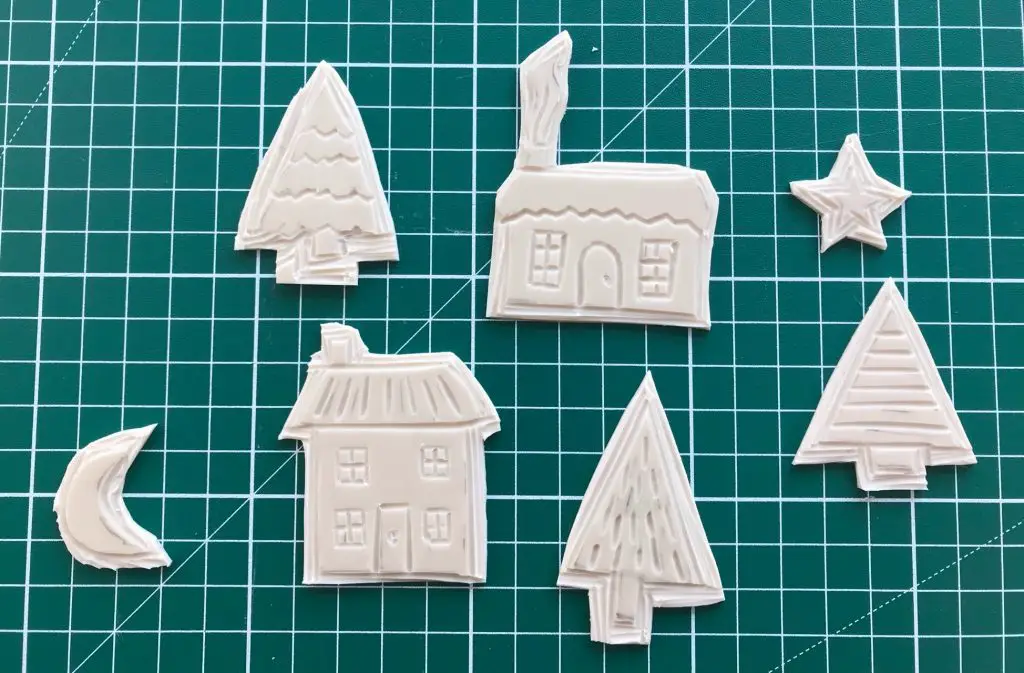 So, what did I end up with as finished craft items? Well see for yourself! They are not perfect but I think that adds to their charm.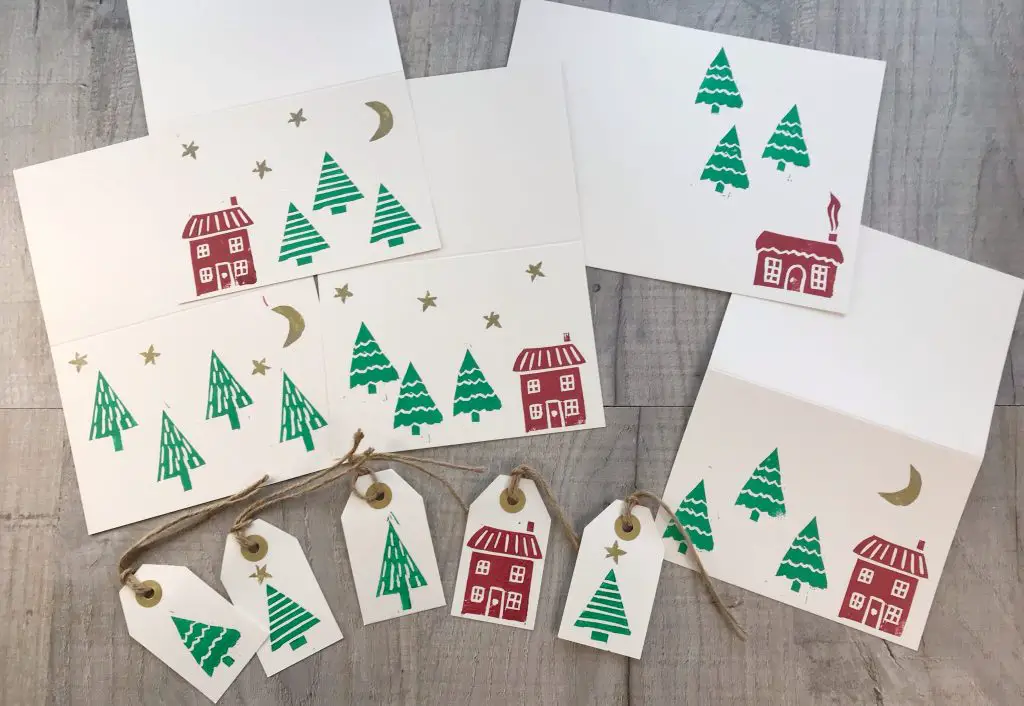 Pricing & Value for Money?
So, we need to talk about money now. This review would not be complete without a section on pricing and value for money.
So, firstly let's address pricing. These boxes are £24.95 each with free UK delivery. You can order one, subscribe or gift a subscription for 1, 3, 6 or 12 months. It seems very flexible and therefore suitable for most of us.
If you are outside the UK you need to also consider delivery costs. Craftiosity deliver to the EU for an additional £5.65 per box or New Zealand and Australia for an additional £11.10 per box. Clearly this makes a big difference to the price so consider this carefully when making your decision.
Is £24.95 good value for money? In my opinion it is, yes. You get good quality materials, instructions, etc and they are all delivered to your door. Craft projects without spending hours trying to find ideas and craft materials.
Summary of Craftiosity Subscription Craft Boxes
In summary I would have to say that I have thoroughly enjoyed the Craftiosity craft subscription box that I received and it was fabulous to just open it up and get started straight away. I completed the whole project in an afternoon and it felt very satisfying.
If you, or someone you know, likes crafting but is unable or not prepared to hoard loads of craft supplies then this a great idea for you. Equally well, if you get bored easily and want to try different crafts then these boxes are for you.
Take a look at what they have to offer now!
If you would like some more craft ideas then take a look at some of my tutorials:
Sew a Fully Lined Drawstring Bag
Create your own Abstract Geometric Art
An Introduction to Diamond Painting
Please leave me a comment below and let me know your experiences of craft subscription boxes wherever you are in the world.