Latch Hook Kit
As an Amazon Associate I earn from qualifying purchases
Do you fancy making a rug or panel using a latch hook technique but you are unsure where to start? Well a kit is the best idea. I am sure that you have all seen these latch hook kits from various outlets. They are complete kits which make them ideal for first timers!
This page contains affiliate links meaning I earn a commission if you use those links at no cost to you. I only recommend brands I use and trust.
I got this one from Hobbycraft and made it up over several evenings. It is really easy to do, grows quickly and allows me to concentrate on the television at the same time!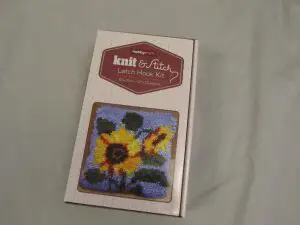 The kit comprises of everything you need including a printed canvas, pre-cut wool and the hook. There are full instructions on the box and they are very easy to follow. Once you have done a few knots using the latch hook it becomes routine and very relaxing. As the canvas is printed you do not need to count or follow a small pattern sheet.
I completed the kit and I think it looks nice. My only disappointment was that the blue is quite a different shade to the one on the box. This means that it does not really fit in where I want it to go. However I did not return it as I still like it.
Note that if you are thinking of buying one of these to make up into a cushion they are quite small. The piece is 30cm x30cm (12″ x 12″). Once you have taken off a seam allowance to sew it up it is considerably smaller. As a result, I think that it is more of a decorative cushion than a really useful one but maybe that is just me!
I think that the obvious use for this panel is a cushion so I will let you know when I get round to it and show you the result. I have a simple method for cushion covers which I will share with you in another post. It is one that can be used to make any cushion covers.