Rosemary and Lemon Hand Scrub
As an Amazon Associate I earn from qualifying purchases
I was meeting up with some friends and I wanted to take a little something for each of them. I came across this great site with lots of ideas and decided to make them all some hand scrub. It is all natural and very useful. All you will need is sugar, lemon, rosemary and olive oil. I will not repeat the instructions here as you can find them at premeditatedleftovers.com. They are incredibly easy to follow.
I was able to make the scrub very easily and used rosemary from my own garden so it was very inexpensive to make. When I tried some it really worked well and also left my hands really soft. I find that most scrubs that remove the garden dirt from my hands also dry my hands out a lot. This one doesn't!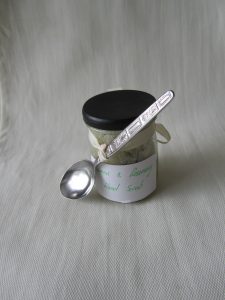 As I was looking for small gifts I put the scrub I made into some glass yogurt pots with lids that I had saved (from Aldi). Then I  attached a small teaspoon using a ribbon to allow my friends to get the scrub out easily. I am sure that they would have been even better in large jars that you could get your hand in but I did not have any of those to hand. Also I had not made that much scrub!
To complete the gifts I got some small plain gift bags from The Works and stuck flowers onto them with hot melt glue. A button attached in the centre of each flower just finished them off. I keep a store of buttons just for such crafts and I recommend keeping a tin/box of them handy. You can buy bags of mixed buttons to do crafts with to get you started. These touches made the gifts look really pretty and special.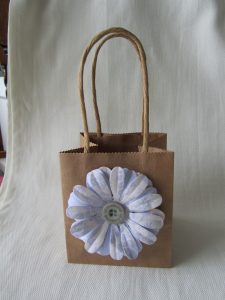 I really enjoyed both parts of this activity and my friends loved them. They all reported back their lovely soft hands! The olive oil really moisturises your hands. I will definitely make some more this summer to put in my utility room to use after my gardening exploits.