Fabric Paper – Incredibly Easy to make for all your Projects
As an Amazon Associate I earn from qualifying purchases
Fabric paper (or paper cloth) is a great addition to any crafters repertoire. It is so quick and easy to make yet unbelievably durable and therefore suitable for many fabulous projects. If you want to make fabric paperback book covers, journal covers or simply make durable gift tags then fabric paper is for you.

You can get very creative using different papers, paint, etc. Every piece of fabric paper will be truly unique.

This page contains affiliate links meaning I earn a little commission if you use those links at no cost to you. I only recommend brands I use and trust.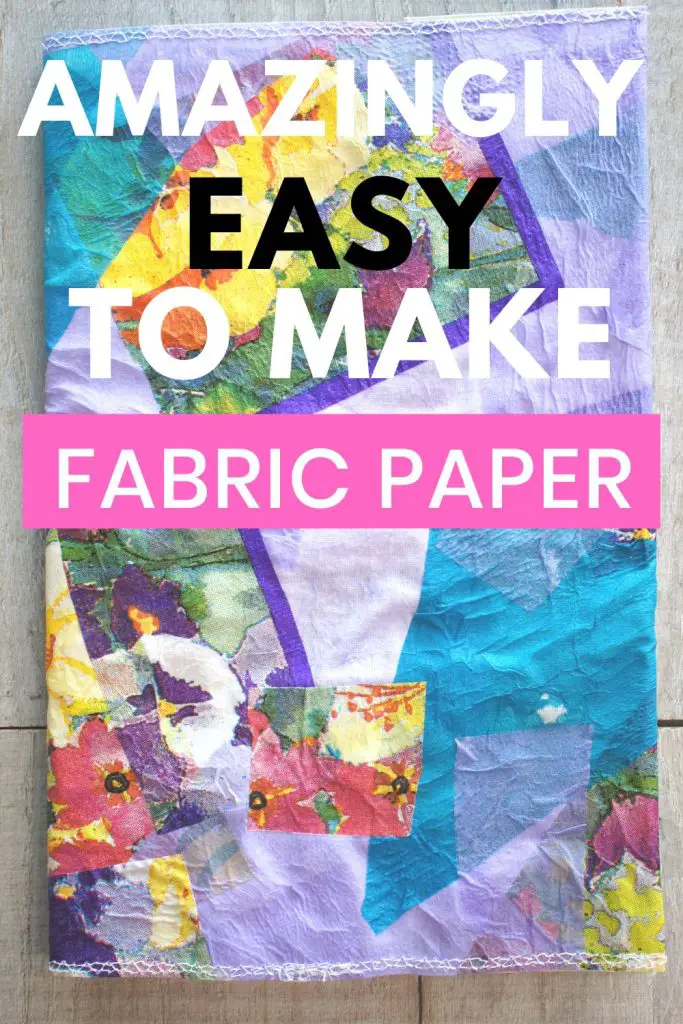 What is Fabric Paper?
Fabric paper is what you get when you combine paper and fabric using a watery glue. It is very strong yet easy to cut and sew with. You don't need any specialist equipment and you can do it today! But, I will warn you that you will get a bit sticky!
Video Tutorial
This video is also available to view on my YouTube channel.
How to Make Fabric Paper
If you prefer written instructions I have written some simple step by step instructions for you to follow:
You will need:
thin fabric such as an old sheet or muslin
paper scraps – paper napkins and tissue paper are ideal
pva glue – any clear water based glue should work
water
large paintbrush – any size will do but a small brush will just make it take longer
plastic sheet to work on
Optional paint / stencils / stamps / etc
Make your Paper Cloth
Step 1 – Prepare
Spread your plastic sheet out onto your worksurface to protect it as you will get glue through your fabric. Cut your fabric to the size you want. If you have a project in mind then make sure it is larger than you need so that you can cut out the piece(s) you want.

Spread out your fabric. Mix your glue with some water if it needs it. Most glues will not be runny enough as you want it to soak through the fabric and paper. I can only recommend that you experiment with this.

You may want to cut or tear up your paper pieces so that you can create a design.
Step 2 – Assemble the Fabric Paper
There are 2 ways to do this. I prefer the first one:

Cover all the fabric with glue using the paintbrush and then apply the pieces of paper using the paintbrush making sure that they are completely covered with glue. You can truly design a particular piece or just play around until you like it.

OR

You can apply glue to part of the fabric, add a piece of paper making sure it is covered with glue and then move on repeating this over the whole piece of fabric. This may be a good idea if you are somewhere hot and your glue is drying out before you get to it or you have a very large piece of fabric.

TOP TIP: You can go over any areas as much as you like – more layers of paper simply make your fabric cloth thicker. It also does not matter if your paper wrinkles, it simply adds to the texture of your paper.

Leave your paper to dry or if you are desperate to carry on you can use a hairdryer or hot air gun to dry it more quickly. I left mine overnight to dry – I actually hung it up in my utility room!
Step 3 – Embellish your Paper
Now, you may be finished and quite happy with your fabric paper but you can move on and embellish it. You can add paint directly or use stencils or stamps to get your desired effect.

This really is a truly creative project where you get to express yourself or create something that you know someone you care about will love.
Use your Fabric Paper in a Project
One obvious use for fabric paper is as a journal cover, especially art journals. It is robust and inspiring to see every time you access your journal. I have used it to cover a cheap notebook and I absolutely love it. You can make one too using my notebook cover tutorial.

Just note that I did not line the fabric paper – I just folded over the pockets and sewed along the top and bottom.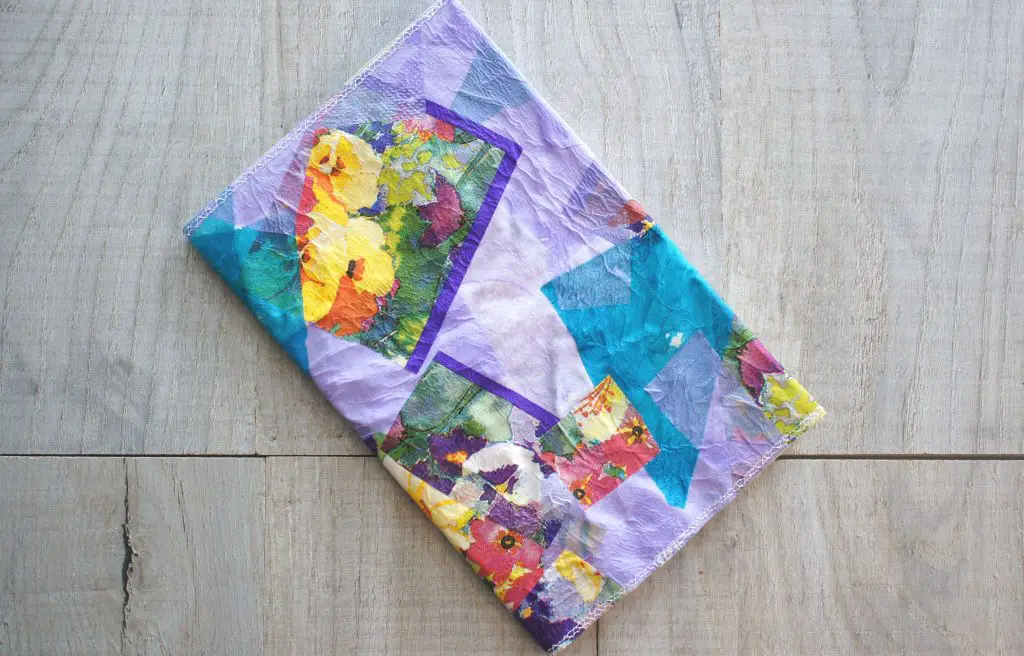 I also made a teabag wallet and I think it would be great for any sort of wallet. I have not been using it long so I don't know how robust it will be in the long term in my handbag but I am prepared to use it and see as I love how it came out. The teabag wallet tutorial is available here and is quite quick to make.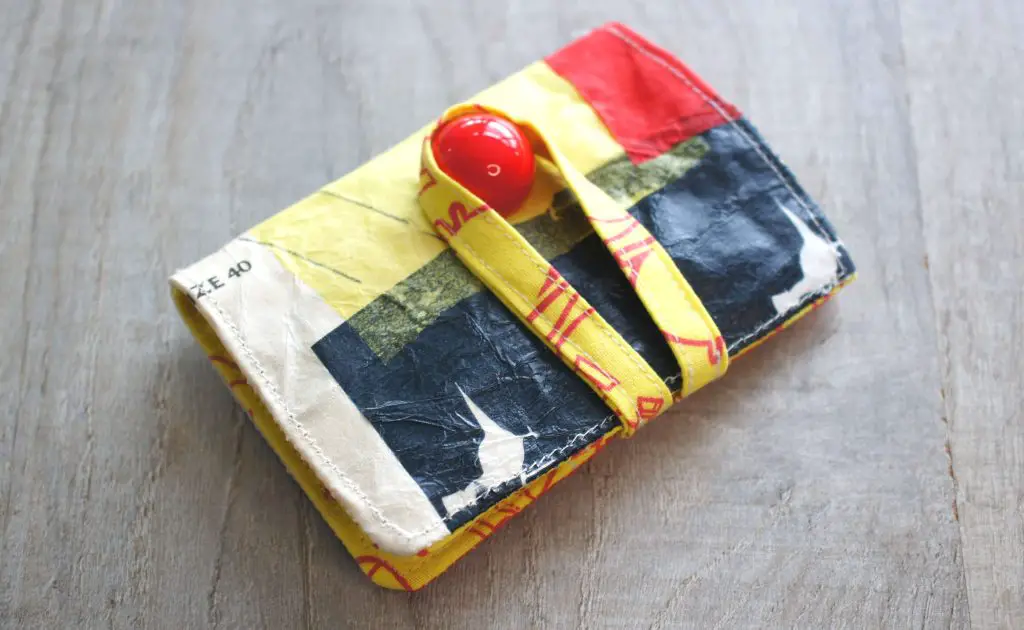 How about making an art journal. The fabric paper makes a beautiful flexible but strong cover. You will want to take it everywhere!
Do let me know in the comments below what you decide to make with your fabric paper and share your great idea with all of the rest of us crafters.