Create a Cute Advent Calendar from Paper Envelopes in 30 Minutes!
As an Amazon Associate I earn from qualifying purchases
This year make an Advent calendar yourself and add any goodies you like. The basic idea of this type of DIY Advent calendar is that you can adapt it for whatever size you like and whatever you want to put in your envelopes. I typically use small chocolate treats such as chocolate coins but you could include small toys, make-up, messages, etc.
I hang mine at both ends but you could just as easily hang your string vertically and take up less wall space. Get creative and make it work for you.
Traditionally Advent is a Christian time and celebrates the Christmas story and the countdown to Christmas. Now, many people all over the world celebrate it as a countdown to the holidays regardless of their faith. Making your own Advent calendar allows you to make it whatever you want it to be.
Have you thought about making your own indoor wreath too? Then, take a look at this easy to make wreath.
If you like to watch a craft project then scroll down to the bottom of these written instructions and watch the video tutorial.
This page contains affiliate links meaning I earn a small commission if you use those links at no cost to you. I only recommend brands I use and trust.
You will need:
24 Envelopes of your chosen size. I used ones like these from Amazon
Twine or ribbon
Decorations and Glue – For free decorations cut up old Christmas cards!
Pen or Decorative Numbers
Add Numbers to your Craft Envelopes
The first thing to do is to decide how you will design your envelopes. Take one envelope and fold the closing flap over. Decide where your numbers will go on the envelope and where you will peg it to your string. This is to make sure you do not peg your envelope over the number.
You could decide to make your envelopes giant numbers and add no further decoration. These are your designs! It is also worth making sure at this point that your flap does fold nicely over your string or ribbon.
Once you are happy with your design decisions you can add your numbers. In my case this meant sticking them on. I opted to place them in the top left corner! If your decorations have self-adhesive pads just check that they will be strong enough to hold the decoration in place. They can be a bit poor for heavy decorations. If they are not strong enough just add some glue and you will be fine. Make sure you have all 24 done before moving on.
Decorate the Advent Envelopes
Now, I recommend laying all 24 Advent calendar envelopes out on your table before you start decorating. This will allow you to make a coordinated effort on all 24. If you are gluing items on, like me, then place them all on and move them around until you are happy with them.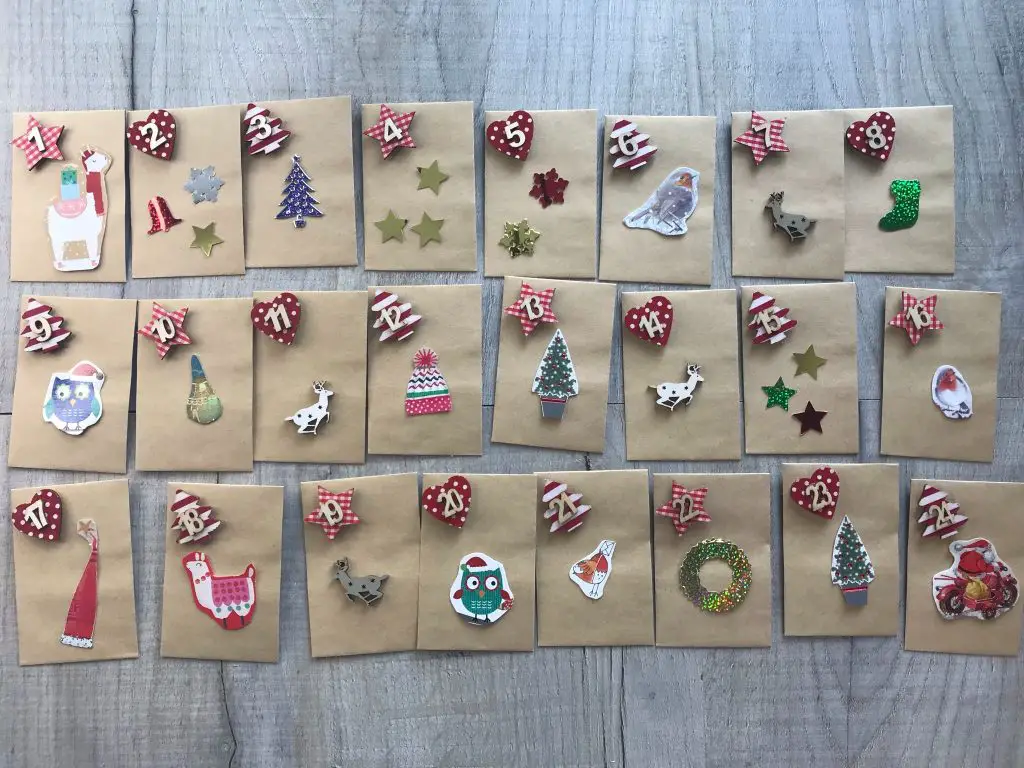 Once you are sure that you like your designs glue everything in place and add any writing or drawings you like. Get creative!
Fill your Envelopes
Now is the exciting part of filling your envelopes with goodies! Simple add an item (or more if they are very small or your envelopes very large) to each one.
To seal or not to seal? That is the question!
If you want to use your Advent Calendar again then do not seal your envelopes. If you know you or your kids will love to rip the envelope open (or will peak if they are not sealed) then seal them up and make a new one next year!
Hang your Envelope Advent Calendar
Now, all you have to do is pick your spot and hang your calendar. How long should your string be? Well, that depends on how large your envelopes are and how you would like to hang them. I had 2 points that I wanted to hang from so I made my twine the right length to hang between and spaced my envelopes out accordingly.
Simply peg the envelopes onto your string and you are finished. I pegged mine in number order but particularly for younger children it will be more exciting if they are all mixed up and they have to find the right number each day!
If you just have an ugly pin in the wall holding your Advent calendar up try decorating that with some Christmas decorations like garlands or tinsel. I used tiny red pinecones on wires! The photo is not great but hopefully you get the idea.
Video Instructions for Advent Calendar
Finally!
Now all you have to do is enjoy opening the envelopes each day as you move through Advent and enjoy your gifts whatever they may be.
If you are looking to DIY this Christmas then take a look at these great Christmas decorations you can make:
Christmas Angel from folding an old paperback book
Woolly Hat Xmas Tree Decorations
Whatever you decide to craft for Christmas enjoy it and please let me know in the comments below how you decorate your Advent Calendar Envelopes. Let's share our creative ideas.