docrafts decoupage greeting cards – how to make
As an Amazon Associate I earn from qualifying purchases
I like to have a go at making my own greeting cards and often 'have a go'. I picked up some docrafts foiled decoupage sheets from The Works and decided to have a go with them. The sheets I selected contained some pretty scenes that would be suitable for any occasion and some new baby pictures. I am saving the new baby ones until I want them.
If you want to have a go you will need:
blank cards and envelopes – available from Amazon
foiled decoupage sheet – available from Amazon
glue (eg PVA glue)
small foam squares that are sticky on both sides
Instructions:
Select your sheet of pictures and identify the correct ones for your card. On docraft sheets they are clearly labelled A1, A2, etc to show which ones go together and which order they should be applied.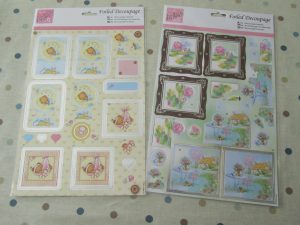 Carefully press out the pictures you need. If you have any tags left on the pictures just remove them carefully with a small pair of scissors. I only removed the first 3 pictures (A1, A2 and A3) to avoid confusion. I then removed the rest as I needed them. Glue the first picture (A1) on the card where you would like it.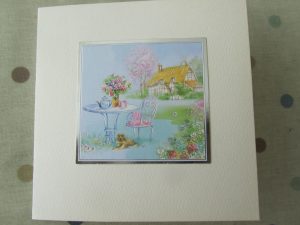 Take picture A2 and make sure you have pressed out any removable sections. Turn the picture over and affix some foam squares.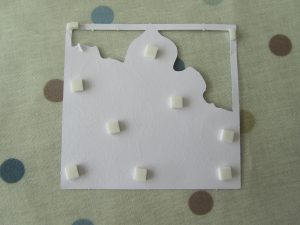 Remove the paper covers on the squares and carefully place the picture onto the first picture lining up the detail. You can start to see the 3D effect building.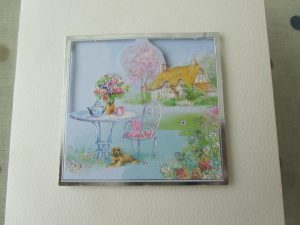 Continue with all the pictures assigned the letter 'A' until you have a 3D picture that you are happy with. I did not use all the pictures on my card as I felt it was complete without. It is your card so you can use as much or as little as you like.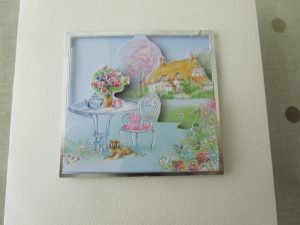 You can then leave your card as it is or add more detail if you prefer. I considered adding a small pink bow but eventually decided to keep it simple.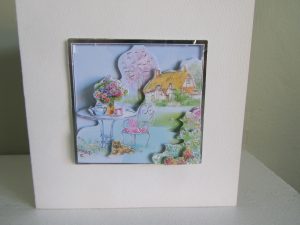 I also completed the other card on the sheet but decided to use a pink blank card. The options are endless. You can use these foiled decoupage sheets on their own as I have done here or you can use them as part of a more complex design.
In Summary
Overall I enjoyed using the sheet and I think that I produced a nice effect in a short time. There is a wide range of designs so you really can produce greeting cards for all occasions. Each card took me less than 15 minutes to make. You do not need any special skills and it is easy to get a good result quickly because the cards are pre-cut. These sheets really do meet my criteria for having a go at a craft. See my earlier article, 5 Top Tips for having a go at crafts, for details.
If you like making cards take a look at my tutorial for making fabric cards
So have a go and let me know how you get on by commenting at the bottom of this article.
Remember to pin this article on Pinterest for later.