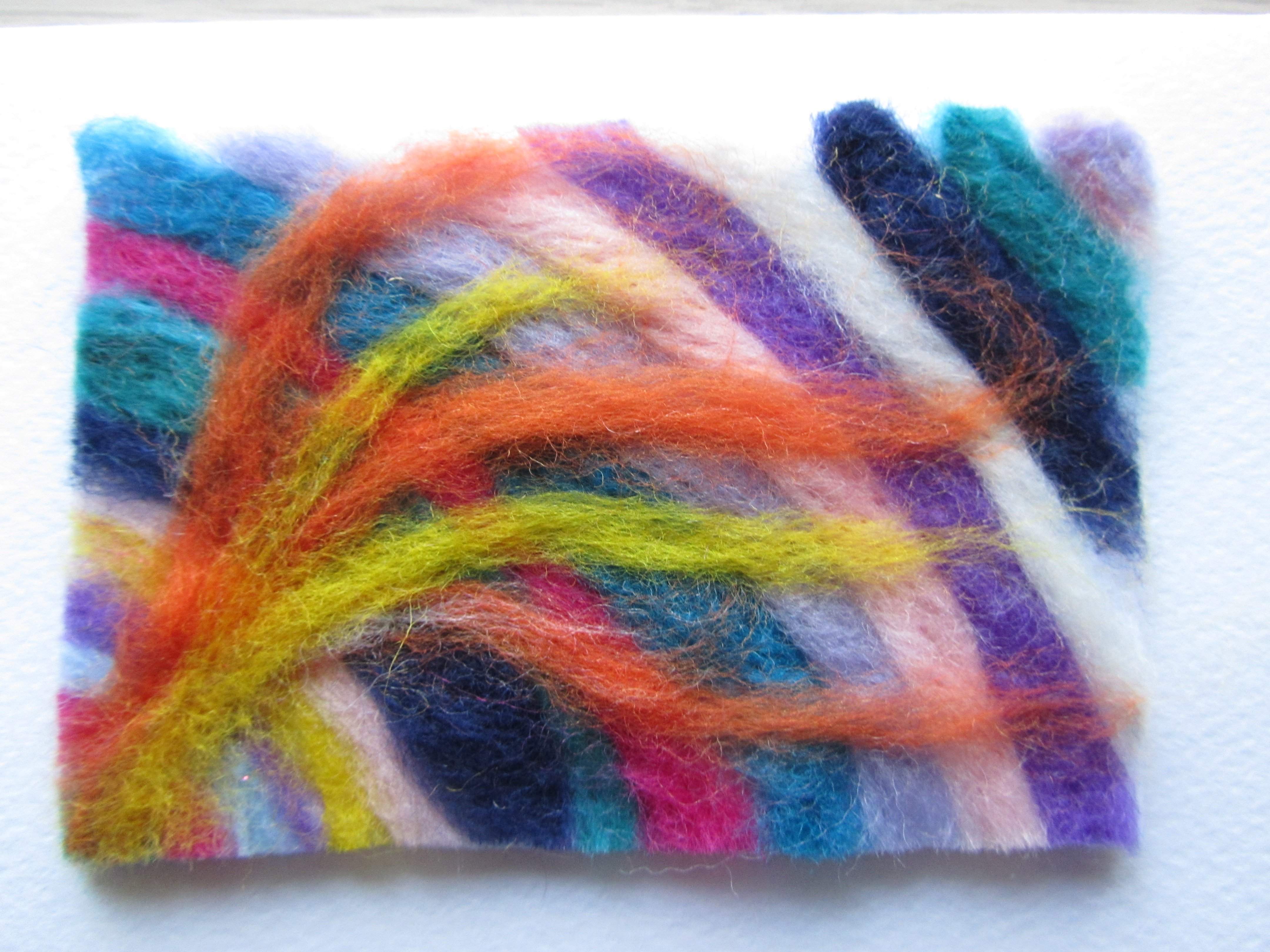 ICHF Craft Show – February 2018
Ever been to an ICHF Craft Show? It is really rather exciting!
On Thursday 1st February I went to the ICHF Craft Show at Event City, Manchester. I got there early and queued to get in (only about 15 minutes). It was then possible to book a workshop or two that I wanted to do. For a few pounds you can have a go at many different crafts. I had a go at glitter crafts and needle felting.
The picture above is the picture I made needle felting. It cost me £5 to have a go and I was really pleased with the results. Naturally I produced a strict pattern but I was encouraged to get creative so I added some 'rays of sunshine'.  I bought some supplies so hopefully I will be able to share some more results soon! The instruction was really good and I had a great laugh with my fellow students. Virtually everyone at a Craft Show is friendly and keen to have a good chat/ laugh.
I also produced a glitter poppy that I later attached to a card. I quite enjoyed it and I was pleased with the result but I did not feel moved to buy any supplies. That probably says it all for me.
There were several exhibitors showing completed crafts including some pictures that had been sewn in a joint initiative with Afghanistan. They were breathtakingly beautiful and quite moving.
I did visit the show with a bit of money to spend from Christmas so I was quite open to spending. I had a good look around and there were supplies for pretty much every craft. There were also full craft workshops (90 minute) that you could book in advance of the event. It was too late to be able to book one myself but there were several very interesting ones available.
I ended up buying a kit to crochet a blanket. It is a full kit with all the wool and pattern. I was able to look at several displayed and choose a kit. The lady on the stall was really helpful and guided me to suitable kits bearing in mind that I am only just learning to crochet. The stall was from The Black Sheep Barn in Warrington and they very kindly offered to help me if I get into difficulties. they are happy for all customers to just pop in to the shop and they will help out. I hope I do not need to take them up on the offer.
I also visited a stall where all craft items were £1 and you could buy 12 for £1. Obviously I had to buy 12 items! It was a great way to buy general bits and pieces like double sided tape, cards and glue. I also bought a couple of small craft kits to complete. I will share them with you when I tackle them.
Overall, I had a fantastic day trying out crafts and considering what to purchase. Many people go with friends and have a great day out. I really recommend craft shows as a fun day out.