Dovecraft Felt Ornament Kits
In my ICHF craft show post I mentioned that I had bought two small Dovecraft kits. Well, at the weekend the weather was appalling so I tackled them both. These are the results.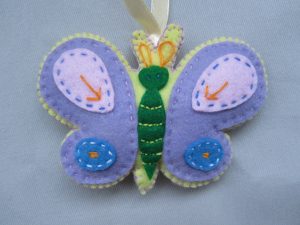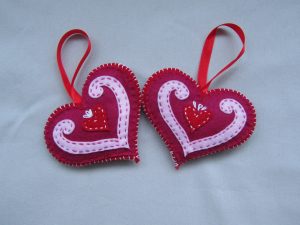 I really enjoyed making them. Partly this was because they were quick to make. The butterfly took the longest at just under an hour but the hearts only took about half an hour each. If I had never done any sewing before I suspect that they would have taken longer.
Each Dovecraft kit contains everything you need to make two spring ornaments. One kit contained two butterflies and the other contained two hearts. The kits are complete apart from the needle. As shown below, everything else is included and pre-cut. The instruction sheet is brief but perfectly clear. I had no trouble following the instructions and I thought the picture demonstrations of the embroidery stitches on the back of the instructions was a nice touch. The instructions did not recommend whether to use the whole embroidery thread or whether to split it. I opted to split the threads in two so that I used 3 threads to stitch with. If you are unfamiliar with embroidery thread  it is made up of 6 threads.  If you have any trouble with the embroidery stitches you could always look online.  There are plenty of Youtube videos demonstrating embroidery stitches.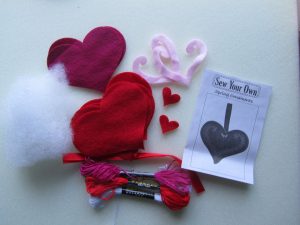 There was plenty of everything in the kit. Personally I would have preferred more wadding to fill the shapes but that is because I like them quite well stuffed. There was sufficient to bulk them out so that they were not flat. In actual fact, I decided to fill my hearts with lavender and make them into lavender bags. I would have done the butterfly if I had thought of it in time!
Emily was also rather cross about the weather so she helped me as best she could. This seemed to involve grabbing threads and running off with them or sitting on the scissors, right in the middle of everything!
So, I have completed one butterfly and two hearts. The butterfly is hanging around a vase on my mantelpiece at the moment. I feel that I should make the other one for the other end! The hearts are in my wardrobe freshening up my clothes.
These Dovecraft kits are brilliant for anyone. I think that they would be really good for older children to have a go at especially if they have done a bit of sewing before. As I said earlier, I bought these kits at a show and they cost me 83p each. As a result they were an absolute bargain! I would definitely pay more for them.
Would I recommend them? Yes, if you want a relatively easy craft to complete in a short time with a good result. However I could not find them on the internet to buy to provide a link.
If you like sewing you might like to try my other projects:
Remember to pin this article using any of the pictures so that you can find it later.