Crochet bunny plant pot cover and blanket update
Crocheting is a very new skill to me and I am enjoying it. I saw a great idea on the hobbycraft blog and I went for it. It is a bunny plant pot cover, brilliant for Easter but gorgeous at any time. Full instructions are available on the blog that I have linked to for you. This is a picture of my bunny cover.
Bunny Plant Pot Cover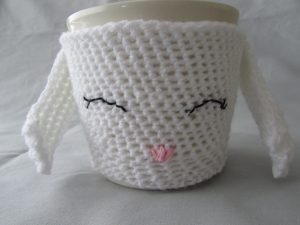 I am really pleased with it despite the ears not being quite how they are on the hobbycraft pictures! I am not brilliant at increasing or decreasing yet so I suspect that is where mine ended up a little curved. It adds character in my opinion!
It is a great little project because it is very straightforward to do and is completed very quickly. I did it over 3 evenings but I do not do a lot in each evening. One of those evenings I spent sewing it up and giving it eyes and a nose. I find crocheting for too long leaves me with a sore neck the next day. Any suggestions to prevent that welcome in the comments section below.  One comment I would make is that you need your pot first and then make sure that your cover fits your pot. You can always add more stitches  or reduce them to make it fit your pot.It would be so disappointing to finish it and then find out it does not fit any of your pots. I am pleased with it but please comment on what you think.
Apres-ski blanket
I have also been working steadily on my apres-ski blanket from Black Sheep Wools. This is a picture I took when I had done 60 rows. 
This is another from when I had reached 80 rows.
Today I took a picture of it (and Emily as she insisted on helping). I have done 100 rows, a significant milestone. Only another 28 to go. Then I need to start worrying about tidying all the ends in and edging it. Lots of new skills to be developed!
So, I am still busy crafting and improving my crocheting. Feel free to comment on my progress or if you too are working on an exciting project share the details.